Guillermo de Toro's latest gothic horror has more up its sleeve than loving, gory homage.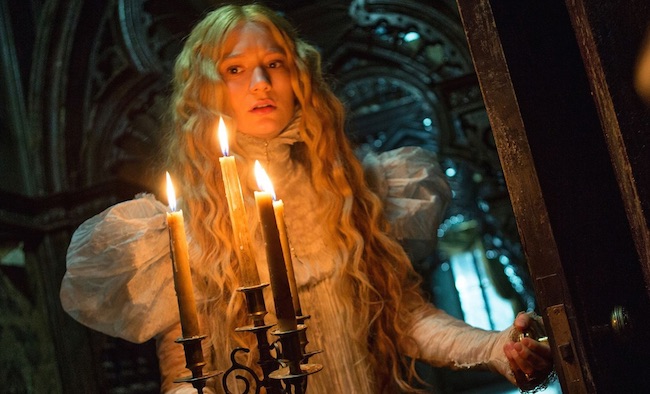 SCREEN GRABS Cinephiles should have a field day sifting through Guillermo del Toro's latest gothic horror tale that pays homage to the genre's greatest classics.
With strong nods to the director's previous films The Devil's Backbone (2001) and Pan's Labyrinth (2006), Crimson Peak tips its entire hat to the "Master of Suspense" Mr. Alfred Hitchcock. As the movie touches on everything Hitchcock, from Rebecca (1940),  Suspicion (1941), Shadow of a Doubt (1943), Notorious (1946), Vertigo (1958) and even Psycho (1960), many audiences may be too distracted by all the references to notice del Toro's shining achievement: the subversive inversion of gothic horror's prototypical female protagonist.
Let me assure you that Crimson Peak is not just a maudlin tribute; it is a devastating character study of a woman trapped in her (gorgeously horrific) 19th Century manor — and 19th century manners.
(Minor spoilers ahead.)
Early in the film, eager young novelist Edith Cushing (Mia Wasikowska), reiterates that the ghosts in the story she is telling are allegories. Yet antiquated and know-it-all characters dismiss not only her manuscript but her whole nature, as being silly and un-ladylike.
So it's important to frame del Toro's overall story within the tale that Edith Cushing (Edith Wharton + Peter Cushing?) herself is writing. Two examples: First, Cushing's suitor, the dashing yet suspicious inventor Thomas Sharpe (Tom Hiddleston), appreciates the "dark side" in one of Edith's written characters, just as we the movie audience are thinking the same thing about him. Second, Edith makes it known to a gaggle of aristocrats that she aspires to be a writer like Mary Shelley — whose anonymous publication of Frankenstein in 1818 brought to life the dark side of another man of invention.
But del Toro has much more up his billowy sleeve than just a nudge-nudge, wink-wink to the classics that define the genre. The most powerful sequences in many of his previous films have brought his protagonists face to face with an impending terror, confronting their deepest, darkest fears — ranging all the way from old antique dealer Jesús Gris in his debut feature Cronos (1993) to young adopted orphan Mako Mori in 2013's mish-mash-up Pacific Rim.
Of course, Crimson Peak can be experienced as a gloriously gory ghost story, one that had audiences shrieking and squirming in the theatre. But it can also be contemplated as an immense character study, submerged in an eerie labyrinth of subtle hysteria, rewarding viewers familiar or interested in Sigmund Freud's dream interpretations.
What is Edith's greatest fear? Is it the battle with her over-bearing sister-in-law (giving Jessica Chastain a guttural, Oscar-worthy performance)?  Could it be her struggle in proving to her working-class father that she can achieve more than accidental bourgeois mediocrity? Or, worse, knowing the foreboding doom of becoming completely dependent on a man?
Ultimately, your jaw might be unhinged at the film's revelatory last shot (stay through the immediate closing credits) for it will also shine a light on del Toro's own achievement. Again, Crimson Peak is not just a two-hour fantastically frivilous facade; it is uncovering the lifelong struggle for each one of us to be truly seen — and clearly heard, as we are.
Jesse Hawthorne Ficks is the Film History Coordinator at the Academy of Art University in San Francisco and curates/hosts the MiDNiTES FOR MANiACS series at the Castro Movie Theatre. The series emphasizes 16mm and 35mm prints around North America exploring underrated & overlooked cinema in a neo-sincere manner.