Koosha Seyvani and his mother have been waiting for Hussain Seyvani since the early hours this morning. Hussain, who is Iranian, landed in San Francisco at 6 am. 
"My brother Hussain has been detained since morning. He travelling with a valid visa. My mother is a US citizen and I am a resident, but he's an Iranian who has family here," Seyvani told me as his mother stood beside him in tears anxiously waiting for her son to make it through immigration. 
Seyvani, who is a green card holder is concerned his brother may never be allowed to meet the family. Lieutenant Governor Gavin Newsom, who joined the protestors later that afternoon, was moved to tears as he spoke to Seyvani who asked if the family would ever be able to be together again in the United States. 
Spoke to Koosha Seyvani, Iranian American whose brother has been detained since 6 am pic.twitter.com/zp0Qc7XUHD

— Sana Saleem (@sanasaleem) January 29, 2017
"We have been waiting for him since 6 am," Seyvani said. "When the plane landed we never saw him or another Iranian couple. Initially we thought they'd been cleared for customs because they already went for pre-clearing at Abu Dhabi airport a few hours before Trump signed the executive order."
The United States has pre-clearance facilities at several airports including Abu Dhabi, where passengers go through immigration before their flight to the states. This service helps passengers walk through immigration on arrival after a long flight.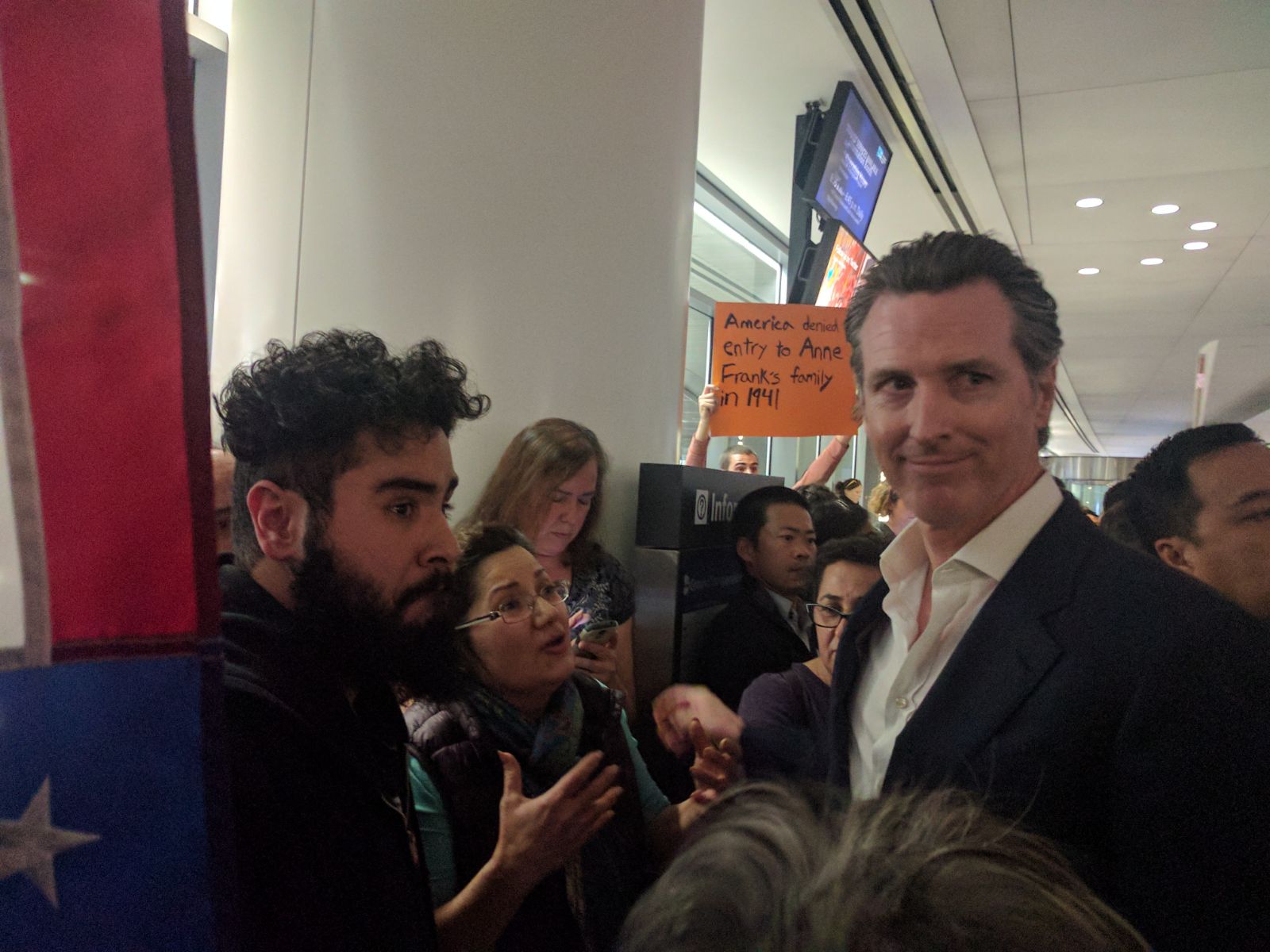 Even though Seyvani's brother cleared immigration at Abu Dhabi and was allowed to board the onward flight, Trump's signing of the executive order meant he wasn't allowed in upon landing. 
"We thought he was in the clear, but when the plane arrived he didn't come out so we waited," Seyvani said. "After a few hours, we got a call from the custom officers. They told me was that he's being held there, he is safe but he's not allowed to come out. They told me was that he's going to be returned from where he came from. When I asked if I could talk to him I was told that it's confidential and I need to wait for when he's return to where he came from.  
"So we are still in the dark. We know he's still being detained, we know he's still here so I am hoping that with the recent changes that I can still re-unite with my brother."
There's no clarity on how many people have been detained as immigration lawyers lined up with protestors at international arrivals. None were being allowed in, and there's no easy way to find out the exact number of people currently being detained. 
Elicia Vafaie, staff attorney for national security and civil rights with the Asian Law Caucus, has been stationed outside arrivals for families that may be awaiting their loved ones: "So last night when these cases first started coming down and any non-immigrants and immigrants were being detained, a group of civil-rights lawyers filed a lawsuit challenging the constitutionality of the executive order and they requested it to be fast-tracked because people were literally facing issues at the airport in real time."
Vafaie explained what the court ruling meant: "The stay basically means that you (the authorities) can't move forward with the program. That doesn't mean the program doesn't exist, but we are saying that you can't move forward until it goes to court and you get a full hearing. So they've essentially put a pause and what that pause means is that nobody who who would be impacted by the executive order to the extent that they have a valid non-immigrant or immigrant visa, they are protected from being deported," she said. 
Despite the order, the Department of Homeland Security can still detain people. It's not clear how long they can do that, but Vafaie and her colleagues are working on interviewing individuals who have been allowed out to ensure that DHS met legal requirements. 
Two hours later Seyvani, who has legal representation, heard that his brother is now being detained at the county jail in Martinez.