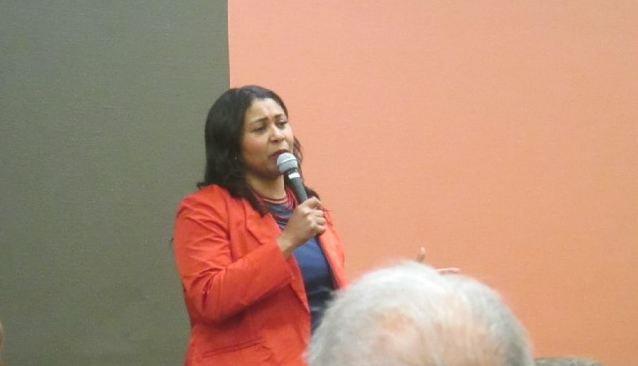 Developers in San Francisco could stand to pick up an additional $60 million in profits under an affordable housing proposal by Sups. London Breed and Ahsha Safai, a new analysis shows.
The analysis by the Council of Community Housing Organizations looks at how the proposal would pencil out for the companies that build market-rate housing in the city.
It's a critical piece of the policy debate: Safai and Breed are calling for more "middle-class" housing, which would allow developers to meet their requirements for affordable housing by renting out or selling units for a higher price.
Creating middle-class housing is a fine idea – but in the process, their plan would take away housing for lower-income people. It would also be a big benefit to developers.
The concept is pretty simple: If you tell a developer with a 100-unit building that they have to subsidize 25 units for people who can only pay $1,000 a month, and the rest of the units rent for $5,000, the developer pays $4,000 a month. If you allow that apartment to be rented to someone who can pay $3,000, the developer pays half as much.
So if a developer can pay more, why ask them to pay less? If we are going to allow lower subsidies, why not require more subsidized units?
Instead, Breed and Safai go the other way.
The CCHO analysis looks at a hypothetical building with 100 units and analyzes what the developer would pay under the existing rules and under the changes that Breed and Safai are seeking.

If the developer had to build 18 units of affordable housing for people who make between 55 and 100 percent of the Area Median Income, the total monthly income (given current market-rate rents) would be about $3.173 million. At a 4 percent capitalization rate, that would make the building worth $79.3 million.
Allow the developer to count income levels of as high as 110 percent of AMI as "affordable" and the annual income becomes $3.213 million. That's an extra $40,000 a year, which increases the value of the building to $80.3 million, or about a million bucks.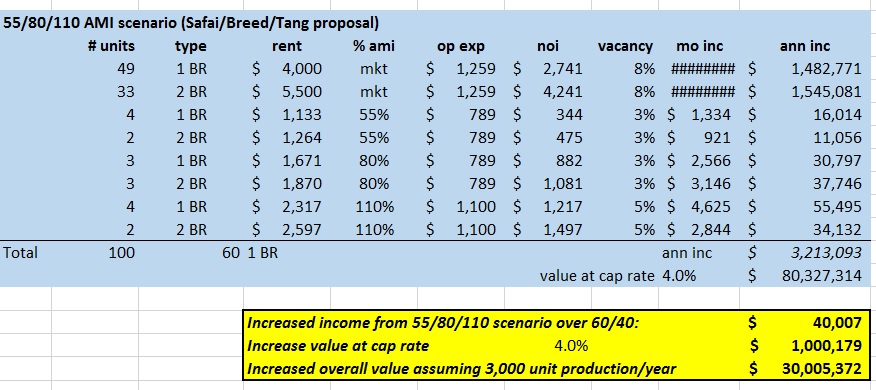 Multiply that by the 3,000 units a year that the city wants to build, and you're looking at $30 million more in profits for developers.
That's rental housing. A lot of the new projects are condos, and the affordable housing rules require that some be sold below market rate.
From CCHO:
The difference in incomes served is even more stark for condominium projects. The Controller analyzed condo projects using the current Prop C income levels, which average 96% AMI, while the Safai/Breed/Proposal serves an average income of 120% AMI. Using MOHCD's assumptions and a 60/40 bedroom mix, an average unit at 96% AMI would be priced at about $330,000, while an average unit at 120% AMI would be priced at $434,000. For a typical 100-unit condo project with 20% inclusionary, the added value to a developer would be over $2 million in profit.
Add it all up, and depending how much of the new housing is condos, developers could walk away with as much as $60 million in additional profit.
That builds a lot more affordable housing.
The city controller did a detailed study looking at how high we can set the affordability rates without scaring developers (and investors) away from building anything. I personally think the controller was way too conservative – developers always claim they can't afford city fees and amenities, and they always manage to build anyway, and I don't know any big developers or real-estate investment groups that are missing any meals from the San Francisco market.
But let's take the controller's estimate for what it is. Under the Safai-Breed bill, the developers could "afford" to spend an additional $60 million on middle-class or low-income housing. We want middle-class housing? Fine. Increase the requirement. Instead of asking for 25 percent affordable housing, if some of that is going to be priced for households that can pay closer to market rate – and thus the developer is giving up less – ask for 35 percent. According to the controller, it still pencils out.
The point is that the Safai-Breed measure, which comes before the Planning Commission Thursday, is a developer giveaway. That doesn't mean housing for the middle class is bad, or that the city shouldn't put that kind of housing in the mix. But it means that the levels the two supervisors are talking about are far too low, and give the developers far too much.