The State Lands Commission continued to make its case in court Tuesday to overturn Proposition B, which requires voter approval for new construction projects on the San Francisco waterfront that exceed existing height limits. The trial, which started last week, was filed immediately after Prop. B was passed in 2014 by the commission, on which Lt. Gov. Gavin Newson sits.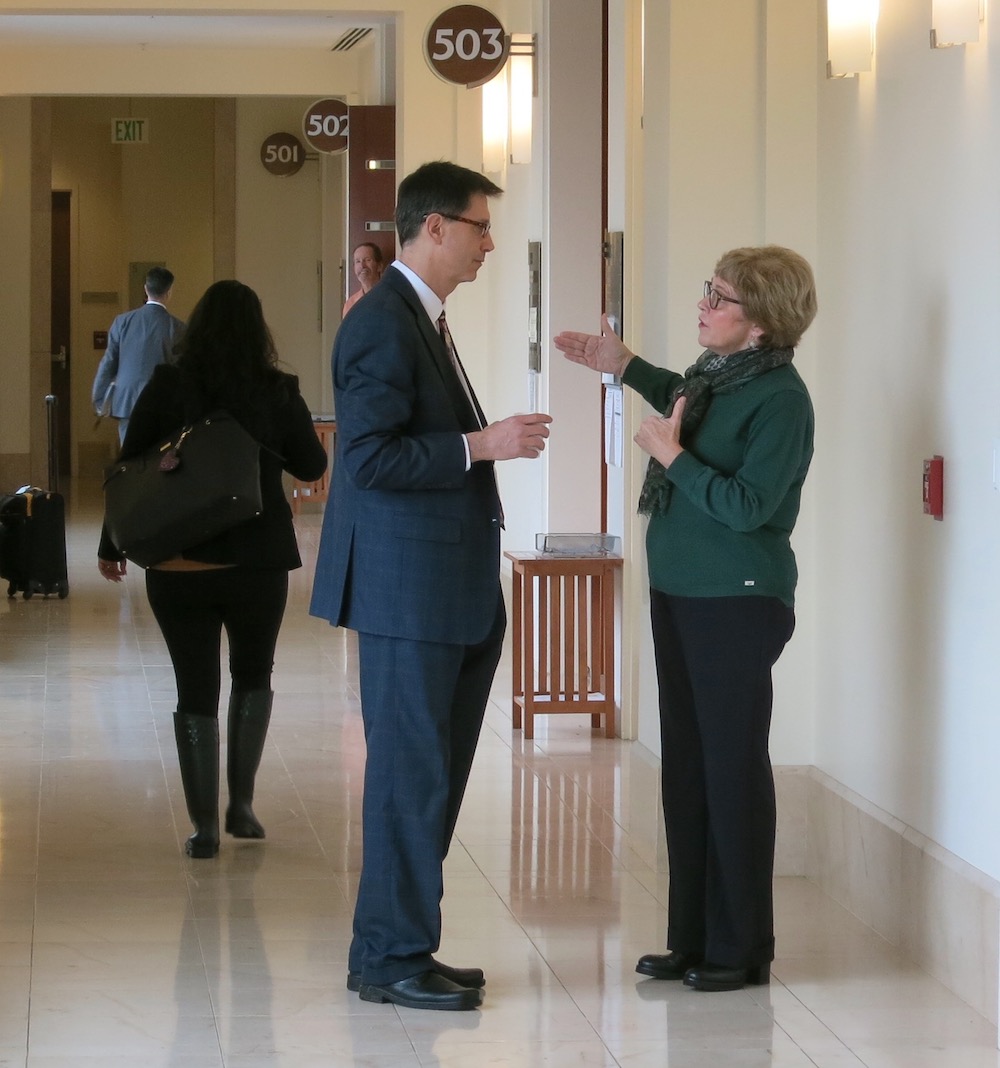 The state's argument at trial seems to be that the Port has lost money because of Prop. B, as demonstrated through expert witnesses who analyzed the two waterfront developments, Pier 70 and Mission Rock, that the voters have approved since Prop. B was passed. The state also pointed out that the Port is far from flush with cash and could benefit from additional funds. In particular, urgently needed repairs to the Seawall may cost as much as $2-$5 billion, for which funding has not yet been identified.
But Deputy City Attorney Christine Van Aken, representing San Francisco at trial, demonstrated through several witnesses that financial term sheets, which were used to estimate a project's value pre-Prop. B, are non-binding documents and frequently change as a project progresses. They are not a guarantee of projected income, several witnesses testified.
Van Aken told 48 Hills that project proposals routinely undergo many changes for a number of reasons which can be difficult to attribute to any one cause.  "No one in the trial was able to isolate it and say, 'I did a deep dive, and identified that after Prop. B, the cost or benefit was XYZ dollars,'" she said. "No one has said that."
Reached for comment Tuesday afternoon, a spokesperson for the State Lands Commission had difficulty articulating their argument for overturning Prop. B. Asked if maximizing revenue was the most important factor to consider when evaluating waterfront proposals, Sheri Pemberton, chief of external affairs, said that was not the commission's position.  
"I couldn't speculate about the arguments presented in court, but I can tell you the issue at hand which prompted the commission to pursue litigation," she said. "The principle the commission is trying to uphold with the litigation is the statewide interest, and the right to have access to these public trust lands."
But Pemberton couldn't cite examples of how Prop. B conflicts with that principle and said those answers could be found in the legal briefs the state has filed in court. "There's a lot of complexities associated with the litigation," she said. "It's all explained in those documents, and being litigated at this time."
The Attorney General's office, which is representing the Lands Commission in court, was not able to provide someone to comment about the trial.
Regarding the two waterfront projects voters approved since Prop. B's adoption, Van Aken said, "There can't be any question, I think, that these projects will benefit the public trust."
"The State Lands Commission is saying that Prop. B is invalid in each and every application," said Van Aken. "Given that Prop. B has resulted in quick and certain approval process for these two projects, and that there was resounding community consensus behind them, I don't see how you can say that each application of Prop. B is incompatible with the trust. The State Lands Commission doesn't have any examples of how it's not.  Their case is based on 'what if,' 'what if,' 'what if…'"
All testimony in the trial is expected to conclude on Wednesday, and closing arguments may be heard as early as Wednesday afternoon.