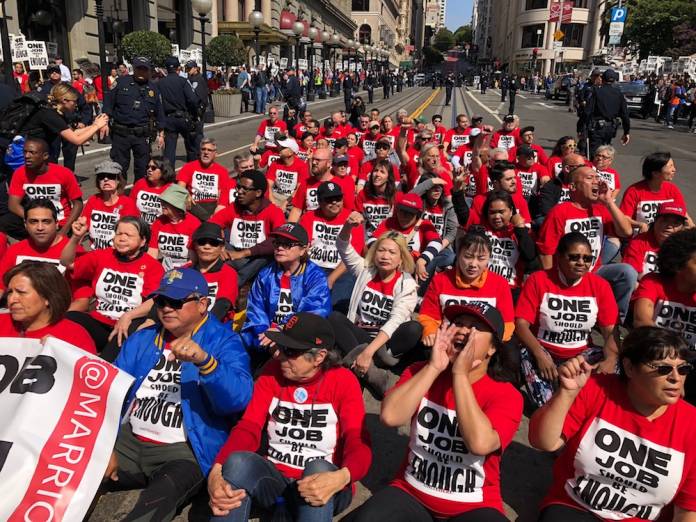 A loud, energetic rally and march of roughly 1,000 hotel workers and supporters ended with 75 arrests as members of UNITE HERE Local 2 and their political allies staged a sit-in on the street in front of the St. Francis Hotel.
At the start of the rally, the union announced a strike authorization vote Sept. 13 against Marriott Corp, which owns seven San Francisco hotels including the St. Francis.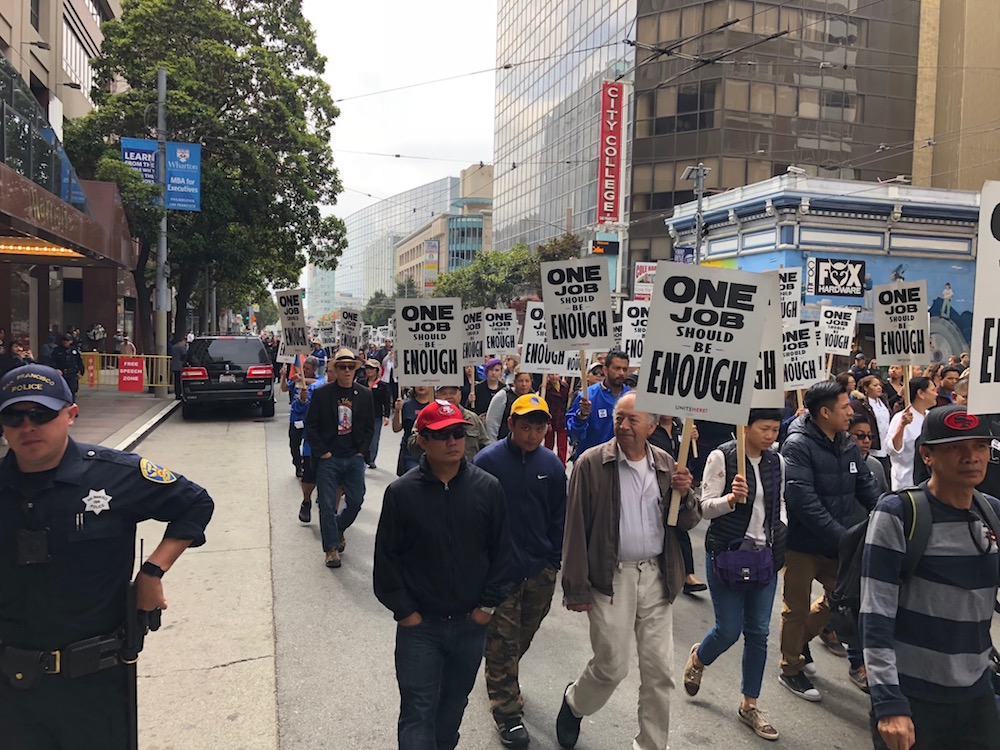 Marriott is reporting high profits and is rapidly expanding world-wide. In the past five years, profits at the giant chain have risen 270 percent, while hotel worker wages have gone up just seven percent.
Local 2 members have been on the job without a contract since Aug. 13, and Rachel Gumpert, a spokesperson for the union, said the two sides are not anywhere near reaching an agreement.
"Their economic offer is embarrassing," she told me. "We need to transform these jobs from low-wage service-worker positions to jobs that pay enough so these workers can live in their communities."
If the union votes to strike, 2,500 workers could walk off the job in San Francisco alone.
Tammy Tam, a housekeeper at the W Hotel, owned by Marriott, said some of her coworkers have to hold down two jobs just to make ends meet. That was one of the major themes of the rally today: "One job should be enough," the protest signs read.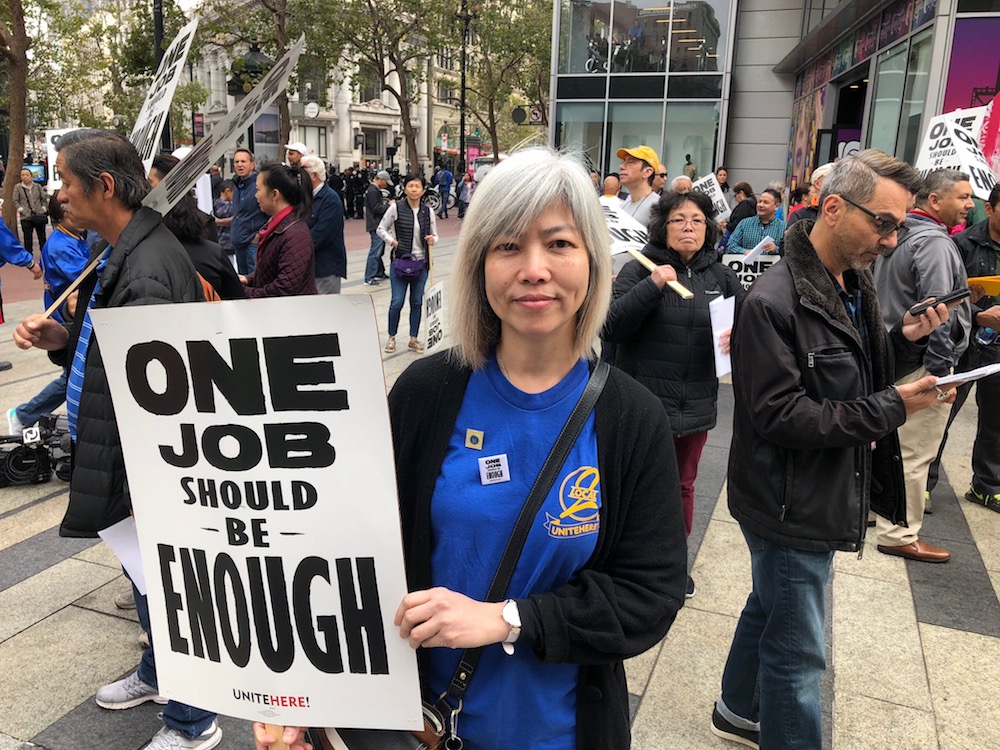 "My paycheck is not enough to pay my rent and bills," Tam told me. "When my kids were growing up I had to work so much overtime to keep up that I didn't have enough time with them."
With wages flat, she said, "they keep adding more work."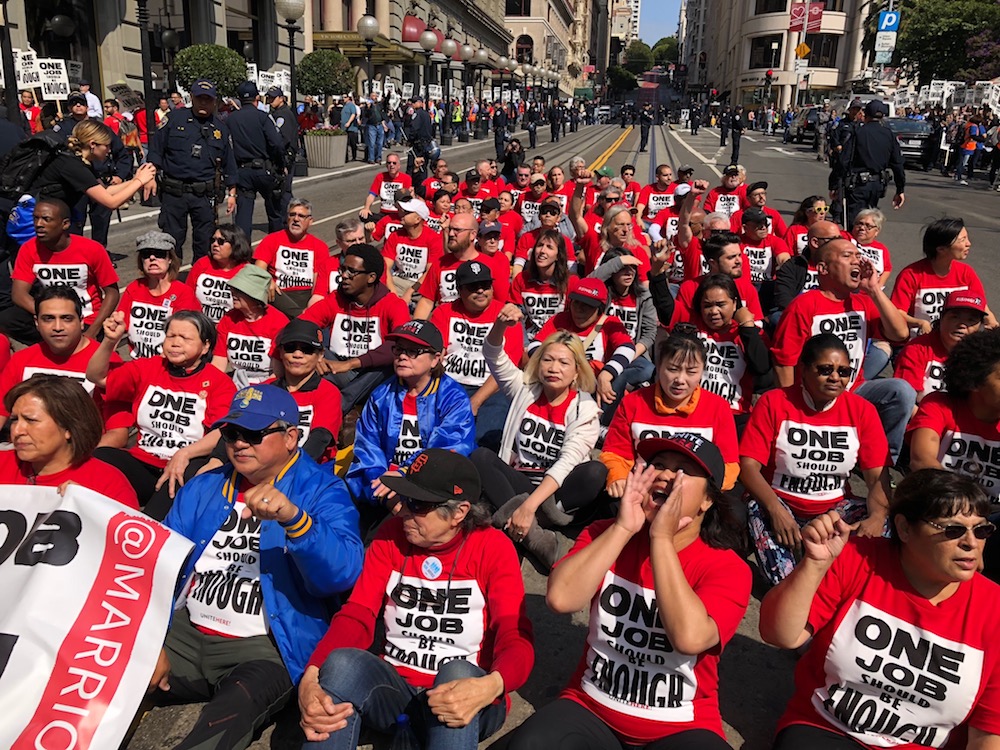 As members and allies, including Sup. Rafael Mandelman, were getting arrested in front of the St. Francis, I walked inside and asked if there was anyone on hand who could speak for the company. I was told that nobody was available, but someone might get back to me.
As of press time, I have heard nothing.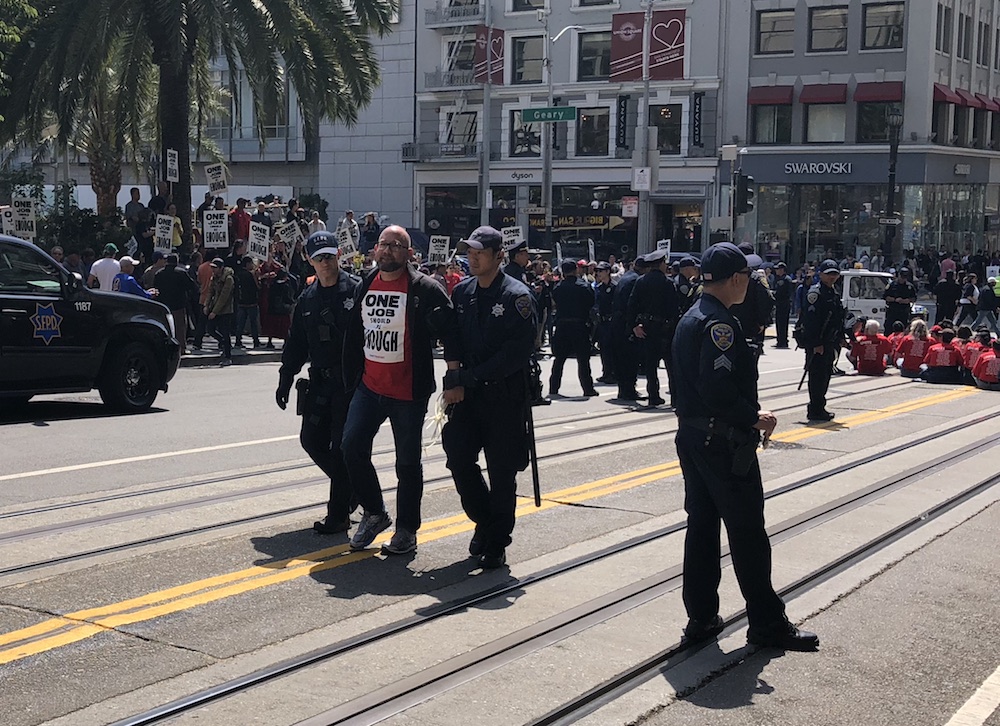 The union is trying to negotiate with more than 50 hotels, employing some 8,000 workers, but Marriott is considered the industry leader. If that chain signs a fair contract, union leaders say, the others are likely to fall in line.
A strike targeting the city's largest hotel operator could have a profound impact on tourism, which is, of course, the city's biggest industry.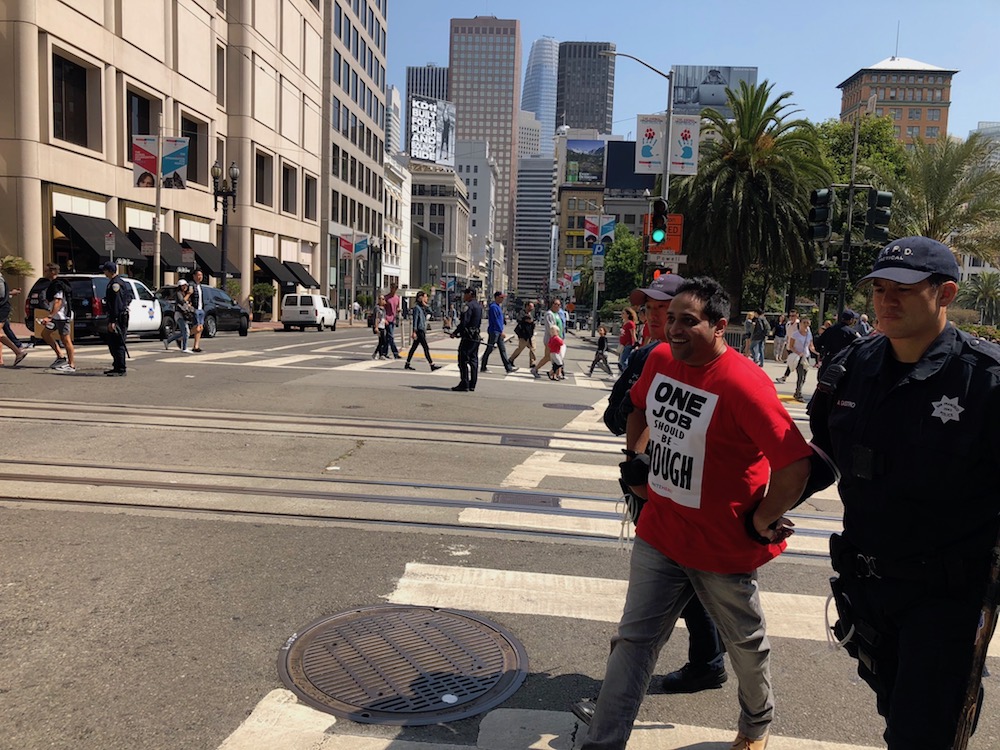 Hotel workers are the backbone of San Francisco's wildly profitable tourism economy, but we ourselves struggle to survive here," said UNITE HERE Local 2 President Anand Singh, who was among those arrested, said in a press statement: "Today we proved that we are prepared to do whatever it takes to transform the hospitality industry and make one job enough for workers to make ends meet."  
Mandelman, who like the others was cited and released, told me "there is no better way to spend Labor Day than getting arrested with my friends at Local 2." He said that city officials need to "make it clear to these companies who make so much money in San Francisco that while we support the tourism industry, they have to do right by their workers."