ONSTAGE Composer Jake Heggie and librettist Gene Scheer have not shied away from big topics,  San Francisco Opera dramaturg Kip Cranna, pointed out. Heggie worked with Terence McNally on Dead Man Walking, and Heggie and Scheer's projects include an opera of Moby Dick. Currently, they are working on one based on the story of Faust. And now their opera based on Frank Capra's tearjerking 1946 classic, It's a Wonderful Life, is coming to the San Francisco Opera. 
The three were talking at a preview for Bay Area teachers who want to take their students to the opera. Heggie said the opera came about when, after the premiere of Moby Dick at the Houston Grand Opera, the director there asked them to create a Christmas story. The composer says he is a huge believer in the saying "Go big or go home"—especially when it comes to opera. 
"You're in a big space and the singing is big, and there has to be a big conflict. There has to be universal themes," he said. "We knew it wasn't going to be Frosty the Snowman or the Grinch."
In the movie, starring James Stewart, Donna Reed, and Lionel Barrymore, George Bailey is contemplating suicide on Christmas Eve, feeling that he hasn't done anything with his life. Clarence, an angel trying to earn his wings, shows him what the world would be like without him, and it's a much crueler, bleaker place. The movie's story, which is anti-greed and pro-compassion, seemed important now, Heggie said.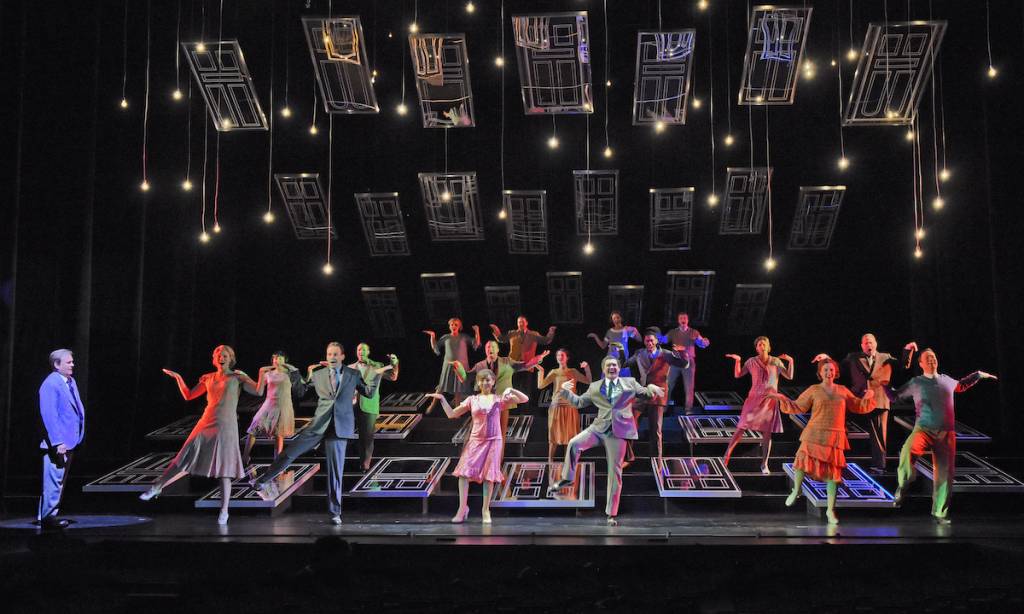 To make such an iconic movie into an opera, the two decided what they needed to do was some ruthless cutting. Unlike film, they can't show what people are feeling through close ups of their faces, so they needed to find another way to convey emotion. 
"We  were reinventing each scene believing in power of music," Scheer said. "We don't need the audience to know everything, but we need the audience to feel everything."
The two decided on a big change—Clarence, the somewhat hapless angel, has become Clara in the opera. This, like pretty much all the decisions they made, was based on music. For Heggie, it's all about vocal casting, and he said he didn't want to listen to a baritone and tenor for the whole opera. 
"I thought, 'Lets make Clara aurally more inspiring,'" he said. "It's a fresh way of telling the story."
Scheer added that Clara will be sort of a stand-in for the audience and a way to follow the story. 
"For most of night, she wishes she could help," Scheer said. "It's nice to watch this person, who, like us, wants to help, and she's trying to figure out how. It's not as easy as pushing a button. She's going on a journey as well."
Kearstin Piper Brown, a soprano who plays the role of Clara (along with Golda Schulz), sang an excerpt from the opera, "Waiting to Earn My Wings." While she sang, Heggie stood to the side of the room, smiling and mouthing the words along with her. Brown says she loves working on new operas, so no one can look on YouTube and compare her version of an aria to someone else's, and she is delighted to be working with a living composer and librettist. 
"I always wish I could call Mozart up and ask him what he was thinking," she said.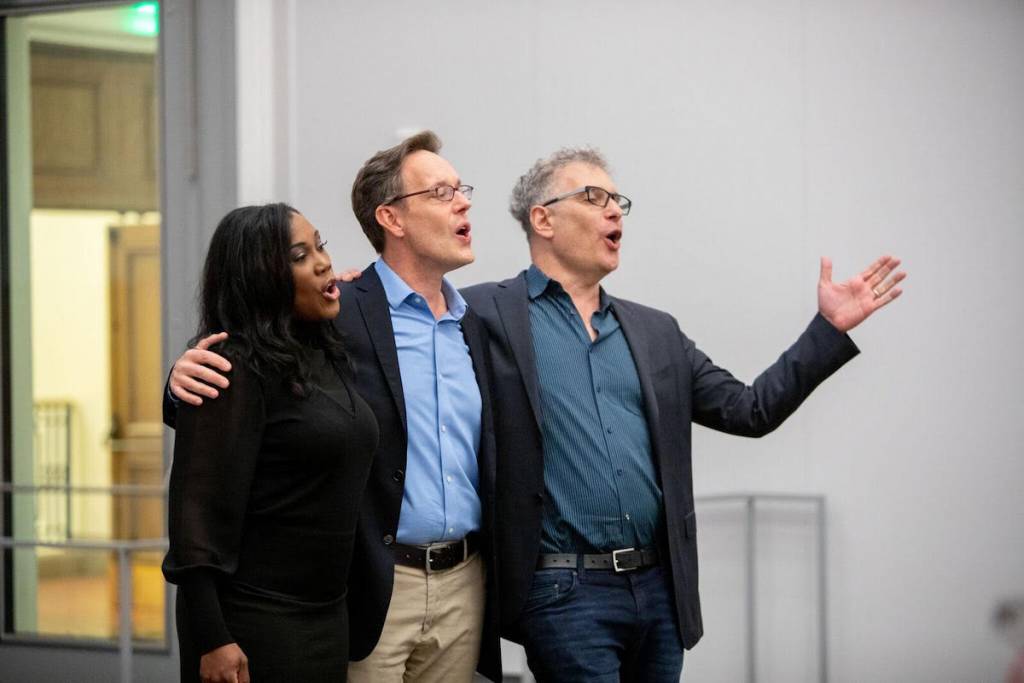 It's a Wonderful Life is a co-production between the San Francisco Opera, Houston Grand Opera and the Indiana University Jacobs School of Music. Heggie says they have made changes to the opera since the shows at Indiana, adding a few duets, expanding some arias, and opening with what he calls a "joyous rush." It also ends with a sing-a-long, not something you'll experience at many operas. 
Scheer loves the movie, and watching it every Christmas is a tradition for him. But there was no way to present the opera in the same way as the movie, Heggie said, and they needed to add some theatrical devices to work for the stage. The two of them have gotten used to translating stories into operas, so this was familiar territory.
"One time after Moby Dick, this woman came up to me and said, 'Well, I don't know why no one has done it as an opera—it's so obvious how you would do it,'" he said. "Once I stopped myself from poking her in the eye, I thought, 'Well, actually that's quite a compliment.'"
IT'S A WONDERFUL LIFE
November 17 through December 9
War Memorial Opera House, SF
Tickets and more info here.