ONSTAGE Playwright and performer Nilaja Sun thinks maybe one day someone will do research into solo shows and shamanism.
"How is it possible for one body to embody all these different folks?" she asked. "It's just pure empathy."
In Pike St., her show coming to the Berkeley Repertory Theater (November 17-December 16), Sun embodies multiple characters on the Lower East Side of Manhattan getting ready for a hurricane. In No Child, a show that also came to the Berkeley Rep, and won just about every award for solo performance, including an Obie, she did the same thing with a drama teacher and her students at a Bronx high school. 
After Hurricane Sandy, the Lower East Side, where Sun grew up, didn't have water or electricity for two weeks. This inspired Pike St. Sun says none of the characters in her play are imagined—they are all based on people in her life who mean something to her. She wanted to make an invisible community visible, she says, and to use real names in the program, like that of her grandmother, Dolores Vasquez Vega.
Sun calls this play a love letter to her LES community. Finding themselves without electricity and water after the hurricane, the neighborhood residents looked out for one another. 
"It was really neighbors helping neighbors," she said. "I wanted people next time there's a hurricane because, oh, there will be a next time, to think about the disabled and the elderly and folks who could use a knock on the door saying, 'Mrs. Applebaum, could I get you anything? Do you need food? Do you want me to call your son?'"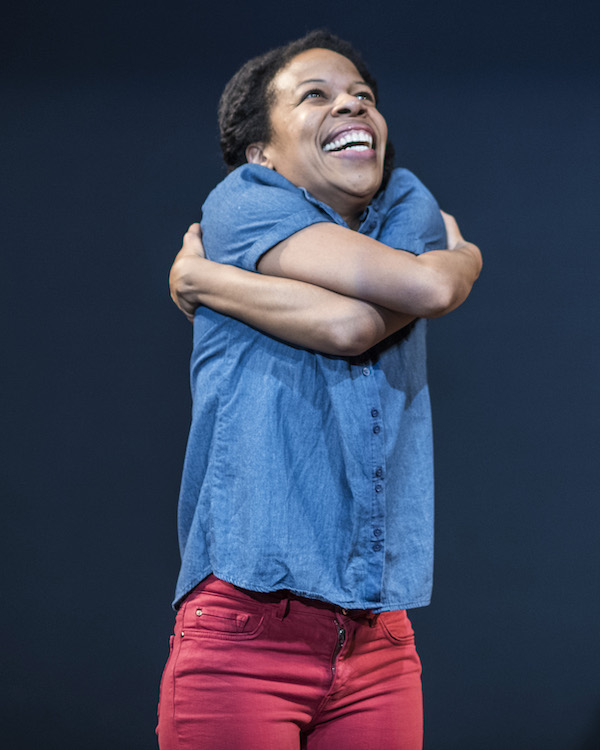 Sun describes herself as a physical actor, creating all these characters, and says that doing this for 90 minutes, six or seven times a week, is a labor of love. What she values, she says, is a good director, who can tell her what the audience is seeing. She sometimes asks her director (in this case, Rick Rosenbaum of the Epic Theatre Ensemble) to tell her if he's addressing her as the writer of the play or as an actor, since she's both.
To be able to do the work of performing, Sun says she has to lead a sort of monastic existence during the weeks of the run, so she can give her all onstage.
"I want people coming to the Sunday matinee to get the same show people do on Tuesday night," she said. "If people come up to me after the show and say they were waiting for other performers to come out and take a bow, I know I've done my job."
For years, Sun has been teaching theater in New York high schools. It's often these students' first experience with theater, and to embody different characters makes a real difference, she says. 
"I feel like theater reminds students that they are human," she said. "Particularly for the students I work with who aren't venturing out into the city, they need to know there's a world outside their four block radius. If they can know for that for thousands of years people have been writing stories, and read the words of someone else and step into their shoes, that is true empathy with a capital 'E'." 
It's important these students write their own stories, Sun thinks.
"You know we cannot be waiting for Hollywood to tell our stories," she said. "But you have to write because something is deeply in your heart, because if you do not tell this story, you will die. Let that be your inspiration, not white guys who do not get you."
PIKE ST.
November 17- December 16
Peet's Theater, Berkeley Rep
Tickets and more info here