The amped-up promo video for Cirque du Soleil's latest big top show Volta (at AT&T Park, through February 3) had me thinking we were in for a full-throttle EDM extravaganza, a Mad Max ultra-rave, perhaps, with glowstick-flashing hands in the air and spandexed limbs flying all akimbo. It seemed a bit overwhelming!
So it was a surprise when this extravaganza turned out to be a sweetly beguiling evening—still brimming with jaw-dropping feats of human prowess, of course, but tipping away from strained, arena-zazzing grasps at relevance into that special, if often lampooned, French-Canadian magic of the pre-Vegas Cirque shows of yore. (The premiere earlier this month was already a surreal scene, with audience members donning masks against the toxic cloud, and Mayor London Breed awkwardly pushing her way through the casts' curtain call to get to her next event.)  
Don't worry, there aren't any jars full of rainbows or mimes with their crotches in your face. And Volta kicks off full-speed, with a Hunger Games-like game show featuring a blindingly toothy figure named Mr. Wow, deciding the fate of various performers, while both an army of cell-phone obsessed drones and a camouflage-clad population of outsiders represent a dystopian society on the fringes of the action. (The costumes, by Lady Gaga costumer Zaldy, add to the trademark Cirque combo of Thunderdome-meets-Jazzercise a bit of super-hip designer Raf Simmons and classic Burning Man—plus tons of feathers.) 
It's in this competition, which cleverly introduces us to Volta's performers and features a astounding Tron-inspired double dutch routine, that we meet gentle protagonist Waz, who wows the Mr. Wow crowd. But Waz soon reveals a trait that gets him marked an outcast who must find his own form of comfort in a cold and uncaring world. Most of this is achieved by a retreat into childhood memories and welcoming encounters with fellow freaks, until he realizes the power of difference. 
That's about it for the cliche storyline, but who's bothering to follow along too closely when there's so much happening onstage? Once the pyrotechnics of the opener are over, the hypnotic score by Anthony Gonzalez aka electronic pop giant M83 (I gasped) takes over—to my ear, an '80s-tinged mashup of Pat Benatar and Enya, with some early Seal thrown in—and the segments breathe with the dreamlike pace of nostalgia. Numbers cleverly open up and spread out: I wasn't aware we were watching a fabulous unicycle number or a dirt bike ballet until we were in the midst of things. A trampoline-based parkour romp through a revolving cityscape gently teases attention in different directions, a short story with supple plot twists.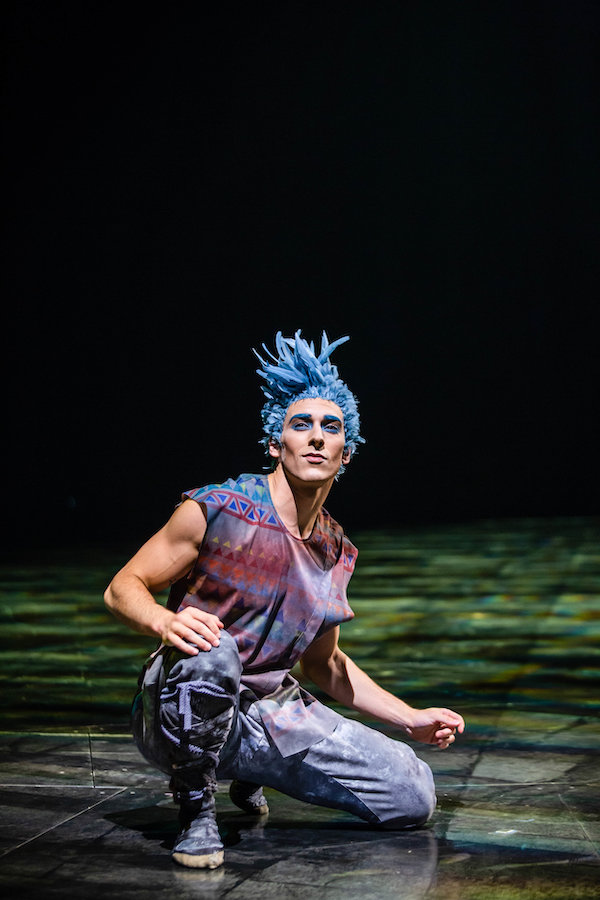 Entrancing, yes, even ruminative at points (an inexplicable but perfect Buddha-themed acrobatic dance by Daniel Blim was definitely a highlight, as was a laidback tumbling routine featuring stackable hexagons.) But you'll hardly be lulled asleep—plenty of sparks flew from another dirt bike-based number, this one featuring plexiglass ramps and gonzo flips, and several acrobatic acts, one featuring a pair of bright white sculpted twins. As always, Cirque drops a good old-fashioned clown into the mix, and Wayne Wilson was a brilliant physical comedian, especially in a hilarious laundromat kerfuffle bit.
It's all held together by the wonder and perseverance of Waz, played by Torontonian Joey Arrigo, who has cited his gay identity as helping him connect with the role of an outsider. He brings his own set of skills, including making passages that should seem schmaltzy appealing. In the end, it's the overwhelming charm of Arrigo, the free-spirited roller skater Ela, and rest of the cast that plugs Volta in—although I missed the slightly more complex gender dynamics and design of Cirque's previous show here, Luzia, which featured a female soccer wiz, pantomime animals, and a splash of androgyny. It's still a pretty full night of wow. 
CIRQUE DU SOLEIL'S VOLTA
Through February 3, 2019
Big Top at AT&T Park, SF.
More info here.