ONSTAGE When asked if he read novels, the philosopher Gilbert Ryle said, "Oh yes. All six, every year." Ryle was talking about the work of Jane Austen, and he's not alone in perhaps wishing for more of her stories.  
Lauren Gunderson (the most produced playwright in America in 2017) and Margot Melcon are doing their part to fulfill that longing. Two years ago, they presented Miss Bennet: Christmas at Pemberley, a continuation of Pride and Prejudice at Marin Theatre Company.  That play focused on the bookish Mary, joining other family members at the house of their sister Elizabeth and her husband Mr. Darcy.
Now, with The Wickhams: Christmas at Pemberley (through December 16) we are back at the Darcys' mansion, but this time, the action is downstairs with the servants where George Wickham, Mr. Darcy's nemesis and the husband of Elizabeth's sister Lydia, has shown up, drunk and with a black eye. 
After playing #46 on the girls' soccer team in MTC's The Wolves, Neiry Rojo got called in to audition for The Wickhams. She plays Cassie, an independent new housemaid hired for the holidays. She describes her character as a headstrong person who has had to take care of herself and is not used to other people helping her becomes more vulnerable and open.
Cassie's story, and that of Brian, the groomsman played by August Browning, changed a lot from when they first went into rehearsal, Rojo said. 
"My character had an almost completely different arc than in the final play, and throughout rehearsal there were rewrites happening to Brian and Cassie's storylines," she said. "I think in the first version I saw, on page four, Brian is asking Cassie to marry him and it's sort of over the top."
Part of the reason for the change has to do with the #MeToo movement, Rojo thinks. She says the playwrights and actors wanted to find something that would work and make sense for the characters. 
"We talked a lot about what was Austenian—to have one main storyline and others happening around it," she said. "Lydia and Cassie two women in two different places in the world and very different ways of seeing things, and we wanted to see how they influenced each other." 
There are certain things she looks for in a role, says Rojo who has worked with Z Space, The Cutting Ball Theater, TheatreWorks Silicon Valley, and others. "It's important for me to see women who exist not just to serve another character in the play," she said. "I need to see complexity and a questioning of the world."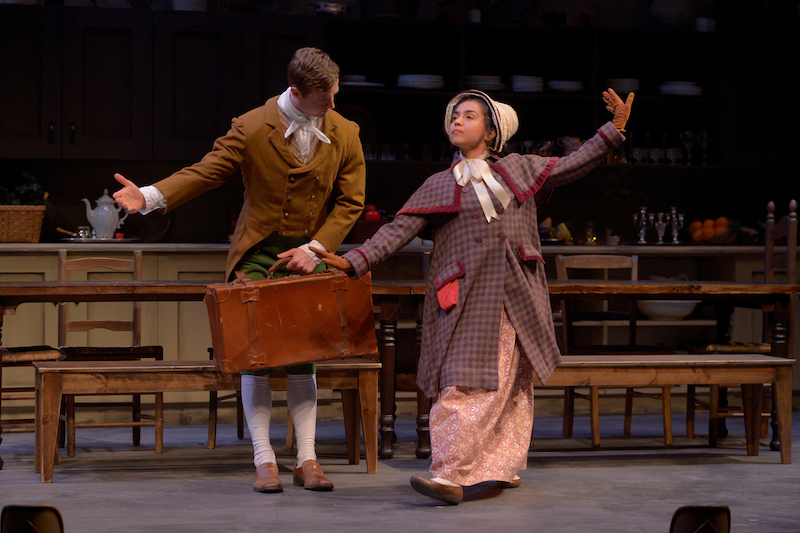 Along with this production, Rojo has been assistant director on Austen's Emma and worked on a production of her Persuasion as well. "I was just thinking the other day that she wrote these stories and here I am 200 years later working because she wrote those," Rojo said. "Isn't that amazing?" 
After attending community college, Rojo went to UC Santa Cruz to major in English. But when she got there, she spent all her time in the theater department, getting her undergraduate and graduate degree in it.
"I think that's when I'm the best human I can be right now," she said. "I can best serve by connecting with people and telling stories."
THE WICKHAMS: CHRISTMAS AT PEMBERLEY
Through Dec. 16
Marin Theatre Company, Mill Valley
Tickets and more info here