ART LOOKS "My house is a museum," Romanowski tells me over the phone. "My whole life is art."
I haven't been to his house, but anyone who's encountered Romanowski's prolific output over the past three decades knows that last statement isn't just some cliché. From a celebrated, ongoing series of art on abandoned mattresses to installations at spots like Life and Nectar (not to mention an entire musical career), Romanowski is constantly making art. He's become a sort of patron spirit of Lower Haight, as well as one of the city's essential artists.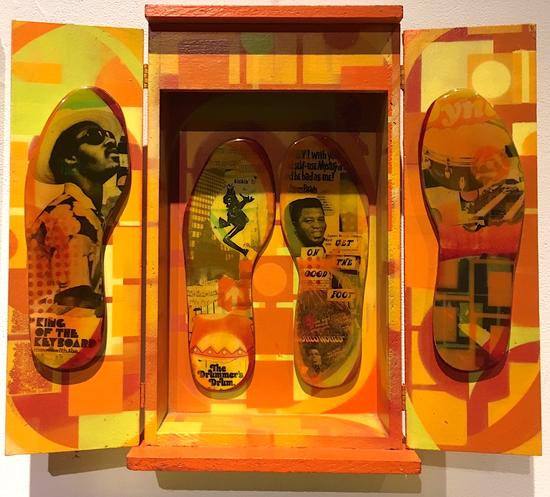 Now, a show at 111 Minna entitled "Every Now & Then: The Art and Music of Romanowski" serves as a mini-retrospective of his 30 years of production. The show captures the essence of the puckish artist, who often represents himself in Mickey Mouse ears and whose sly sense of humor extends from his uncanny way of juxtaposing found objects to the name of his record label, Trouser Trout.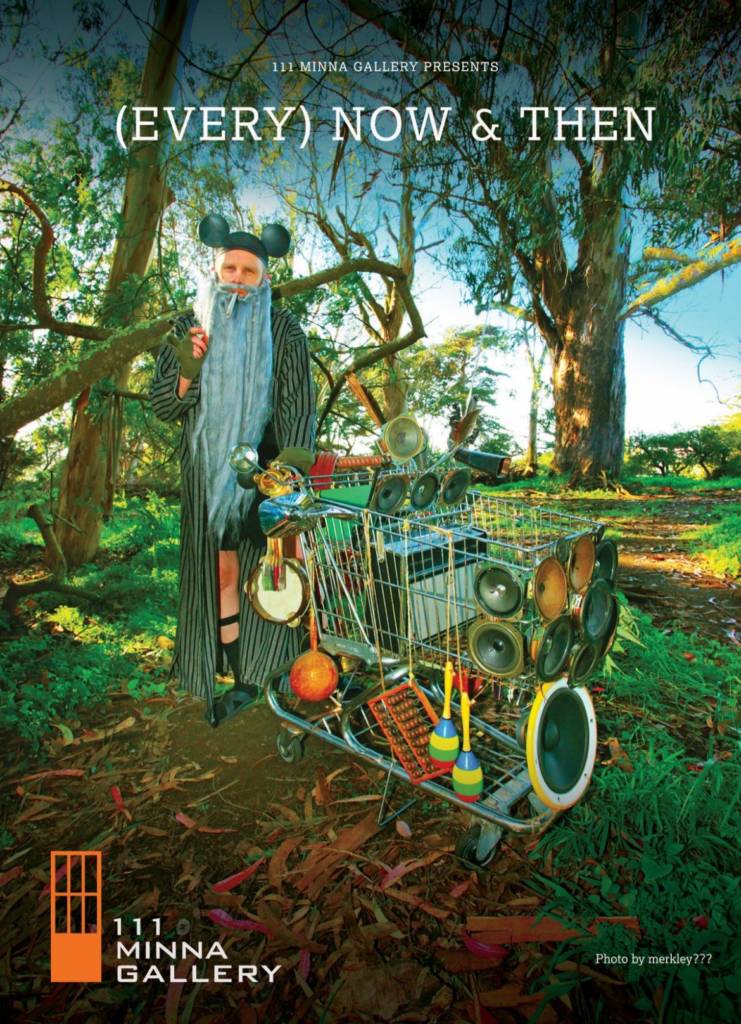 "You don't need money to make art, if you're really an artist you can make things out of what you find for free," Romanowski said. "I consider what I do a kind of recycling." An expert forager and crafter, he combines scavenged materials like wood dowels, stereo speakers, window panes, and record crates—often adding his unmistakeable stenciling style—to create striking, involving works that emanate a vintage aesthetic filtered through classic jazz and hip-hop. (My favorite Romanowski piece is a skateboard overlayed with piano keys.)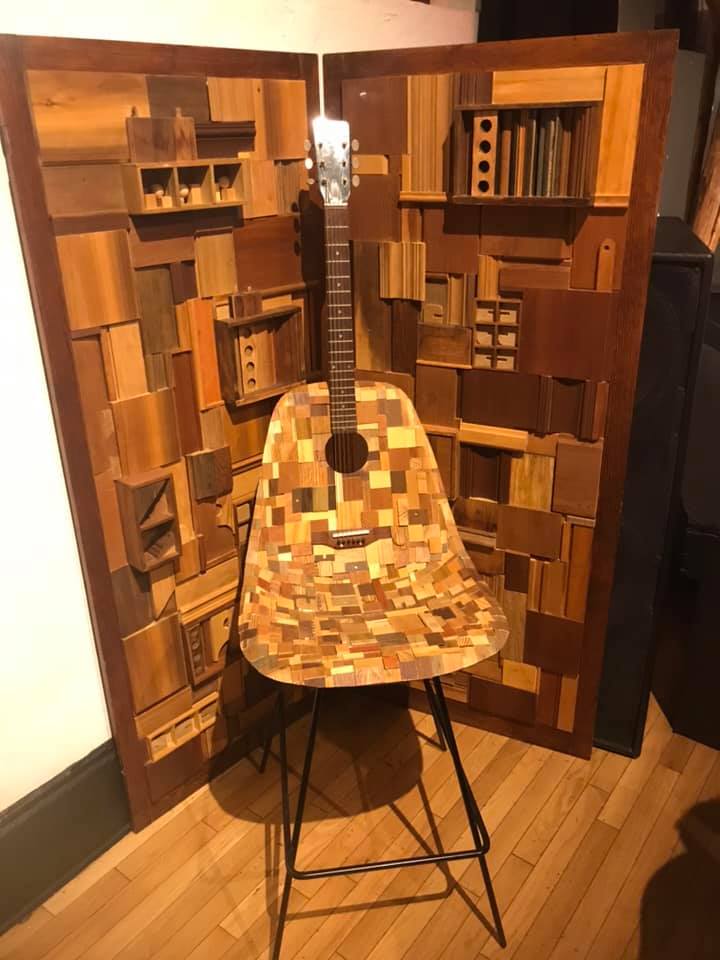 For all the public places you may encounter his work though—on those mattresses, stenciled on walls, covering an entire little parking enforcement vehicle—Romanowski eschews the overall title "street artist." As befits his Swiss origins (he moved here in 1988) he looks to Continental assemblage artists like Marcel Duchamp and Kurt Schwitters, and Russian-born American sculptor Louise Nevelson for inspiration. (He does allow that his mattress bombing and stencils are technically street art.)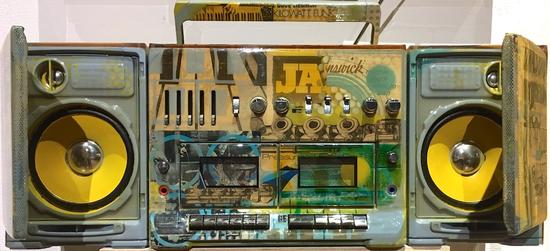 Another huge influence: legendary jazz label Blue Note and its indelible album covers, designed by Reid K. Miles. Romanowski's colorful stencil collages play with that air of sophistication, mixing silhouette-like human portraits with blocks of muted color and floating numbers or icons. That style extends to his musical output (he's released about nine solo albums and collaborations, and was a part of the legendary Future Primitive art-music collective), full of jazzy rhythms, vintage samples, hip-hop grooves, and dub effects. He's been collecting vinyl for 40 years, his connoisseurship coming through in selecting works for the show, which he curated.
"I live with this art, I really don't think about, he said. "When I walk through the show, it's like walking through a dream. I think, 'who made all this?'" Looking through his past work to choose pieces for the show also served a therapeutic purpose: Romanowski recently lost his mother, and Nectar, the Lower Haight restaurant he had a big part in, closed last year. "It helped me with the grieving process," he said.
The opening of the show had lots of Romanowski touches: For one, he drove his mini-vehicle into the gallery to act as a pop-up shop for selling his 7-inch records and t-shirts. It was a bit of old school pranksterism that brought back a taste of the real San Francisco. Romanowski is one of our few surviving artists in a city going through expensive changes, and it's somehow comforting to have his life's work on display downtown.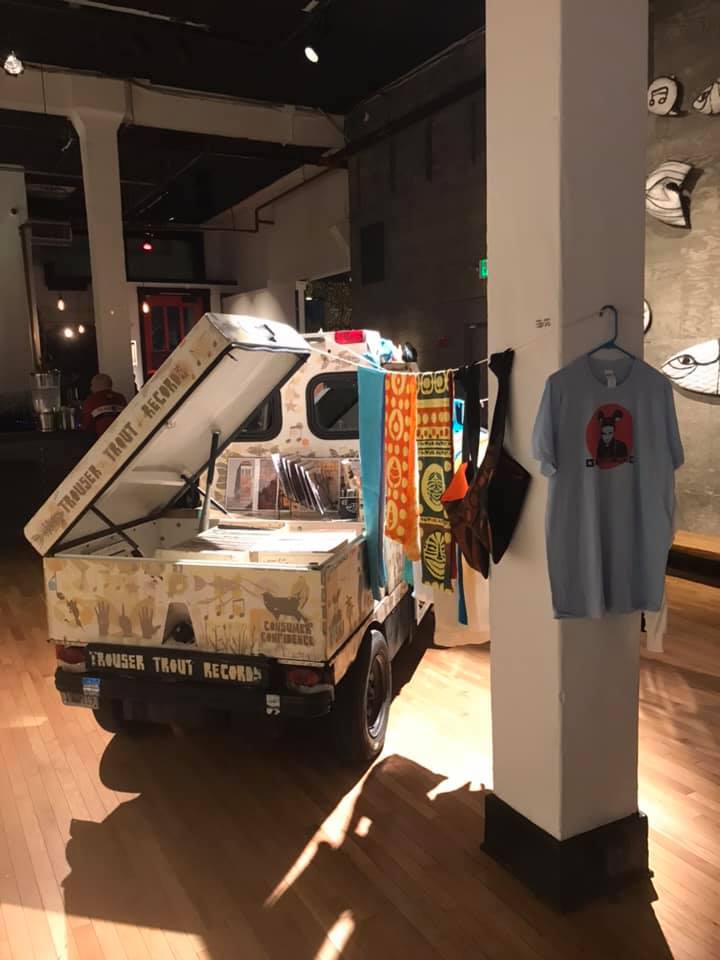 "In the early 2000s, it seems like art here was really big, I had projects traveling around the world," he said. Now it has really shrunk, it seems like everyone is holding onto their one little rock, because that's what we have to depend upon. There used to be a lot more collaboration and crossing over. I don't see so much of that anymore."
This magical show is a reminder of the expansive talents the city still holds, following their own vibes despite all the boring conformity.
"EVERY NOW & THEN: THE ART & MUSIC OF ROMANOWSKI"
Through April 26
111 Minna, SF. 
More info here.