Michael's white and Ben's biracial. Michael's older and Ben's younger. Michael's HIV positive and Ben's negative. Michael's a survivor of the AIDS era and Ben's only heard about it. Michael's stuck in the past and Ben's looking forward.
At no point are this couple's differences more apparent in "Armistead Maupin's Tales of the City" than when Michael "Mouse" Tolliver (Murray Bartlett) takes his partner Ben Marshall (Charlie Barnett) to a dinner party, hosted by his more established ex-boyfriend and A-gay friends.
When Ben speaks out against one of the others' transphobia, he gets piled on by the rest, all of whom survived the AIDS era, fought for gay liberation, and helped make it safer for gay men to walk the streets of San Francisco without being bashed, live longer lives (if they are HIV-positive), and bareback (if they're on PrEP). His partner, Michael, sits by silently, afraid to get involved.
It's tensions like these that make the latest "Tales"—inspired by Maupin's classic novels set in San Francisco and picking up where the original 1993 PBS series "Tales of the City" and subsequent Showtime sequels "More Tales of the City" and "Further Tales of the City" left off—so provocative.
In advance of the 10-episode series' Netflix premiere on June 7, I spoke to actors Murray Bartlett ("Looking") and Charlie Barnett  ("Chicago Fire") about their excitement around the "Tales of the City" reboot, which also features Laura Linney, Ellen Page, Paul Gross, and Olympia Dukakis, reexamining their own socio-political biases, and their tension-inducing sex scenes.
48 HILLS What excited you most about joining the cast of "Armistead Maupin's Tales of the City"?
CHARLIE BARNETT I was really excited to get to play a gay role. I haven't had that opportunity too much in my career, so I was really excited, especially with a group of writers whom I knew were going to demand more than just the surface-level character exploration.
MURRAY BARTLETT It was a dream project for me. I came to San Francisco for the first time in the early to mid-'90s from Australia, and the guy I was staying with had "Tales of the City" on VHS. After watching it, it really became intermingled with my first impressions of San Francisco. So I completely fell in love with the city and the show. It had a huge impact on me.
48 HILLS I think I can guess, but what about it appealed to you so much?
MURRAY BARTLETT It was one of the first things I'd seen, especially television, where these characters that were part of the LGBTQ community were living happily and freely and just being true to themselves. It was ahead of its time, so I became a fan and watched it many times over the years.
48 HILLS You play an intergenerational couple on the new series, confronting and reevaluating your own biases about the LGBTQ+ community, particularly during the A-gay dinner party scene. What did you learn about yourself or your community in the process?
CHARLIE BARNETT I did a whole bunch of research about Stonewall and the riots and what the trans movement has been within the community as a whole, not just specifically the gay community. It opened my eyes incredibly. I hadn't known how much of an impact they had on giving gay and lesbian people an opportunity, specifically the trans fight within that small quarter of history. Going on to watch the Marsha P. Johnson documentary, I could bawl just thinking about that…
I've learned and grown a lot just from having worked on that [dinner party] scene. I could tell you that walking into it, though, I wholeheartedly related to Ben's position on that. As much as I understand and hear and can have compassion, in a certain sense, for what the older generation of gay men are talking about, I have a big problem with how gay men have pushed the trans community out.
Of course, I'm incredibly thankful to all of them for the struggles, the fights, their journeys, and what they've done for me. I couldn't be in my position having this conversation with you without other gay men making those leaps and bounds.
MURRAY BARTLETT We had an incredible team of writers and that [dinner party] episode particularly stands out to me as such a beautifully written episode.
It presents two different views from different generations and I kind of agree and disagree with both of them in various ways. That's what makes it so brilliant—that you see both points of view but no one's completely wrong or right. They're just different perspectives on the same issues.
I think then what we start to see with Michael and Ben afterward is that what's really important is to bridge those perspectives. In a larger sense, in Michael and Ben's relationship, what they're dealing with is different perspectives of the world from different generations and I think it's a universal theme.
It's very important right now when there's so much division in the US and the world, in general, to get beyond those heated conversations that happen at that dinner party and bridge and understand each other. We may not agree on everything, but let's learn from each other and move forward richer for it.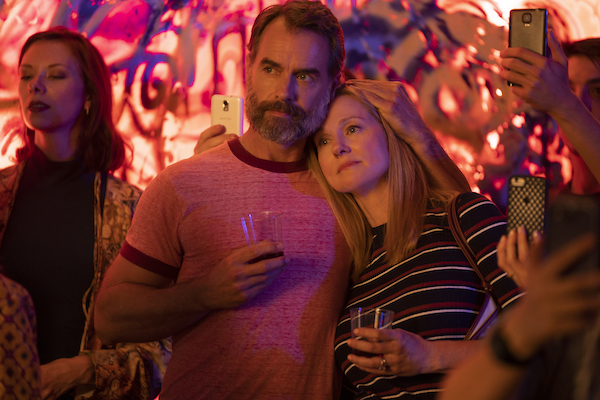 48 HILLS Murray, on "Looking" and "Tales of the City," you play the "daddy" role, but I first saw you on "Sex and the City," playing the twink who temporarily lures Carrie Bradshaw away from her older friend, Stanford, in one of my favorite episodes. How are you embracing this new stage in your life?
MURRAY BARTLETT You know, my back's a little sorer than it used to be, but apart from that, I like the wisdom and the perspective that come from aging.
I think we're such a youth-focused culture and we're in danger of missing all the jewels of what it means to grow older and wiser, so yeah, I definitely feel fortunate that I am older.
One of the perspectives that Michael has and it's one of the things that makes him such a beautiful person is that he went through the whole AIDS epidemic and thought he was going to die and he came through it happy and lucky to be alive when a lot of his friends aren't. I think he has his neurosis, but he really embraces every moment as moments that he might not have had.
If we can go into old age with that in mind, just loving every moment, what a wonderful way to live that is. That's what I'm trying to do.
48 HILLS So you both filmed some pretty racy sex scenes for the new series. I am confident that I literally saw-spit swapping in one extreme closeup. What can you tell me about shooting those scenes?  
CHARLIE BARNETT I've had a lot of fun. Murray, of course, is incredibly handsome and it's fun to roll around the bed with him. However, I am happily in a committed relationship and I love my partner.
When we were filming the scenes, we did have a deep desire to make the scenes more than passion and sex. We wanted people to see the passion beyond a physical nature, more of a relationship passion and a love for each other. For me, they were really incredible because they solidified our characters' relationship.
TALES OF THE CITY
Premieres Fri/7
Netflix
More info here.