A visit to London planted the seeds for the romantic sci-fi drama Around the Sun, which opens a run in the Roxie Virtual Cinema on Fri/31. The trip brought Oakland journalist and editor Jonathan Kiefer back together with his old friend from his Boston University film school days Oliver Krimpas. After school, they had both continued to make shorts and Krimpas directed for television. The reunion solidified something that had been in Kiefer's mind.
"There's a difference between making a film and having it out in the world and just talking about making a film," he says during a recent phone interview with 48 Hills. "I had worked in film and written scripts that didn't really go anywhere."
Around the Sun changed all that, when Kiefer provided the screenplay for Krimpas' feature directing debut. Finding inspiration in Bernard le Bovier de Fontenelle's 1686 science book Conversations on the Plurality of Worlds, Kiefer has fashioned a story in which a movie location scout (Gethin Anthony from "Game of Thrones") and a leasing agent (Cara Theobold of "Downton Abbey") tour the French château where Fontenelle wrote his book.
At one time, Kiefer and Krimpas thought they were going to shoot in Fontenelle's actual château in Normandy. That fell through, but they were able to find a suitable substitute nearby to set a tale that plays with the author's notion of parallel universes and in which the characters are re-introduced from time to time, each iteration altering the relationship between them.
Elegantly shot by Michael Edo Keane, Around the Sun is a sumptuous drama with a look that perfectly matches its exquisite location. It is also the exact opposite of what Kiefer thought his first foray into feature filmmaking would be.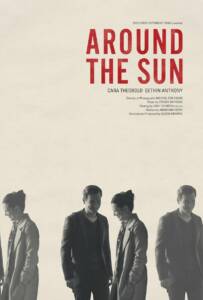 It was the mumblecore movement that made the screenwriter think feature filmmaking was a possibility for someone like him who has the ambition to tackle features but no desire to work in Hollywood or be straitjacketed by the film industry's notion of what is commercial. Mumblecore creators seemingly adopted Nike's rallying cry to "just do it," making a virtue out of micro-budgets, finding creative ways to film their movies. Kiefer was moved by directors who made early works on shoestrings, then went on to established careers, like Greta Gerwig and Oscar winner Barry Jenkins
"[They are] people who made stuff in a really resourceful way that didn't require a lot of gatekeeper permission to make really personal work," Kiefer says.
Krimpas was not sure the mumblecore approach was the way to go. When they met at school, Kiefer was an undergraduate who took a role in Krimpas' graduate school thesis film. Kiefer had such a wonderful time working on that project that it convinced to remain in Boston and complete his film school studies. Now he was in the position to try to convince Krimpas.
"'We're both getting older and wouldn't it be better to just make something just to get it done?'" Kiefer remembers telling his friend. "It took a bit of persuading."
Kiefer was still thinking that whatever film they made, they would adopt mumblecore's run-and-gun guerrilla ethos. He still thought that even when Krimpas sent him pictures of his friend's French château that they could use as a location. Certainly, Around the Sun does maintain some of those mumblecore elements. It is a low-budget film with a limited number of characters, but the location helped drive a more polished aesthetic.
"The weird thing about it is that it was based on available materials and the first thing available happened to be a château in Normandy," says Kiefer.
"If we use that particular location and make something out of that, it's automatically going to be different. "
That first location also dictated the direction when Kiefer discovered the home's connection to Fontenot. The author and his work intrigued him, filling him with the sense of possibility.
"When we found out that Fontenot's book had been written at that particular location, it grabbed my imagination," Kiefer says. "We might as well make something preposterously esoteric and specific that can speak with resonance to us personally and at least distinguish itself that way, by being unlike the movies that inspired me to get back into making movies.
"The book is very charming and part of the charm has to do with the way it kind of romanticizes this idea of gaining a better understanding of our place in the cosmos. It really is kind of a celebration of intellectual curiosity. It's staged as a series of really flirtatious conversations and debates – it is a duet."
And in the end, Around the Sun is also a distillation of Kiefer's partnership with Krimpas. Each brought something of himself to the party and the film is the stronger for it.
"I think Oliver was especially interested in the human and emotional aspect of the romance," Kiefer says. "He brought something to it that I wouldn't have been able to articulate otherwise."
Around the Sun starts at the Roxie Virtual Cinema on Fri/31. On Aug. 6 at noon, the Roxie will host a live Q&A on the Roxie's Facebook page with Kiefer, Krimpas, and stars Gethin and Theobold, moderated by journalist Randy Myers.