Kamaal Williams rolled through San Francisco last December for a whirlybird DJ set at 1015 Folsom in support of the latest edition of his DJ-Kicks album series. Yes, he's a musician. A dope one, for sure, who can hang with the best while selecting house, UK funky, broken beat, jungle, soul, hip-hop, R&B, and of course, jazz. Such genre diversity seems to be the norm amongst his wave of London jazz musicians.
Williams likes to jump around when crafting albums, just as much as when he's playing keyboards at live concerts that stretch the parameters of what is expected for a jazz musician. The Yussef Kamaal album Black Focus was one of the most talked-about records in 2016, and its vinyl pressings are still hard to get. Follow-up project The Return, which saw Williams and Yussef Dawes part ways amicably, came via Williams' own new Black Focus label and took his band global, making it onto many "best of" lists in 2018. Henry Wu, Williams' nickname for his expansive combination of genres, has always been a futuristic take on that which otherwise might seem antiquated.
"For me, jazz was something that happened very early on in the 20th century, or up until the late '60s," Williams told Red Bull Music Academy in 2018. "What I see to be the core foundation of jazz musicians, they evolved—they went on to funk, soul, fusion. In the '70s, we saw people like Herbie Hancock and Miles Davis. They changed because it wasn't about jazz anymore, it was about taking what they had had from that era, and going, 'Right, what's the time we're in now? We've got new equipment—electric pianos, synthesizers, rock music, punk'. It evolved. 40 years on from that evolution, how can we call it jazz? We've grown up on grime, garage, broken beat, drum 'n' bass, and house—there are too many other new elements in there to just say it's jazz."
Eight minutes into Williams's new rhythm caper Wu Hen, the nickname Henry's grandma gave him as a child, he sets the compass. It's a 10-song, 40-minute set up, filled with jokey skits that may be somewhat unintelligible to some Americans. Deal with it, the accents are everything, delivered in a stuttering cadence and with the brilliance of a young-old master, juicing the bejeezus out of a funk swirl.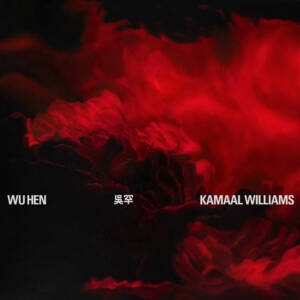 Wu Hen illuminates in some type of George Duke light, no doubt. Songs float into one another, giving the appearance of an elongated jam or multi-segment movement. New players on this record include Greg Paul of Kalayst Collective on drums, Rick Leon James on bass, Quinn Mason on saxophone, and guest harp from Alina Bzhezhinska. Collectively, they add a jazz-fusion, mahogany-paneled ubiquity. Still, Williams goes down the rabbit hole of a couple of the micro-genres London has produced over the past 30 years, straight killing it.
"One More Time", the second track, sports a ring tone keyboard line, drum 'n' bass swag, and bumpy smooth bassline, the snares coming in flying quick. Arrangements soar down into the halftime pastel of "1989", the official introduction of the multi-talented polymath Miguel Atwood-Ferguson and his polychromatic string arrangements that boost Kamaal into that David Axelrod sphere. Known for his collaborations with Flying Lotus, Dr. Dre, Mary J. Blige, and Seu Jorge, Ferguson swings the tone from bouncy pleasure to deep-rooted symmetry.
In the span of three songs, Williams builds from a funk tenor into a 4/4 house pace and eventually lands a suite in some type of UK funky bruk neighborhood. This statement passage, "Big Rick," "Save Me," and "Mr. Wu", straddle the line of "musicians doing what DJs do"; re-contextualizing modern dance music with polish, connecting strands together like he was making sandwiches blindfolded …
Nobody else out here playing like that.
Kamaal Williams' Wu Hen is available on Black Focus Records. Get it.