A disciplinary hearing that could have sent Malik Washington back to prison will be delayed until March after a federal court hearing today.
Attorneys for the Bureau of Prisons and the Geo Group told Judge John S. Tigar that they would agree not to pursue any further action against Washington until the judge rules on a lawsuit seeking to block retaliation against Washington for speaking to reporters.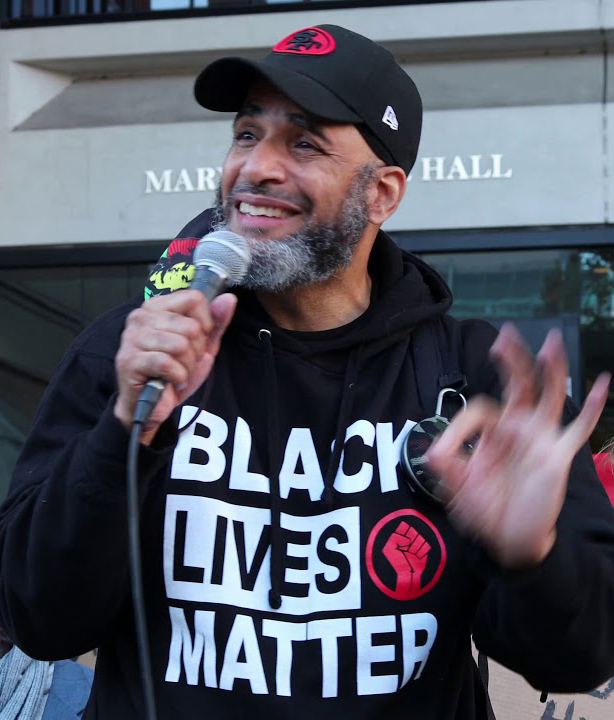 The operators of the private-prison halfway house where Washington is confined had scheduled a disciplinary hearing for 7pm today on charges that he violated the rules of his confinement by holding a press conference to announce his lawsuit.
He was prepared for that threat: At the press conference, Washington's lawyer, Richard Tan, acknowledged that his client was taking a big risk by coming forward and speaking openly to the news media.
Washington, who is the editor of the San Francisco Bay View, contacted 48hills in January to report at COVID outbreak at the halfway house, known as the Taylor Center, in the Tenderloin.
When I then contacted the Geo Group for comment, officials at the Taylor Center confiscated Washington's cell phone and informed him that he was not allowed to speak to the news media without written permission.
His ability to leave the center for work has also been restricted and his sentence extended.
Washington has filed suit challenging the restrictions that the complaint calls retaliation.
The first hearing on the case was today, called by Tigar on short notice because of the pending disciplinary hearing.
Tigar didn't rule on Washington's request for an immediate restraining order against the BOP and Geo Group, but he told the parties that he wanted to see some sort of temporary agreement. If they couldn't reach terms, he said, he would decide on issuing an order today.
After conferring with their clients, Christopher Jeu, representing BOP, and Cheryl Wilke, representing the Geo Group, agreed to stipulate that the disciplinary hearing would be postponed.
That apparently means that Washington will remain in the halfway house and can continue to leave the facility to go to work at the Bay View.
The next hearing in the case is March 2.