A halfway house in the Tenderloin run by a private-prison contractor with a controversial record has been locked down because some residents and staff tested positive for COVID, 48hills has learned.
A letter to residents, which was posted on Twitter, states that "we have had a few residents and staff who have recently tested positive for covid-19." The document carries the name of Maria Richard, director of the Taylor Center, a facility at 111 Taylor run by the Geo Group, a national private-prison operator.
Some residents of the center, who are on parole from state prison or are considered inmates in the federal prison system, work outside the facility on a regular basis.
The letter – which reads very much like a directive from a prison, with no options and with threats to send residents back into custody, is here: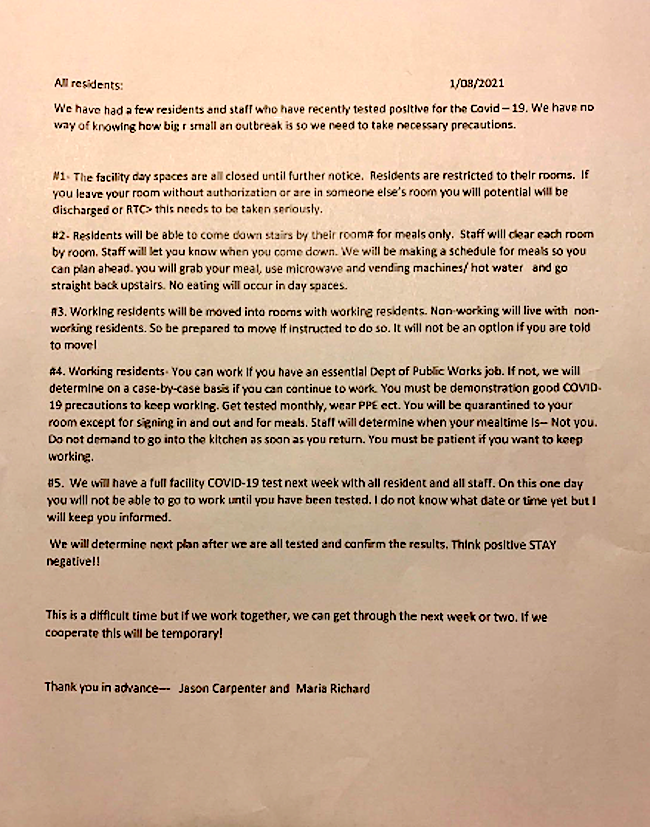 Monica Hook, vice president for communications at Geo Care, confirmed that the letter was issued by the Taylor Center staff.
She told me that "at least three" people have tested positive, but that all of them have been quarantined off site.
Among those potentially impacted by the outbreak is the new editor of the San Francisco Bay View, Keith "Malik" Washington, who lives at the Taylor Center. He has a job, an apartment waiting in the city, and only about three months left until he has completed his federal sentence – but despite the outbreak, the federal Bureau of Prisons won't let him leave.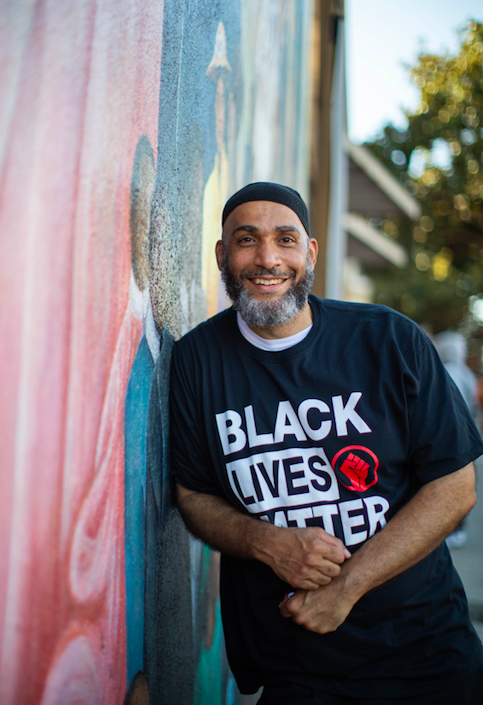 And after I spoke with Washington about the situation, he told me his cell phone was confiscated and he was given a disciplinary write-up for "unauthorized contact with the public."
The Taylor Center doesn't get much news media attention, but it's in essence a private prison in San Francisco. Residents are not allowed to leave the facility except when they have a permission slip to go to work. They are housed in congregate settings; everyone has at least one roommate and sometimes more.
The feds and the state both pay the Geo Group to house people at the center, although the state Legislature has banned future contracts with private prisons.
I asked the federal Bureau of Prisons for its contact with Geo Group for the Taylor Center. The bureau told me it might take "up to 12 months" to get me that information. I haven't heard back from the state Department of Corrections.
SF Weekly reported in 2016 on another Geo Group center in Soma, and under that contract, the center is paid a base of $98,000 a month as well as between $48 and $60 a day for every parolee or inmate. If the same basic terms apply to the Taylor Center deal, it means Geo Group has an incentive to keep people locked in the facility; anyone who leaves costs the giant national company as much as $420 a week.
The Geo Group is a billion-dollar corporation listed on Wall Street that operates 129 private prisons in the US and the United Kingdom, according to documents filed with the Securities and Exchange Commission.
Its revenue for 2019 was $2.4 billion, up $600 million since 2015. Under Donald Trump, the private prison business has apparently been good.
The company, according to federal and state elections records, donates heavily to right-wing Republicans, including more than $15,000 to Trump and $100,000 to "Right to Rise USA," a PAC that supported Jeb Bush for president.
In California, the Geo Group gave $140,000 to the state Democratic Party in 2017 and 2018 and another $75,000 to the state Republican Party.
The corporation runs two private detention facilities for ICE in California, and is suing the state to keep those contracts. A plan to open an ICE facility in McFarland created a huge controversy last year, but the town approved the plan anyway.
The company has come under fire for allegedly forcing detained immigrants to work for $1 a day, according to a 2017 lawsuit. The Geo Group says the work program is just fine.
At least one major bank had decided not to fund Geo Group any more.
But for the past four years, the company has been running a private facility in the Tenderloin with little notice.
Malik Washington, a longtime journalist behind bars who started last year as the new editor of the Bay View, was released in September from federal prison and sent to Taylor Center. He will be done with all federal requirements in May.
His fiancée reports that she has an apartment in Bayview and he can move in as soon as he gets out of the Taylor Center.
Like all center inmates, he wears a monitoring device at all times anyway.
In communications to the Bureau of Prison, Mary Ratcliff, the outgoing editor of the Bay View, noted that
[Washington] has amazed me with how quickly he's learned to do nearly everything it takes to put out a paper and keep up a news website and social media. He's already well known among journalists and leaders, including major figures, in the community and government. He also will now be a weekly guest commentator on the most prestigious radio news and analysis show in the Bay Area. He's done all that while living at 111 Taylor for only three months. I hope you're as proud of him as I am. He's a real success story.
In a Dec. 15 letter, she explained that, at 88 and with a cancer diagnosis, she can no longer take on the full-time job of running the paper:
The community we serve, the Black community, is at greatest risk. Our newspaper is literally a lifeline for the most vulnerable people in the nation. The Bay View staff is obliged to serve our people's need for lifesaving information and inspiration just as medical professionals are obliged to serve the need for effective health care.

I do not have the strength to lead the Bay View to fulfill this obligation. Keith does have that strength. He needs to work full time – and more – to not only keep our business alive but to keep our people alive.

He must also stay healthy himself. We cannot lose him, and he must not carry COVID to infect me and my husband, as it's very unlikely we could survive.

The last place he needs to stay is in a congregate living arrangement in an area where the infection rate is especially high. And he need not stay there. He and his fiancé now have a home only three blocks from the Bay View office.

PLEASE – I beseech you – let him live there so he can walk those three blocks to work, avoiding not only the dangers of the Tenderloin but the bus ride from there to here.

I believe the rules allow home confinement to be approved when the circumstances are extraordinary and compelling. If the circumstances I have outlined in this letter are not extraordinary and compelling, I question what would meet those criteria in the eyes of Geo Group and the Bureau of Prisons.


Maria Richard, the director of the Taylor Center, did not respond to my emails. Hook initially told me that there "are currently zero staff or resident cases at Taylor Center."
She said that
The California Department of Corrections and Rehabilitation (CDCR) determines who is eligible/referred, length of stay, conditions of community release, etc. We are working closely with the Health Department and CDCR and following recommended Centers for Disease Control guidelines, so I would refer you to CDCR or the Health Department for additional COVID-related information.
Washington is not under the jurisdiction of CDCR. He's a federal prisoner.
I sent Hook the letter posted on Twitter. She called me back to say that in fact there was an "outbreak" – defined by the state as three or more cases in 14 days – and that "any individual who tested positive was taken off site."
She said that "we are trying to find out" how the information wound up on Twitter, but that residents of the facility are allowed to have cell phones and communicate with the outside world.
"Individuals have access to the community," she said.
Apparently that doesn't apply to Washington. Here's an email I got from him this morning:
I just received a disciplinary report for sharing the memo with the public regarding the Covid Outbreak. It s a violation of CODE 327. UNAUTHORIZED CONTACT WITH THE PUBLIC

THE INCIDENT REPoRT SPECIFICALLY CITES TEXT MESSAGES I HAD WITH TIM REDMOND OF 48 HILLS.

THE SEVERITY OF THIS DISCIPLINARY REPORT IS NOT GREAT BUT THE ENCROACHMENT ON THE EXERCISE OF MY FIRST AMENDMENT RIGHT TO SPEAK TO THE MEDIA AND THE PUBLIC AT LARGE IN ORDER TO COMMUNICATE THE RISK TO THE RESIDENTS HERE AS WELL AS THE PUBLIC AT LARGE, MUST NOT BE IGNORED. GEO GROUP HAS A DUTY TO INFORM THE PUBLIC WHAT IS HAPPENING INSIDE THIS PLACE AND I SHOULD NOT BE THREATENED OR PUNISHED FOR EXERCISING MY FIRST AMENDMENT RIGHTS.
I am awaiting further response from Hook, and will update when she gets back to me.
UPDATE: Hook just sent me the following:
"At the Taylor Street Center, the Federal Bureau of Prisons (BOP) and the California Department of Corrections and Rehabilitation (CDCR) determines length of stay and which individuals are eligible for community-based residential housing. BOP determines eligibility for home confinement, not GEO Reentry. Residents have access to the community while at Taylor Street, and may use the public access phones on-site or their own personal cell phones for employment purposes, family contact, and contact with the community. GEO residential facilities are congregate settings and the cell phone policy includes restrictions regarding taking photos in the facility.

Regarding whether individuals are permitted to leave the facility, Taylor Street staff continue to work in collaboration with the BOP, CDCR, and Public Health officials and will adhere to their guidance and facility recommendations for limiting the further spread of COVID-19. At this time, resident movement is restricted to essential workers only. Four residents have tested positive for COVID-19 at Taylor Street since January 1, 2021, however there are currently no positive COVID-19 cases housed at the facility. Those that test positive are either housed off-site or in quarantine, depending on agency contract requirements.

Staff have implemented and are following Centers for Disease Control and Prevention guidance for Management of Coronavirus in Correctional and Detention Facilities. We take our responsibility to ensure the health and safety of all those in our care, and our employees, with the utmost seriousness."