In 1991, it was hard to escape the chatter in hip-hop and critics' circles about how much the now-legendary hip-hop trio's sophomore effort De La Soul is Dead differed from their debut, 1989's 3 Feet High and Rising. Their incredulity was humorous, given that Dead's cover featured a toppled pot of the last LP's totem daisies; the new direction was signaled, front and center.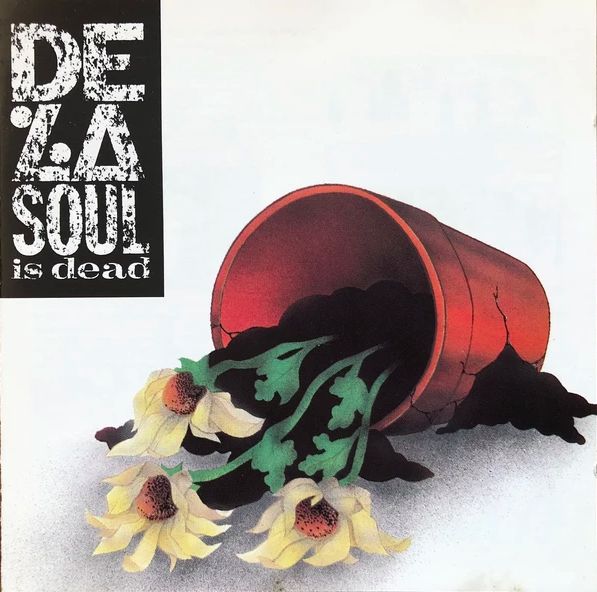 With the exception of a five-mic rating in The Source, the hip-hop bible at the time, De La Soul Is Dead garnered mixed reviews. Critics found it hard to process emcees Posdnous, Trugoy, and DJ Maseo without the Dayglo daisy age publicity machine of 3 Feet behind them. The group's debut record for Tommy Boy, made for about $20,000, didn't have to deal with any one's expectations.
When that first effort topped all the critics' lists, hitting number one on the R&B/hip-hop Billboard chart, the little experimental record produced by Prince Paul that became "the Sgt. Pepper of hip-hop" according to the Village Voice, exploded the trio all over MTV. They even made an appearance on "The Arsenio Hall Show," when the glitzy host introduced them as "the hippies of hip-hop."
Success and fame came with a price. How do you top a smash debut?
Kill it. Hit restart. De La Soul cancelled themselves in order to move forward. It was the most gangster, punk-rock, art move in hip-hop at the time—possibly of all time, for that matter.
Make no mistake, A Tribe Called Quest and Beastie Boys (both contemporaries of De La) all made sophomore pivots in their sound too. ATCQ came with a bass-centric earworm of an album on Low End Theory, featuring an animated Phife and crisp jazz samples. Shout out to producer Bob Power. Beasties got down with the production duo Dust Brothers, and grounded their triplicate rhyme cadences in old soul and disco samples (and social consciousness)—miles away from their rawk-rap beginning.
But it was De La who made the radical departure on all fronts. Concept, sound, content, attitude—Posdnous, Trugoy, and DJ Maseo were seeking a new way to survive overnight fame. Sick of being questioned by the streets, having to "knuckle up" to every new town Joe who wanted to test their manhood, the trio from Amityville wrote themselves a new trajectory by deading the hippie nonsense, quickly.
"100 percent of the people listening to De La Soul were really attached to the image and not to what we were trying to say," David Jude Jolicoeur a.k.a. Trugoy told Rolling Stone in 1991, just before the release of the group's follow-up to 3 Feet High. Pos added, "We didn't want to be pinned down to a visual look, and so we thought, 'This whole daisy thing has to just die.'"
De La Soul Is Dead, released 30 years ago this month, comes filled to the teeth with tales of dealing with the harsh side of celebrity, family members succumbing to addiction, child abuse, and rollerskating. "Bitties in the BK Lounge" features a three-beat suite; a song within a song sees Pos engage in a rap battle and lose, over a Grant Green sample, to a random female Burger King employee who could care less what group he's in.
That's the thing—De La can always take pot shots at themselves. Even though they are some of the best emcees on the planet, they are smart enough to pick their spots.
The entire album is tied together by a bevvy of skits that involves a fan of the group finding the new cassette in a garbage can. Bullies show up, beat up the fan, steal the tape, and harshly lambast the songs on the album as the listener partakes in both the tracks and the commentary at the same time. To soften the scorched earth tone, there are several "quiet storm" station IDs for the fictional WRMS that plays nothing but De La Soul music.
Real quick. Who Does That?
It was De La Soul, the group, who presented and conceived the mean-toned record, a push back against all the things happening to them so fast at a young age. So Prince Paul, sensing this, figured if we say the album sucks first, we'll beat everyone comparing it to the first album to the punch.
All of these interactions, the emcees voicing real-life scenarios on the record, Prince Paul at his production zenith (seriously in his all-time bag, pulling funk, disco, jazz, rock, animal noises)—it makes De La Soul is Dead not only an all-time classic in hip-hop and music circles alike. It's one of De La's best, and considering their standards, that means royalty.