In "What? Is? Art?" at Cushion Works (through June 4), San Francisco artist Lindsey White departs from her signature wry humor to address the much more personal in a series of photographs of San Francisco Art Institute's (SFAI) empty Chestnut campus.
As colleges and universities across the country have been shuttered because of COVID-19, SFAI's empty grounds represent a failed merger that coincided with the pandemic's onset. In May 2020, White—Assistant Professor of Photography and Department Chair—returned to the campus to pick up some personal belongings. She was immediately struck by the abandoned scene, she recalls in an artist's statement:
"When I opened the door to my classroom, it smelled comforting, like home… All alone, I stared at my weird piles of books, folders, napkins, costumes, and party supplies. The calendar still says it's March. I don't want to move anything… Locker doors half open, a soda lodged in a cubby, prints hanging out of the dryer."

Her natural instinct was to capture it all with her camera. While White's stark photographs of the eerily quiet spaces are a heartbreaking tribute to community she dearly loves, they are also institutional critique and the synthesis of art and life.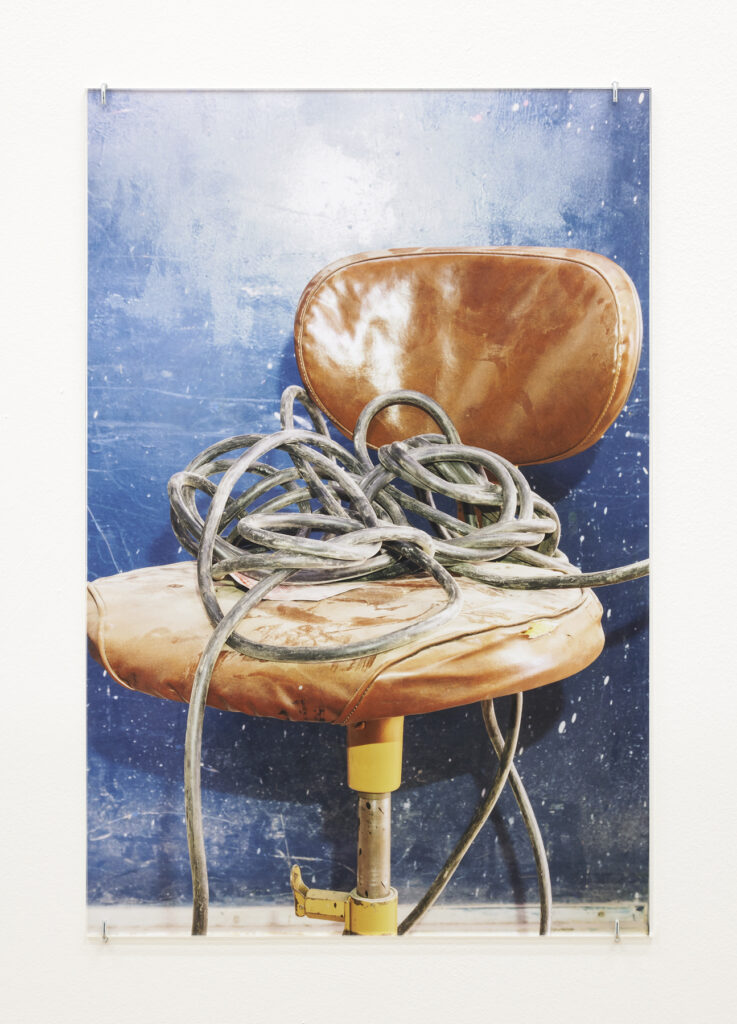 Turning her camera to the studios, White presents a photograph of a paint-splashed cement wall and buckets. As the paint splatters suggest Abstract Expressionism's frenzied and messy overall treatment of the canvas, they bind the wall and buckets together as residue of student activity over the years. Even while absent, the student's prior activity continues to mark the building, claiming it as a space of artistic learning and community.
As artwork was abandoned mid-production, Whites photographed a plaster, comical, but slightly menacing nose-less head from the sculpture studios. Except for the terracotta-colored void that marks where the nose once stood, the color photograph has a bare color palette of the white wall, plaster sculpture, and gray wire metal racks. Resting on one of those racks, the dismembered, elongated nose carefully sits in front of the head as reminder that it is unfinished, damaged, and needs to be repaired. As the work alludes to the injury of having one's nose cut off to spite the face, it also speaks to the potential for rehabilitation.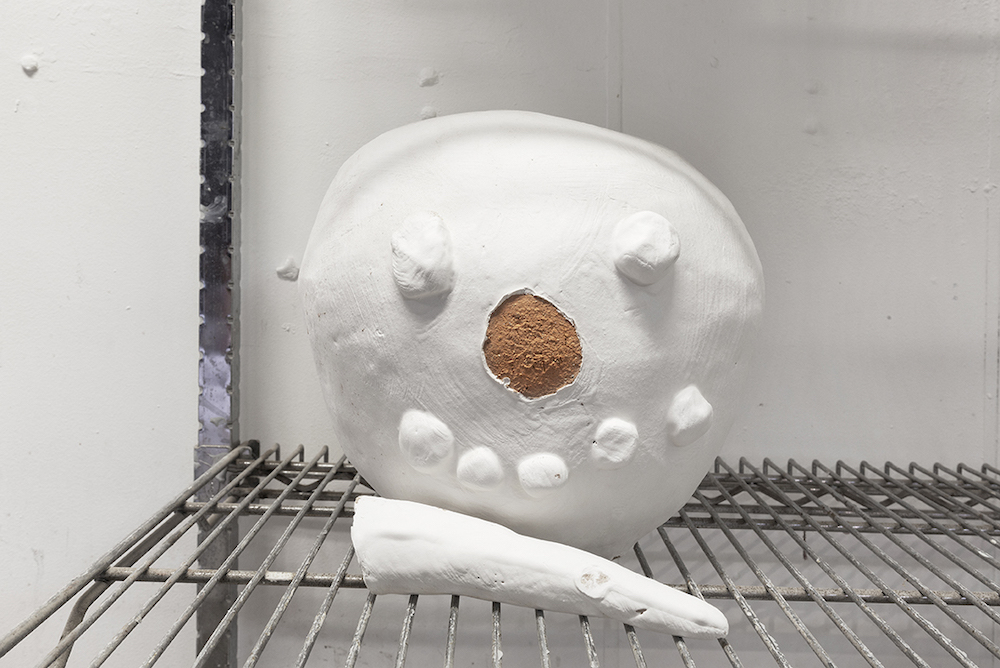 In what resembles a behind-the-scenes image of a film production, White's expert framing leaves the wide-view context ambiguous. This picture focuses on the cables and a power strip that dangle from a mixer or control panel, while a rather mangy wig of Goldilocks braids and Clorox wipes sits on a stool. With shadows cast on the white walls, and gray floor overlapping the linear, black cords and equipment, the image is a confused network of light and shade. Void of a crew and actors, the project's narrative is left undeveloped and ambiguous.
A skylight projecting a rectangular glow onto the white walls and darker floor of Studio 10 provides another striking moment. White's hauntingly quiet image continues the theme of process here. Studio 10 was the frame that New Genres students filled with performance, video, and installations. As students used their bodies and lives as material and content, the works they produced were frequently fugitive and gestural in nature. Now without the students, Studio 10 is just an empty room.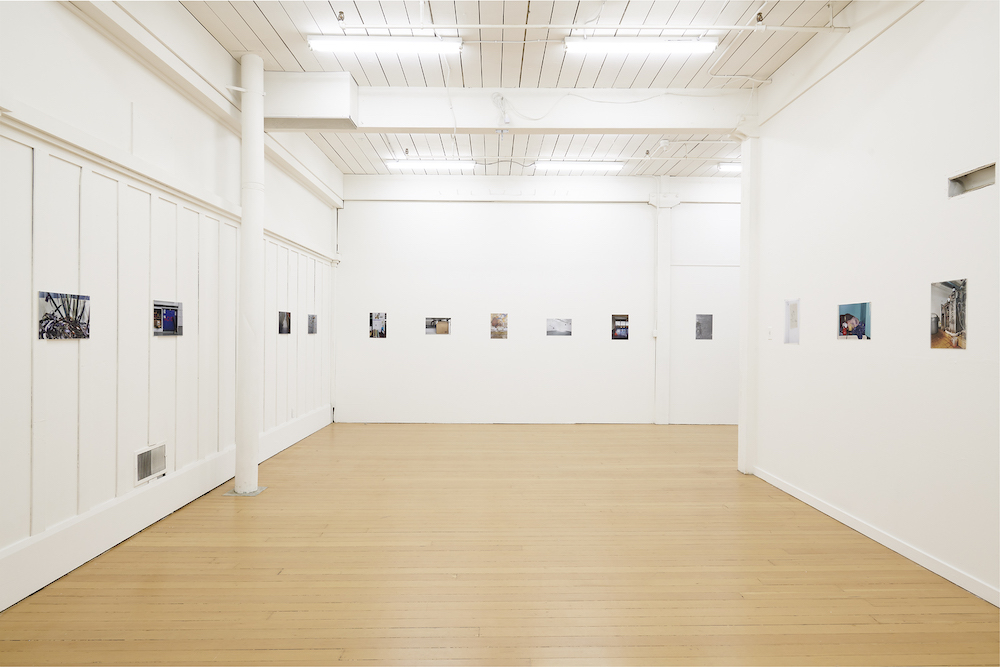 With a former faculty of seminal Bay Area Conceptualists, photographers, filmmakers, and painters, the school's artistic ethos fused art and life in raw, and sometimes chaotic, ways. In keeping with this spirit, White's exhibition turns her camera to life, celebrating the messy love of a place and community whose future remains full of doubt.
"Lindsey White: What? Is? Art?" runs through June 4 by appointment only at Cushion Works. More info here.