On Friday afternoon, more than 150 people watched with bated breath on Zoom as three people opened envelopes in a courtroom.
After months of campaigning, the National Labor Relations Board sanctioned election to decide whether 480 AAA insurance agents in Northern California would unionize had arrived.
When the votes were counted, 257 workers voted in favor and 174 against. Five ballots were contested, because those employees resigned before the ballots were turned in.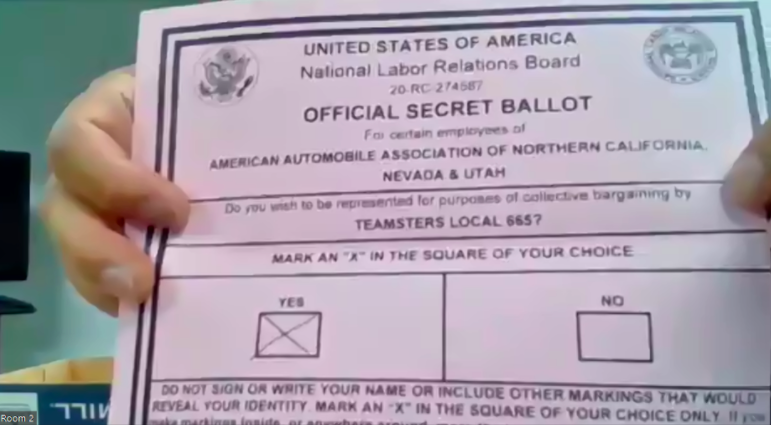 The election had high turnout, with 88 percent of eligible workers casting ballots, compared to the average for NLRB union elections of 56 percent, according to Tom Woods, a business agent for Teamsters Local 665, the union that now represents the now unionized AAA workers.
AAA said in an email statement issued to union leadership that they will accept the election results.
"While we are disappointed in this result, we will accept whatever election outcome is certified by the NLRB, and look forward to moving forward from this process," said Osh O'Crowley, chief sales officer of AAA Northern California.
Woods said this election was particularly contentious because union representation is low within the financial services industry.
"Getting this level of support at 60-40 [percent] was a much steeper climb than almost any other industry because there is no history of representation in financial services," Woods said. "So we're dealing with a group of people that started at a very skeptical place, and clearly we didn't get to everybody in that group…the union is now focused on bringing the 'agnostic nos' into the process so that we can do the best job representing the group."
Following the election results, AAA Northern California workers are working to survey fellow agents to figure out what they want from management before entering bargaining, including writing different contracts that adjust sales targets and compensation, particularly how often those metrics can be changed; agents in Fremont have had their sales targets and pay changed six times over the last two years, according to Corina Molina, an insurance salesperson based in Fremont who is drawing up the survey.
"We're going to draw up a list of ten things that they want us to negotiate, and then tally up the majority and see what they want workers to go in for," said Molina.
Insurance agent Angie Matthews, who is based in Stockton, said that she was thrilled with the election's outcome. Matthews, who said that poor working conditions and manipulative management prodded her to support unionization, said that unionization is going to have working at AAA a rewarding career once again.
"I think work is going to change dramatically…I'm excited about having a bright career again at AAA," said Matthews.