The annual Tournesol Award of the Headlands Center of the Arts is offered as support to promising Bay Area painters seeking to establish professional careers while providing opportunity for emerging artists to thrive and grow. This year's award recipient is artist Tom Colcord, who currently has a show up at Glass Rice Gallery through September 25.
Colcord grew up in Indianapolis, studied at IU Bloomington and moved to the Bay Area in 2015 on a fellowship to attend the San Francisco Art Institute for his MFA. What keeps him here is access to the arts and our diverse community. He's also a sunshine person, and says the environment here brightens his mood. Having lived near McLaren Park for a long time, access to nature is a big deal for him.
Describing himself as an ambivert who is curious and restless, his work reflects those traits in its detailed exploration of interior/exterior worlds colliding. Anything in his immediate environment is open for interpretation by Colcord as source material for his work. He sees painting as a form of phenomenology: It's a direct relationship between the painter and what one can perceive and a dialogue between the viewer and the art. His work is dense, maximal and vibrant. In a conversation, Colcord shared what inspires him and being chosen as Tournesol Award recipient.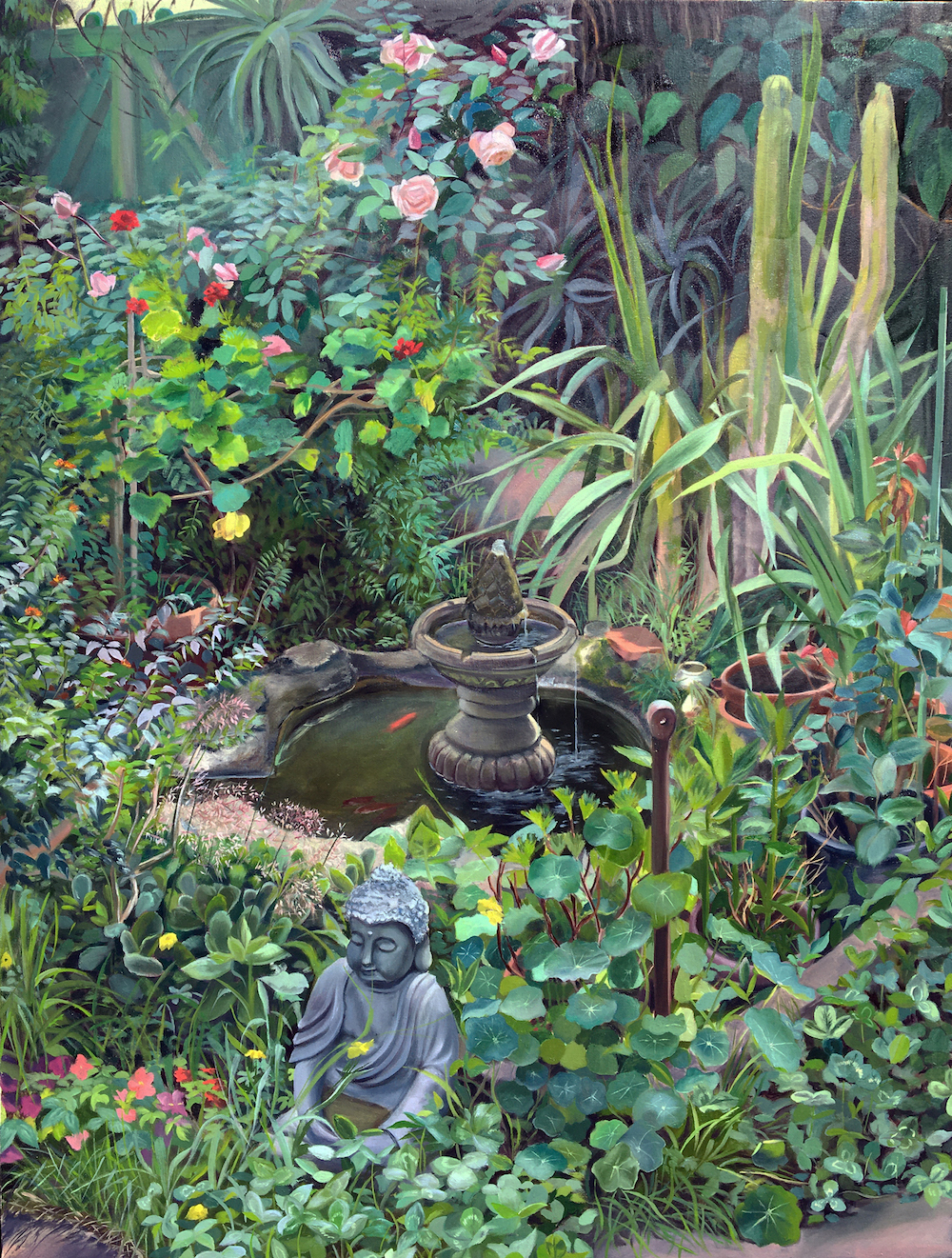 48HILLS Why did you become an artist?
TOM COLCORD I'm not sure I ever had the option not to! It is perhaps an addiction. It's a journey where I can never totally expect what could come next, so unpredictable and full of adventure. What could be more challenging or multiplicious?
48H What is your subject matter and what motivates that choice?
TC Many things, but first and foremost: Plants! I am fascinated by complexity. Looking up close, I can see a little universe everywhere I go. It feels as though there are macrocosms inside of every microcosm and I want to paint that. For the piece, "Seeing the Forest for the Trees," I found a run-down, overgrown backyard and felt it offered great depth.
Ultimately, I am interested in the subjectivity of our perceptions and concealing and revealing the different ways that reality can operate. By collaging all these interior and exterior elements, my paintings end in a fluid or liminal state, as though a memory, idea or belief was in the process of changing or forming.
Lately I have been influenced by stories of the paranormal. I think of them as blips or glitches in our reality that are there to remind us that our perceptions are often false or limited. With some of my more dreamy pieces, where I meditate on how our experiences and memories can morph over time, I hope to evoke how prevalent non-human intelligence is in our environment.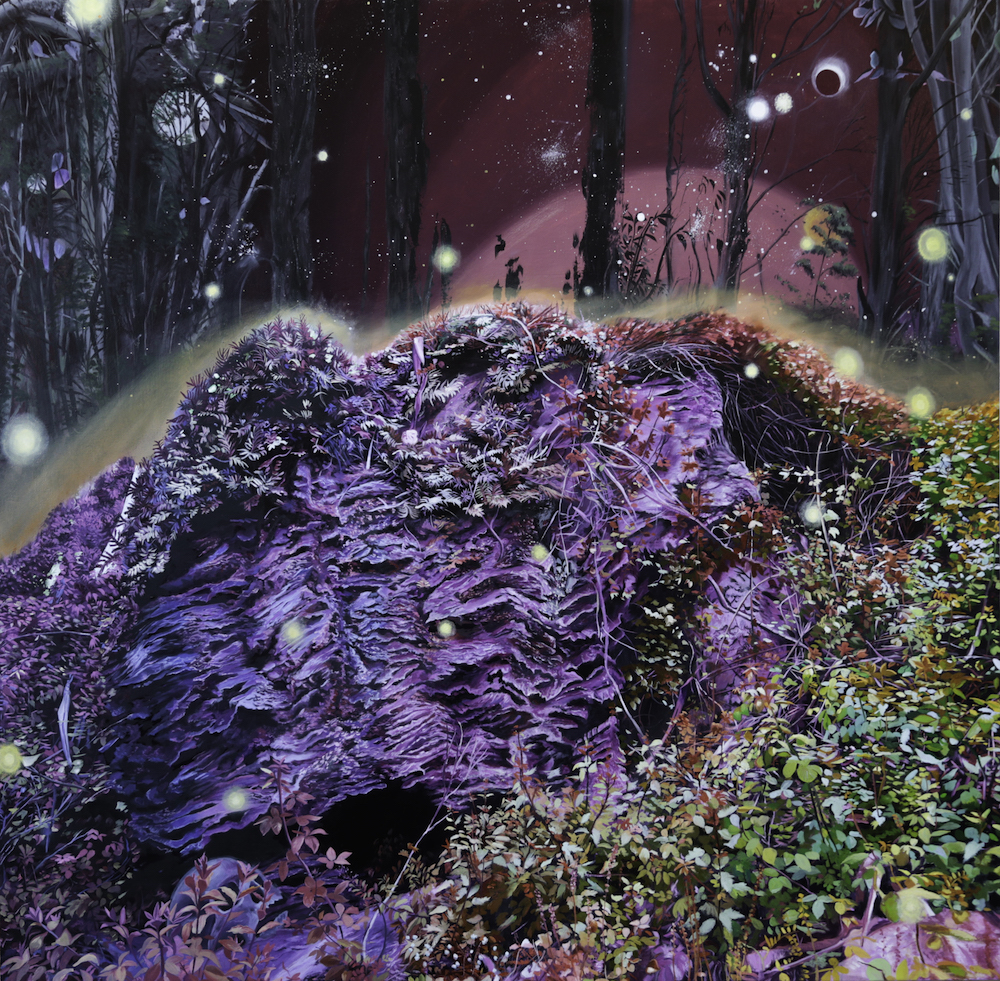 48H Who influences your work?
TC I really like the Magical Realist writers like Haruki Murakami, Karen Russel, Gabriel Garcia Marquez, and Jorge Luis Borges. Murakami, for example, does an amazing job of painting a scene that, while being mundane, is so entire in its description that it feels like a completely believable space. That way, when the cat starts talking to you, you're convinced it's really happening.
As for painters, I've always loved Berthe Morisot, her approach to landscape is so dreamy and almost . . . nostalgic? When I look at her work, I get really tripped out on the idea that I am looking at something made by someone over 150 years ago who is longing for a time or a place even farther back. It's like a romantic type of time travel.
Contemporary artist Angela Dufresne is another artist who takes me by surprise. And Rackstraw Downes, for how panoramic his work is. He published a journal called Under the Gowanus where he recorded his daily experience of a painting he made from life under the Gowanus tunnel in New York. I found it really inspiring.
Caleb Weintraub, a former professor of mine at IU, is another artist I've always admired. His approach is bold and fantastical. Xiao Wang and Jenna Gribbon are two other painters that I feel in conversation with. I used to share a studio with Xiao, and I often just sat around and watched him paint. I don't know anyone doing a better job of painting plants. And that's a lot for me to admit.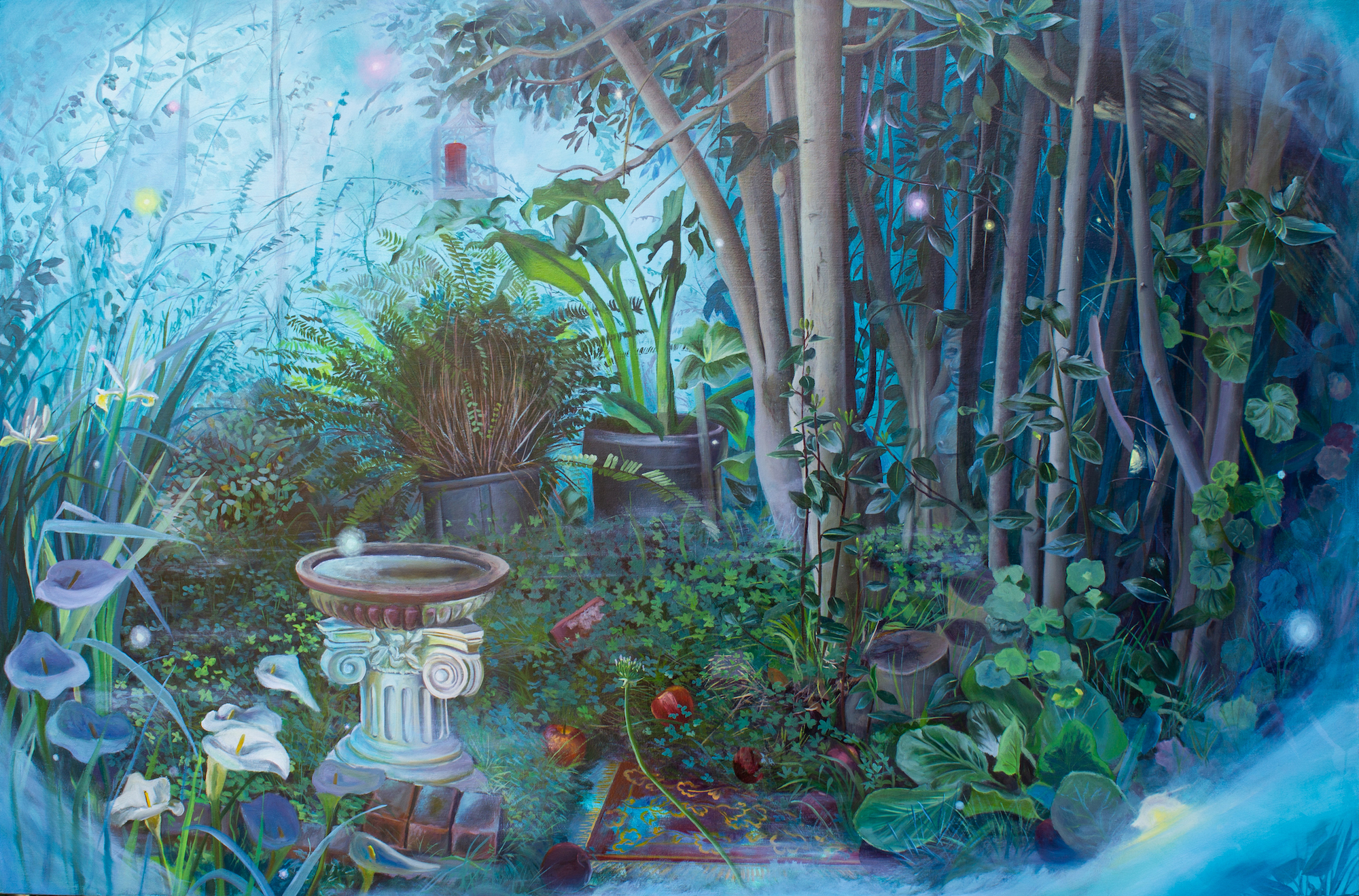 48H What is a typical day in the studio?
TC I pop into Headlands around 10 in the morning and make a list of things I need to do and things I want to do, then try my best to make all of those things happen, although I rarely do.
I focus on two or three paintings unless I get really sucked into just one. Listening to podcasts or audiobooks while I work, I learn new things and it also helps me zone in on all the crazy detail I have tasked myself with. Painting becomes meditative and I lose sight of the flow of time, which is a fantastic feeling.
By six or seven, I head home and spend the late evening drinking whiskey, talking about books, and listening to jazz with my beautiful partner Ali.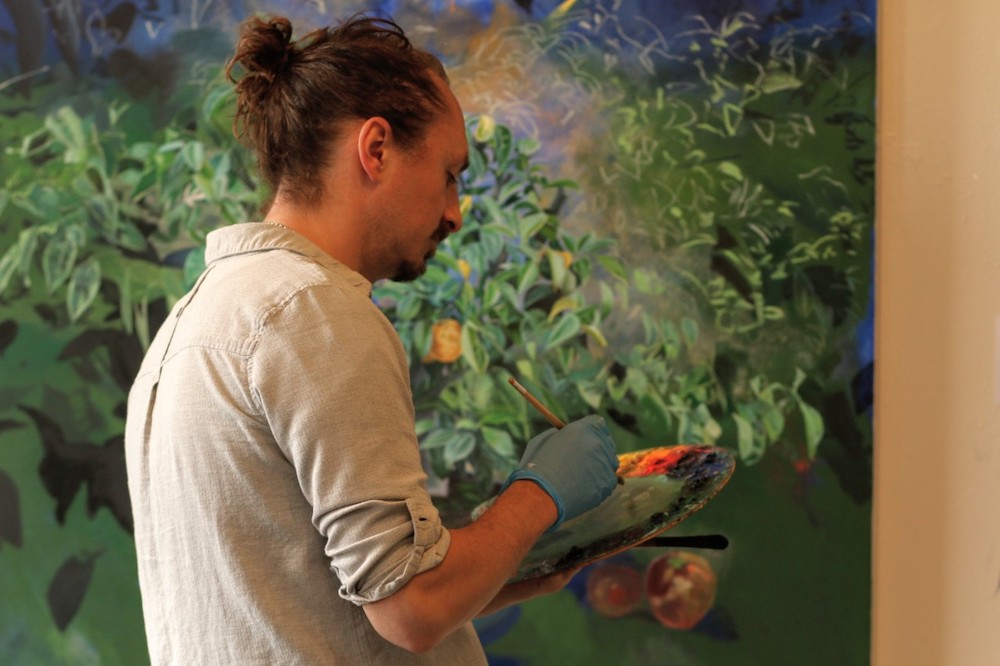 48H Tell us about being selected for the Tournesol Award.
TC Its definitely overwhelming and of course I feel very blessed. It's a dream come true in a lot of ways. Ultimately though, it's a validation and an encouragement. It's like they are saying, "Keep going!" So, I am.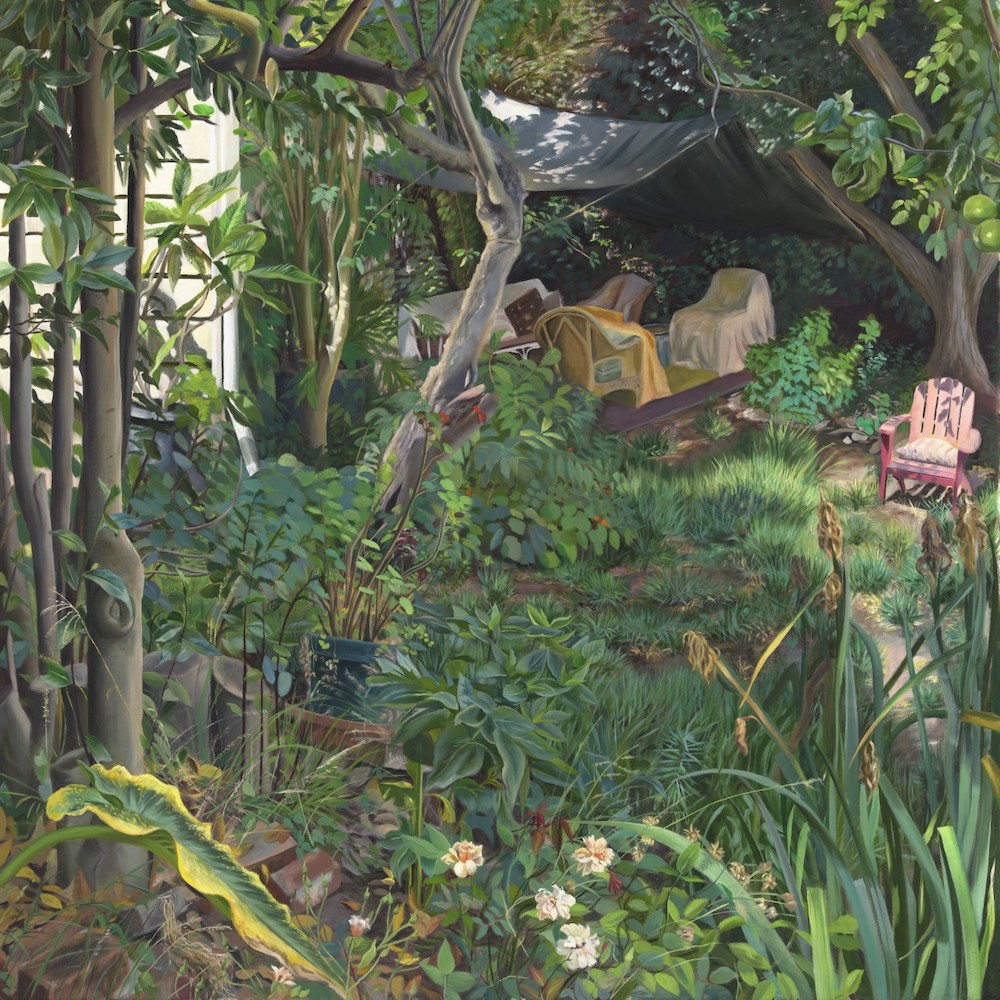 48H What are your hopes for this studio residency?
To continue to evolve. I'm really excited about the work I'm doing now but I also know that in a year it will look different and that's another thing that drives me. Being in a community of other artists who are mid-career, and are having shows in New York and LA, and have been collected by public museums and institutions… It's very inspiring and a bit intimidating. I'm doing a lot of listening and learning.
It's also giving me the space and time to be freer with my practice, to loosen up. I'm ultimately hoping to inch closer to what it is that I am trying to say with my artwork and what I want it to do. I hope to make the most of this experience. I love being at The Headlands, it's a beautiful and open place. I want to be able to look back and know I did the best job I possibly could.
Tom Colcord will exhibit new work after completion of his residence in summer 2022. In the meantime, his solo show at Glass Rice Gallery in San Francisco runs through September 25. For more information, visit tomcolcord.com and his Instagram. To learn more about the Tournesol Award and other programs, visit Headlands Center for the Arts.