Well, now we have a better idea why Mayor London Breed pulled the plug on a service center for homeless youth at Haight and Stanyan (after her office originally supported the idea).
I just saw a copy of the most recent newsletter of the Cole Valley Improvement Association, a group of largely conservative homeowners and business owners who have been part of Breed's constituency in the district and opposed the use of the site as a drop-in center.
The newsletter described how the group lobbied the mayor to drop the plan, and celebrates the day (Oct. 21 at 4pm) when Breed met with CVIA members and said:
"It's not going to happen."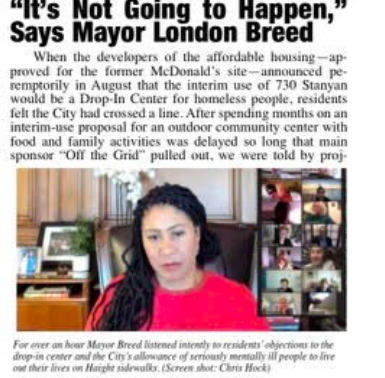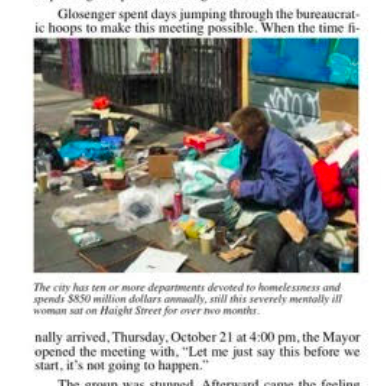 She then, according to the newsletter, told the local police captain to "enforce the law on quality-of-life issues" (which typically means rousting, sweeping, and hassling homeless people to try to drive them out of the neighborhood.)
Sup. Dean Preston has called for a hearing on the whole issue, and will be asking the Mayor's Office to explain what happened. Even more may come to light in the hearing, set for the Government Audit and Oversight Committee Thursday/18 at 10am.
GAO will also hold a hearing on the San Francisco Parks Alliance and its relationship to the Department of Recreation and Parks—which is a long and tangled tale that most recently came to light around the Golden Gate Park ferris wheel.
A pretty scathing report from the Budget and Legislative Analyst notes that the relationship between the two organizations, which has played a role in the latest City Hall scandals, is at best dubious and riddled with the potential for conflicts.
I can't wait to see Rec-Park Director Phil Ginsburg, who seems to love working to privatize the parks, respond.
The Land Use and Transportation Committee will hold a hearing Monday/15 on Muni's long-term plans for addressing service in an era when residential and work patterns are very much in flux. The hearing will in particular discuss how Muni plans to serve seniors, people with disabilities, and residents of West Side neighborhoods that had limited service before the pandemic cuts.
That hearing starts at 1:30pm.