On a cold, rain-drenched stinker of a Sunday night, the Balboa Theatre had bizzaro visuals running on the screen of theater one—above the next wave of Bay Area bands causing international buzz. Local imprint Rocks In Your Head was throwing its Xmas Party Festival and a comfy 200 hundred or so attendees, all ages and walks of life, reveled, moshed, drank beers, devoured popcorn, and danced like it was sunny and 75 degrees at a mini music festival.
Juice Bumps—a band that epitomizes the very quintessence of weird wave—brought herky-jerky arrangements both rhythmical and of another dimension, seeming right at home beneath the rippling slippage of heavy color visuals battling gravity in a constant tussle.
A horde of enthusiastic music heads swooned and roared at pre-recorded word snippets, accenting the band's abstract 40-minute set. Juice Bumps, along with Buzzed Lightbeer, Thank You Come Again, and Fake Fruit, played four-plus hours while DJs in the lobby spun records at unconventional speeds, including a Whitney Houston song at 45. Making these indoor surroundings feel retro Ken Kesey countercultural. Minus the acid.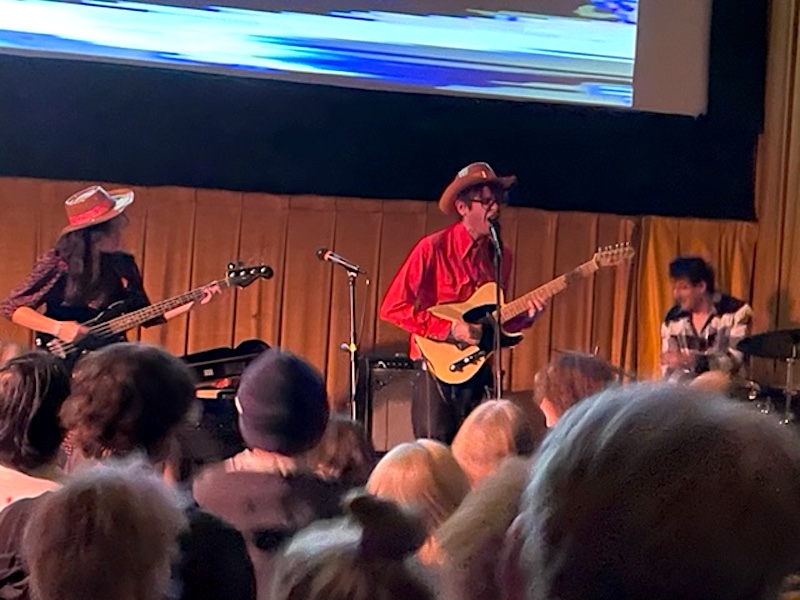 But also quite Phuturo. In the sleepy 38th and Balboa neighborhood, with a Hockey Haven bar across the street, plus some local restaurants and coffee shops, this all-encompassing event didn't just align itself with a San Francisco tradition of experimental resourcefulness. No, these live shows at the regional theater serve as a low-presh incubator, serving an ecstatic DIY community, that turns out with fervor, supporting their indie bands, teetering on the verge of greater recognition.
"Shows at the Balboa feel very special" stated former employee Eva Treadway, member of the band The She's, who started booking live acts at the venue a couple of years ago. As there are few spots for rock outfits on that side of town, the dearth of performance spaces screams for ingenuity, especially in the burgeoning homespun-type movement bubbling up in San Francisco IRT.
"The ability to have projections in a variety of mediums behind the bands (or movies before or after live music) gives the opportunity for a kind of mixed media or variety show experience that is very cool and also easier to execute from a production perspective than it would be at a traditional venue," Treadway told me via email.
Local band The Umbrellas played The Balboa this past July. They're currently on a winter tour, and had their self-titled Slumberland Records debut—a garage-pop celebration—named one of the best records of 2021 by Amy Lame of BBC Radio 6 music just last week. We covered their record release show at Rickshaw Stop back in August. The Umbrellas' Bay Area roots run deep, from previous local bands to jobs at neighborhood record shops.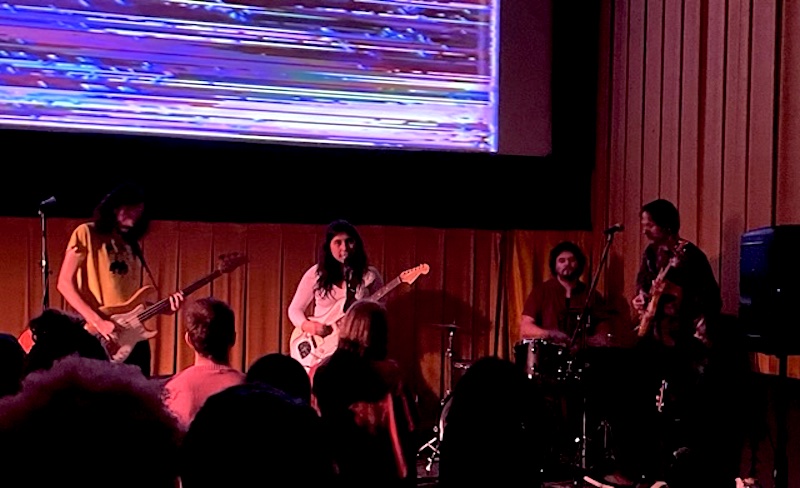 "We think the old movie theater setting lends itself wonderfully to the live music experience" said Adam Bergeron, owner of the Balboa. "For one thing, the room sounds really great for music, and we are able to get creative with the projections that show on the movie screen above where the bands play, which adds a little something unique to the show and brings a sense of place to the experience. [Video artists] Chloe Ginnever and Rose Cherami are both into glitch art, which is basically augmenting the images from VHS tapes to make them abstract and more colorful, which creates ethereal moving pictures that add a mood to the show. It sort of has to be seen to be understood, but it is very cool.
"We find that bands really like playing at the Balboa too. It seems to have just the right mix of quirk and history to make shows feel like a happening. Also, the audience tends to respond really positively. It's fun to have popcorn and a beer in your comfy movie theater seat while watching a band you love. It's somehow nostalgic and modern at the same time" according to Bergeron via email.
As I sat with concert promoter Ashley Graham, chatting about the exciting new moment local bands around San Francisco are having, she would point out patrons zipping up and down the aisle, young attendees meeting up with friends, giving hugs and daps. "You see that? This is what I meant. It's a full-on scene. Not just a dusty old show."
Graham along with musician Andrew St. James saw what performing in alternative spaces did for people who desperately needed entertainment during the pandemic. Sometimes St. James would pull up and perform at individuals' driveways, doorsteps, and sidewalks. This concert delivery, uplifted spirits. As things started to move back in a normal direction, Graham and St. James realized they needed to adapt as well. That action included collaborations on a couple of awesome events with contemporaries at the Roxie, Fort Mason drive-in during April, and the Balboa in July.
"We hosted our first event at the Balboa in October, a screening of Wayne's World paired with two local bands Goodworld and The Quilters," she said, "and it sold out before we opened the doors. It was extremely inspiring. Some indication that the more reasons an audience has to attend, the more likely you are to see 'em come out."
Headlining band Fake Fruit whisked through a "comfy" living room-type of set for the eager crowd, many reciting Hannah D'Amato's whip-smart lyrics. She cracked jokes about get rich from fast-food suing scams while running through the band's Pitchfork, Brooklyn Vegan and Bandcamp Daily-lauded debut self-titled record. Creating their own unique space between the likes of Parquet Courts and landmark Pretenders, this band commits to a euphoric, and at times unruly post-punk spirit. That can turn up bombastic revelry or downshift into anthemic dream-like moods, floating on whimsy. Textures that have propelled this Bay Area find, and their debut record, atop many national Best of 2021 music lists.
Catch them at your local theater while you can.