At a Muni stop at Bayshore and Blanken streets, Visitacion Valley community leaders and two supervisors Dec. 2 called on the San Francisco Municipal Transportation Agency to restore the 8AX and 8BX bus lines, which were used by residents of Southeast San Francisco to access jobs and essential business before service was cut during the COVID shutdown.
"This is not just about a bus line, it is about equitable transportation around San Francisco," said District 10 Supervisor Shamann Walton, whose district includes Bayview-Hunters Point and Visitacion Valley. "The population that rides this line are low-income communities, immigrants, people who are consistently left out…this was a bus line that should have been at the top of the priority list."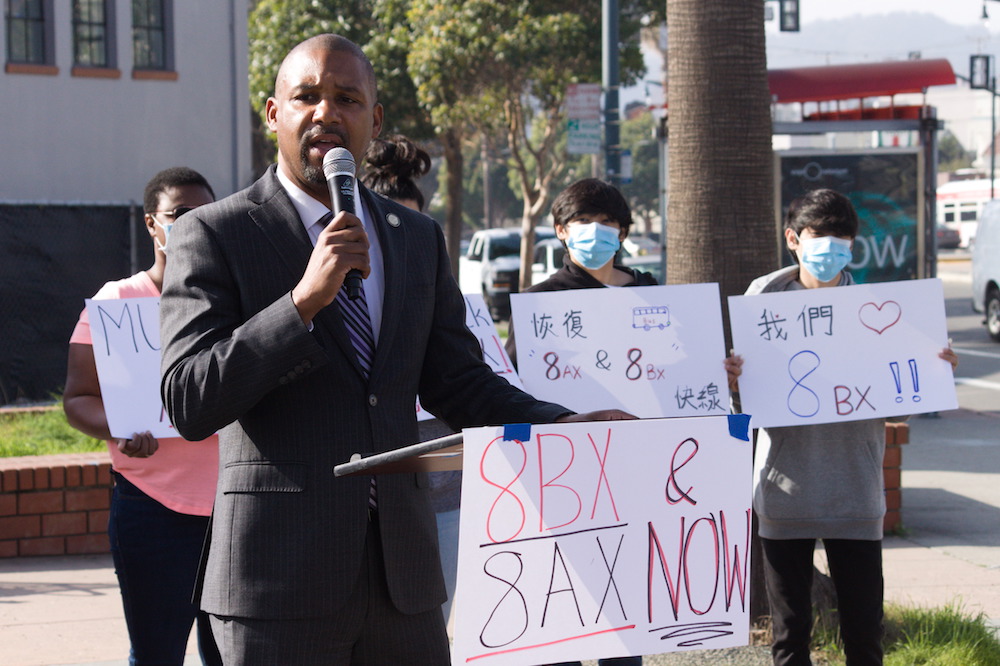 The city's southeastern neighborhoods are relatively isolated from the rest of San Francisco, bordered by the freeway and a stretch of land zoned for industrial manufacturing, creating barriers for residents trying to access other neighborhoods without a car.
For years, the 8-Bayshore line has been a key route ferrying many of the city's southeastern residents to work in Chinatown and the Financial District. Many never stopped working during the shutdown that started in March 2020.
As such, the 8-Bayshore has been one of the most crowded bus routes in San Francisco, taking an average 236 passengers each weekday from February 10, 2020 to November 22, 2021. It is also a lengthy route, running from the City College Terminal before ending near Pier 39, spanning 55 stops in total and taking upwards of an hour for each trip. The AX and BX lines were much shorter and favorable for commuters, running 24 and 45 stops respectively, saving time for many passengers and taking pressure off the 8 line's ever-crowded buses.
Those lines greatly reduced the total amount of time for Bayview-Hunters Point and Visitacion Valley residents to get to work, get groceries, and do other essential errands.
Natalie Gee, Walton's chief of staff, lives in the Portola and regularly took the bus to work in Chinatown when she worked as a youth organizer with the Chinese Progressive Association. She said that the regular 8 line would regularly get so crowded that it would often have to skip stops during rush hour.
"The 8 starts at the City College terminal, then goes through Outer Mission, Excelsior, Sunnydale, Vis Valley, San Bruno Avenue, West Portal…you can imagine, since [the 8-Bayshore bus] stops at every stop, by the time it gets to the Portola area, it's super crowded. Some buses would skip that stop because they didn't have room," Gee said.
The city's southeastern neighborhoods are underserved by public transit, leading to higher-than-average rates of car ownership and commuting to work alone in a car, according to the SFMTA's Bayview Community-based Transportation Plan, released in February 2020, which found that 28 percent of Bayview households have two cars and 16 percent have three, compared to 21 percent and 8 percent for the average San Francisco household.
"People have cars here because of a lack of transportation," Walton said. If I hop on the T-Third train right now from Visitacion Valley to get to City Hall, it's going to take me over an hour on the best day, even if there's no delays. We want fast, efficient transportation so we can get cars off the street, protect our environment, and make sure people can get to where they need to go."
The SFMTA had originally said that it would bring back the 8AX and 8BX lines in the winter, but then pushed the line's restoration back to March, citing driver shortages, angering many of the residents who depended on those lines.
"We were told that [service restoration] was going to happen in the winter, we are now in that season, so it is time for the 8AX and 8BX to come back so that folks can get to their families, get to their jobs, shop in their communities, and connect to the services they have been accessing for decades," said Walton. "Our community here in Visitacion Valley has expressed their frustration to the fact that they see other bus lines reopening, yet the 8AX and 8BX are not reopening, and these lines are ones that they have desperately fought for so they could connect to Chinatown and Soma and downtown, so we have to make sure that changes."
Residents living in the Bayview and nearby areas had hoped that the lines would return by winter, as getting home quickly is a timely concern for commuters as the days shorten, with workers getting on the bus after sunset feeling unsafe as they walk home after dark.
"With the time change…we want our residents to come home safer and faster and not to have to take the 8, which stops at every single stop," said Jenny Lai, Executive Director of the Visitacion Valley Neighborhood Center.
Many residents also depended on the 8AX and 8BX lines to buy groceries—Bayview-Hunters Point is widely considered a food desert, with many residents having difficulty accessing fresh and healthy food and groceries in the area. Many residents of Bayview-Hunters Point and Visitacion Valley travel to Chinatown, where fresh food is more abundant and affordable, and where both the 8AX and 8BX pass through.
District 6 Supervisor Matt Haney added that the 8AX and BX lines pass through Soma, and said that many of his constituents depend on the line for getting into downtown and Chinatown.
"This bus line goes through neighborhoods that represent the cultural and economic hubs that represent the Chinese community…it was fought for and won by this community, and for it to be taken away…is unacceptable," Haney said. "We want to hear a commitment from the SFMTA to bring this express line back immediately, no more delays, no more uncertainty."
SFMTA spokesperson Erica Kato said in an email that the MTA will add the 8AX and 8BX lines to the planed 2022 restoration.
"As part of the outreach related to 2022 Muni service planning, we have heard that returning to the pre-pandemic 8AX/8BX Bayshore Express service pattern is important," Kato said. "As such, we are adding its return to the 2022 proposal. We anticipate operating a 7-minute midday 8 Bayshore long line, a peak period 8-min 8AX Bayshore Express and an 8-minute 8BX Bayshore Express. As resources increase, we hope to improve these frequencies in the future.
"All service changes have been subject to operator availability due to the vaccine mandate and the time we need to train and hire operators. We're continuing to hire and train as quickly as we can, and the 8AX and 8BX remain high priorities for service restoration once we have necessary staffing."
The restoration of the 8AX and 8BX lines will be discussed at the upcoming SFMTA Board of Directors meeting on December 7 at 1pm.