If you happen to walk by the northwestern corner of Dolores Park on a Thursday or Saturday evening, you may stumble upon something you've never seen before. In a fenced area slightly larger than the tennis courts nearby, teams of three people chase around a small ball on single-speed bicycles, holding long mallets in thickly gloved hands.
To begin the game, the teams line up on either end of the court while the ball is placed at the half-court line. When both sides are ready, a shout from the sideline sets the game in motion, and the players race toward the ball and one another, the winner swooping in with their mallet to take possession of the ball. A few passes later, the ball rattles into one of the hockey goals situated on each end of the court, and the score is 1-0.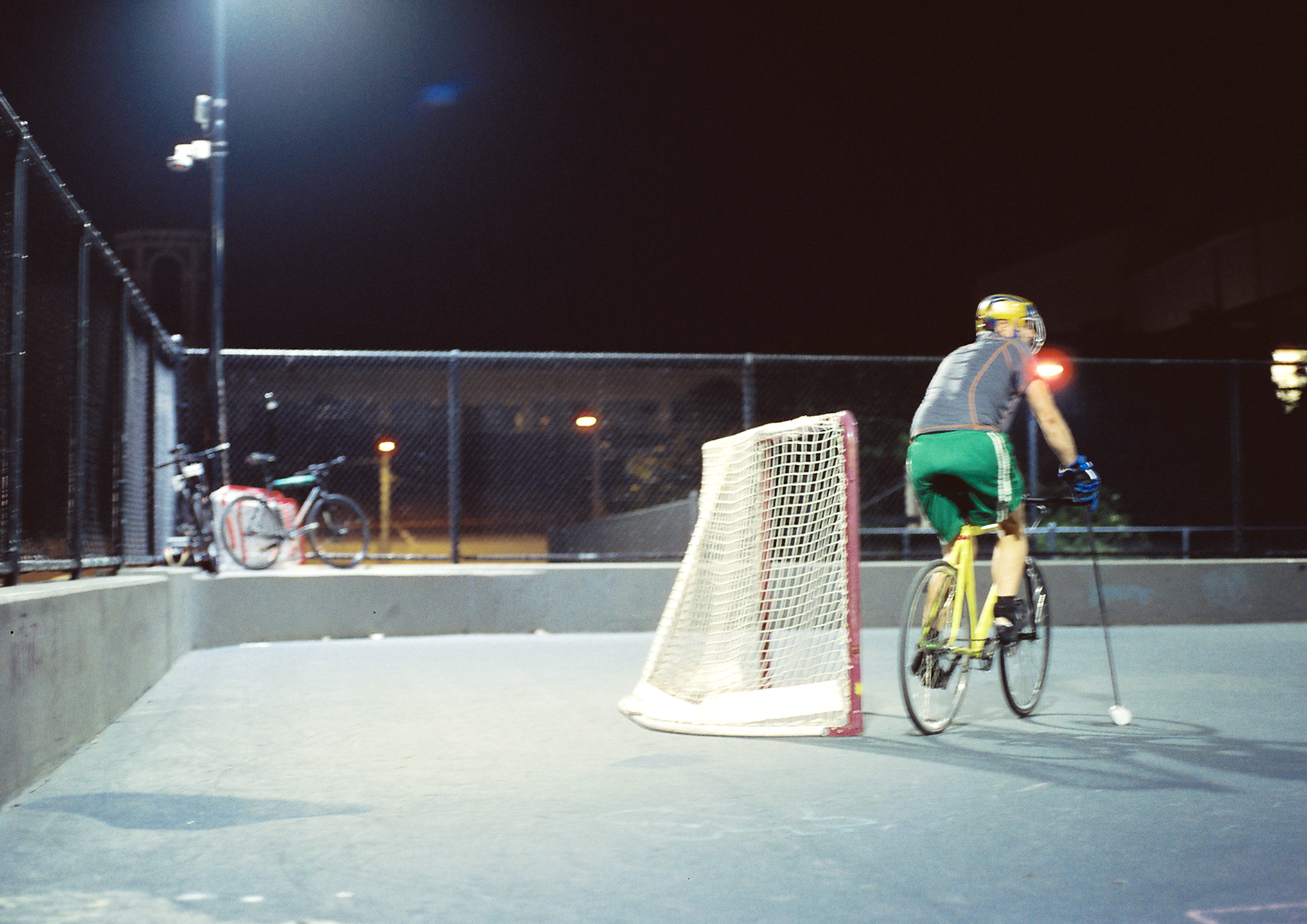 The game is Hardcourt Bike Polo, and the athletes are an eclectic group from a broad range of demographics, occupations, and experience with the game. Bonded by a love for this unique and challenging sport, the group is tight knit, the atmosphere surrounding the court lighthearted and friendly. Many players share an affection for other bicycle sports: road biking, mountain biking, and cyclocross, to name a few. Some way or another, each found their way to bike polo, and twice a week, they find their way to Dolores Park, the only place in San Francisco where the sport is played.
"A lot of times, when people see it, they're like, who are these weirdos on these bikes?" laughs Jenny Spencer, who was introduced to the game during her time in graduate school at UC Davis. Her friends played bike polo, and when they first recruited her to join them, she was hesitant: "It looks too dangerous," Jenny had told them. "I'm too busy for this." Besides, she didn't have a polo-specific bike. But her friends were persistent, and when they found a bike for her to use, Spencer finally folded. That was seven years ago, and she's been playing ever since. Today, she's the president of the North American Hardcourt Bike Polo Association.
Hardcourt bike polo is a global sport. While grass bike polo has been around since the 19th century, it wasn't until about 20 years ago that the game found a home in the city. In the late 1990s, a group of Seattle bike messengers looking to pass time between shifts brought polo to the hardcourt, playing on outdoor basketball courts and in parking lots. The game spread like wildfire, first traveling south to Portland and eventually making it across the country to Boston and New York. Today, hardcourt bike polo is played throughout the United States, as well as in Asia, Europe, Australia, Latin America, Russia, and India. Every two years, qualifying teams come together to crown the World Hardcourt Bike Polo Champion. In 2019, the tournament took place in Cordóba, Argentina, where international club Mongrels United took home their third consecutive title.
The members of the San Francisco Bike Polo Club are no slouches themselves. Many of them have played, and won, at both regional and national championships. There's no shortage of talent on the court at Mission Dolores Park, and while that makes for some high-level competition, it can be intimidating for those just learning the game.
Kevin Xu had come to the park to watch their friends play for a long time before being convinced to give it a shot, and when they did, there was a learning curve. "I took a lot of falls," remembers Xu, 22, a recent graduate of Laney College.
Armed with a helmet and a good attitude, they were able to avoid any major injuries, but the game didn't come easy, even to Xu, a cycling enthusiast who has dabbled in a variety of bike sports. "It was hard to get consistent at first," they muse. "This club is full of veterans."
Still, Xu was persistent, making the journey across the bay every week: "I would take BART for half an hour to come out here and get my ass kicked." The work paid off, and today, Xu is right at home with the veterans at Dolores Park. Next week, they'll join a handful of other club members as they travel to San Juan, Puerto Rico for the 2022 Tropiclassic: a two-day, 24-team Hardcourt Bike Polo tournament.
Xu has also worked to bring the game back to their side of the bay. The Oakland Bike Polo club had been dormant for a years before Xu helped to revive it, organizing weekly "Newbie Nights" to provide a more inviting and comfortable environment for people to learn the game. You can join them at Defremery Park in West Oakland on Tuesday nights at 7:30. All skill levels are welcome, and no gear is required.
Back in the Mission, the warm evening air is filled with laughs, the whizz of bicycle chains, and the occasional plume of marijuana smoke. Those waiting their turn to play sit in the "Chill Corner," sipping beers and catching up, and nearby, Jenny gives me a quick rundown of the rules. As we talk, the ball comes skidding over, hitting me in the foot. It's a bit harder than I'd anticipated, but I laugh it off. Jenny and I are standing in the field of play, after all. "If you don't go home with a bruise, did you really experience polo?" she grins, kicking the ball away.
When the clock strikes 10pm, the court is plunged into darkness as the lights illuminating the park shut off, abbreviating the game in-progress and marking the end of that evening's bike polo. A few players put the two portable hockey goals away while others use phone flashlights to locate their things. They bid each other farewell, go their separate ways, and night falls on a warm February evening in Dolores Park, home of the San Francisco Bike Polo Club.