"I never in a million years thought I would be speaking so openly about the thing I have kept hidden for so long," mused Maya Chupkov before a small crowd gathered on the steps of San Francisco's City Hall. Chupkov was a key speaker at the event, a press conference held to celebrate Supervisor Dean Preston's introduction of legislation that will formally mark the second week of May as National Stuttering Awareness Week, making San Francisco the first city in California to do so.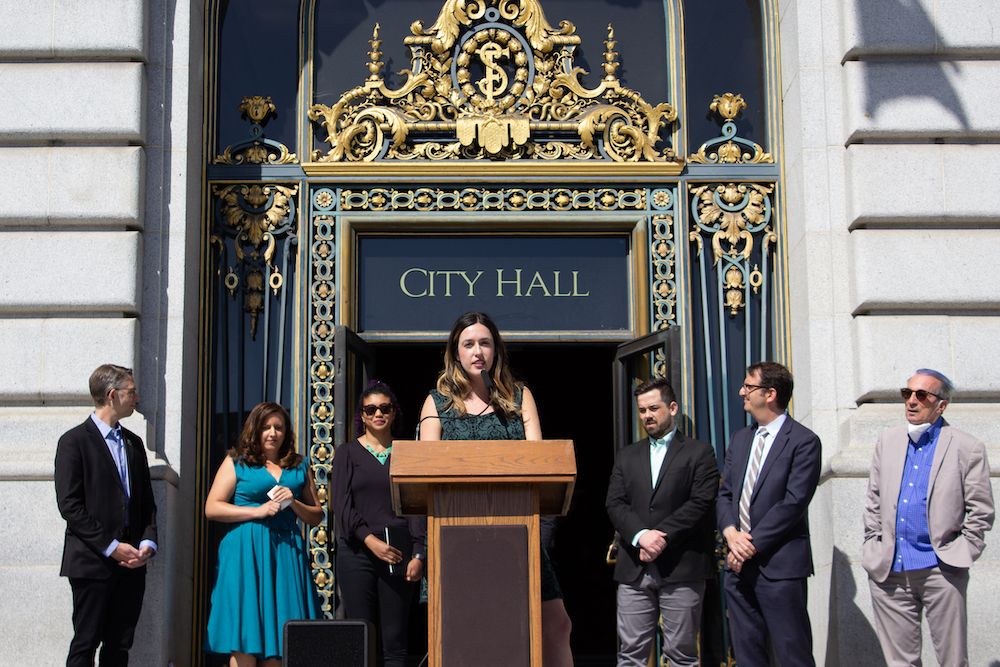 Chupkov, a person who stutters, is the host of the podcast Proud Stutter, the first season of which concluded in mid-April after fourteen episodes. Striving to shift the narrative around stuttering and provide a platform for individuals who stutter, Chupkov welcomes guests from a range of backgrounds to share their stories, particularly regarding verbal diversity and the way disfluency affects one's experience in society. In doing so, she has created a space for verbally diverse individuals to have their voices heard, bringing members of the stuttering community together to connect with and support one another. "When I started, I didn't even think ten people would listen," Chupkov admitted at the press conference. Today, the podcast has been downloaded nearly 11,000 times, and is still growing in popularity, allowing Chupkov and the stuttering community to garner attention and momentum toward legislation that recognizes and embraces verbal diversity.
The impact of Chupkov's activism was evident in Tuesday's press conference, as numerous members of the stuttering community joined her and Supervisor Dean Preston atop the steps at City Hall to celebrate verbal diversity and share their experiences as individuals who stutter. For many members of the stuttering community, their verbal differences have caused alienation, isolation, and trauma throughout their lives, all this through no fault of their own. Nina G, a stand-up comic and previous guest on the Proud Stutter podcast, gave a quick crash course on the science of stuttering, explaining that people stutter because of a certain sensitivity in the left side of the brain, the side responsible for things like motor skills and language. Further illustrating common misconceptions about disfluency and stuttering, she joked about the painfully common and unwarranted advice of fluent individuals who mistakenly think that they possess the key to "fixing" someone's stutter. "The advice, oftentimes, is 'just slow down and breathe,'" mused Nina G, to the knowing nods and laughs of the crowd. "I've been stuttering since I was eight," she continued sarcastically, "I guess I've never thought of that."
Additional speakers at the event shared harrowing stories of their experiences with discrimination and ableism in school, work, and day-to-day life, a few stories relating to the horror and intimidation of the very thing they were tasked with doing on Tuesday morning: public speaking. Despite some admitted intimidation at the prospect of standing behind the podium, each speaker delivered their remarks with confidence and grace, powerfully exemplifying the strength of community and the importance of creating space for differently-abled individuals. Bailey Levis, a Speech Pathologist at the West Coast Stuttering Center, referenced the World Health Organization, which defines a disability as "the interaction between an individual's health condition and environmental factors which can include negative attitudes and barriers to accessing services."
"Stuttering is a disability, but it doesn't need to be disabling," Levis said. "If we can increase awareness and understanding of stuttering, then perhaps some of these environmental barriers will collapse." As with so many social justice issues, it all comes back to awareness and understanding, two crucial elements when it comes to creating space for people facing discrimination and alienation for any reason. Sharing the stories of those most directly impacted by injustice is an important way to make others aware of unjust dynamics while also providing opportunities for people to have their voices heard, especially people who have been silenced by a society unwilling to provide space for them to express themselves. Today, the media is a hugely influential player and gatekeeper with regards to representation and storytelling, and many groups subjected to societal discrimination find that such injustices are reinforced in television and film. Award-winning filmmaker Gina Chin-Davis spoke at the press conference about media representation, raising powerful questions and illustrating the fact that even though progress has been made, we still don't have all the answers.
"Growing up, I didn't see many films that captured much of my identity and experience," reflected Chin-Davis, "both as a person who stutters and as the daughter of a Chinese-American mother and an African-American father." In the media, she found elements of her identity to be either misrepresented or unrepresented, displays of ignorance and disrespect that left scars on her self-esteem and confidence. Fortunately, conversations about media representation have become much more prevalent today, as crucial questions have been raised for groups who have long endured the stereotyping and ignorance of the media. "What kind of representation will make us happy and make us feel seen for who we really are?" Chin-Davis wondered at the press conference.
The final speaker of the event was Supervisor Dean Preston, who reminded everyone in attendance that the federal government has acknowledged National Stuttering Awareness Week for over 30 years. "I think it's really important – the step that we are taking here locally," Supervisor Preston said, emphasizing that the legislation being introduced was not only a big moment for the speakers at the event, but also for millions of people across the country who stutter and have faced discrimination and alienation because of their verbal differences. In conclusion, he offered his gratitude to the stuttering community, commending them for their grace in the face of discrimination: "Thank you for your patience that you show every day with many people in our society that do not show that same patience back to you."
The legislation to recognize National Stuttering Awareness Week in San Francisco was introduced at the Board of Supervisors on Tuesday afternoon, having already gained traction before the meeting; at the press conference, Supervisor Preston revealed that seven members of the board had already committed to co-sponsoring the legislation.
You can listen to the Proud Stutter podcast, hosted by Maya Chupkov, wherever you get your podcasts, and you can also hear Maya speak on Saturday, May 7, at the Bay Area Book Festival in downtown Berkeley.