Exactly 50 years ago this February 25, The Godfather was released. It was an adaptation of a pulpy best-seller that no one expected much from. Neither director Francis Ford Coppola or most of his principal actors (including Brando) were anywhere near the top of Paramount's wish list, but more bankable names hadn't been interested in the proyect. Then, the film rocketed them all to the forefront of 1970s cinema, making stars of such hitherto relative unknowns as Al Pacino, James Caan, Robert Duvall, and Diane Keaton. Mafia movies suddenly became a genre unto themselves, one that hasn't gone away since.
To mark the occasion, The Godfather is getting re-released to theaters nationwide (including SF's Metreon and Emeryville's AMC Bay Street) in a newly restored print overseen by Coppola. It's an interesting moment to re-appraise a three-hour, R-rated, operatically-paced epic that somehow managed to become the highest-grossing film of all time (knocking wholesome The Sound of Music out of that spot) … at least until Jaws came along, three years later.
For all its graphic violence, the movie was—unlike the novel it was based on—no mere exercise in popcorn sensationalism; it was emotionally complex, tragic, melancholy, definitely for grownups. Next week, a new three-hour epic is opening amidst sky-high hype, with likely grosses to match: The Batman. It will no doubt be "dark," that term applied to comic-book movies that strike a pose of superheroic angst. But a movie like The Godfather that is actually aimed at adults (rather than stalled adolescents) is now a commercial outlier, better hazarded at the arthouse or on the home screen.
Another thing that happened in 1972 was Deep Throat—not the Watergate informant, but the XXX feature that somehow kicked off the whole "porno chic" wave that brought graphic celluloid sex out of the stag-party backroom and into mainstream culture. Taken as art, entertainment, or erotica, the hour-long, ultra-cheap Throat isn't much. Yet largely by accident, it wound up being the title whose publicity, high profits, controversies (including star Linda Boreman a.k.a. Linda Lovelace's subsequent allegations of abuse), and lawsuits finally toppled remaining obscenity laws. The US was suddenly rife with "blue movie" houses offering "the real thing"—actual people having actual sex onscreen—even in squeaky-cleanest suburbia.
For a spell that in retrospect, looks like collective mild insanity, many in both the pornographic and "legitimate" film industries figured sooner or later, there would be no hard line left between the two. OK, Disney wouldn't be spicing up family fare, but mainstream features for grownups would have graphic sex scenes that real movie stars would be happy to participate in. Not only did this not come to pass, but the huge success of Jaws and Star Wars actually turned the major studios' focus in the opposite direction: towards "one size fits all" cinema aiming towards the widest possible audience, with nothing that might alienate teens, kids, or parents.
Yet porn became the great equalizer in a way after all, as technology first brought it into the home (via the VCRs and cable that ultimately killed XXX theaters), then turned the home into a "studio" for everything from "accidentally leaked" celebrity sex tapes to your neighbors' semi-private exhibitionism. Of course, some of the latter eventually got creative, and desired the collective experience of moviegoing for their handiwork.
Hence, the 17th annual edition of the HUMP! Film Festival, which again lands at the Victoria Theater in the Mission. Running Fri/25 through March 4, the program curated by Dan Savage features, as ever, the best in new shorts whose erotica roams the globe, spans all genres, and runs the gamut of both Kinsey and kink scales. For schedule and info, go here.
Shorts of a different stripe—well, many stripes—can be found in the 2022 Oscar Nominated Short Films programs that open at numerous local venues (including the Roxie, Opera Plaza, Vogue, Shattuck, and Rafael) this Fri/25. Not all of those locations are playing all three bills, with some declining to offer the less-popular Best Documentary Shorts. As is often the case, however, that category is particularly rich in Bay Area subjects and/or talent, including two titles previously covered in this column: Pedro Kos and Jon Shenk's "Lead Me Home," a poetically empathetic look at homelessness in SF, Seattle, and Los Angeles; and Jay Rosenblatt's "When We Were Bullies," a followup to his 1994 "Smell of Burning Ants" in which he probes a guiltily-remembered incident of playground aggression from childhood.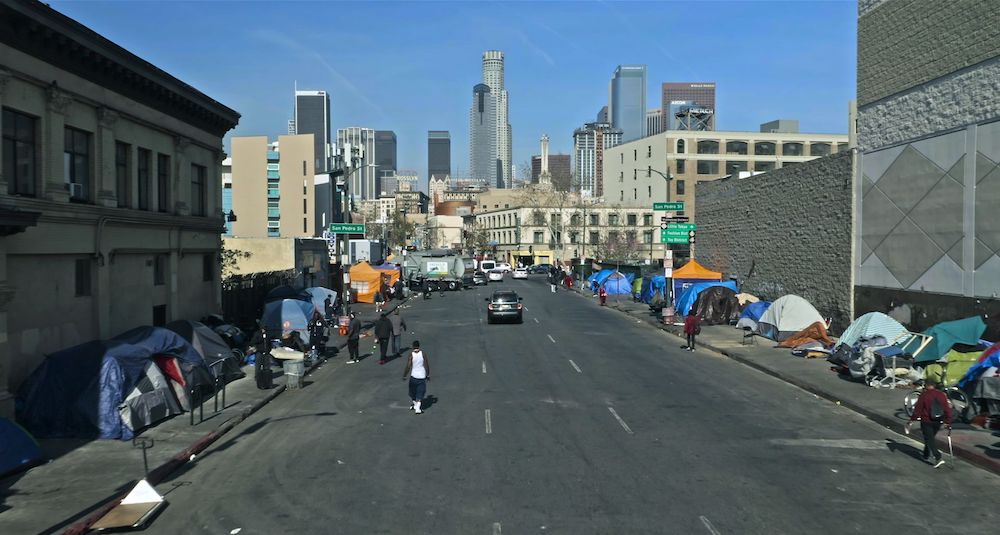 The other nonfiction award candidates showcased are "The Queen of Basketball," a fond appreciation of a brilliant player's too-brief college-circuit heyday before any women's pro league existed; "Audible," a powerful look at a Maryland high school's all-deaf champion football team; and "Three Songs for Benazir," a sobering glance at the extremely limited options for Afghans stuck in refugee camps.
More dedicatedly-international in scope, the Live Action Shorts bill doesn't spare hard-hitting subject matter, either. The sole US title "Please Hold" uses black comedy to illustrate a frighteningly plausible near-future of reckless prison-industrial-complex expansion. UK's "The Long Goodbye" features Riz Ahmed in a different dystopian imagining of society, giving in to its most extreme racial prejudices. Two upsetting, substantial dramas of a half hour or more each are Poland's "The Dress," in which a cynical hotel maid born with dwarfism stakes hopes on finding romance at last; and Kyrgyzstani "Ala Kachuu" (a.k.a. "Take and Run"), whose young heroine bucks family pressure to pursue higher education, only to be kidnapped for a forced marriage—apparently a frequent occurrence in that nation. There is bittersweet uplift, at least, in the Danish "On My Mind," whose odd anecdote of weekday morning karaoke at a dive bar turns into something unexpectedly poignant, even cosmic.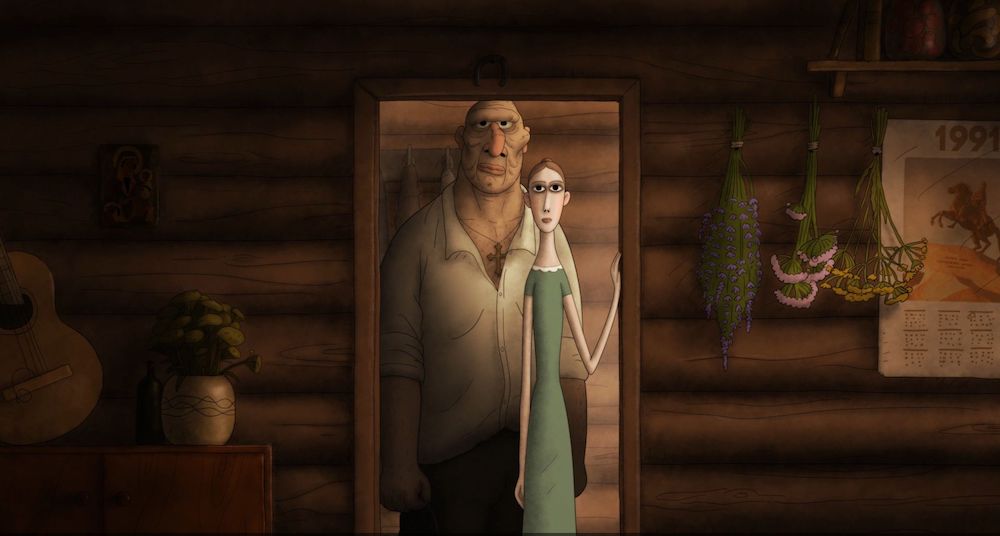 If you're expecting sweetness and light from the Animated Shorts program, think again; this year it is pointedly advertised as "For Adults Only," with some disturbing content definitely not for kids. The closest to a family-friendly entry is Wallace & Gromit-famed Aardman Studios' "Robin Robin," about a chick raised by mice finding its own way in the world. But more typical is the dyspeptic humor of UK-Canadian "Affairs of the Art," and the vignettes of rotoscoped-looking empty modern life in US-Spanish "The Windshield Wiper." Downright alarming is Chilean "Bestia," a wordless stop-motion exercise of blackest political indictment. It's very impressive, but my personal favorite was Anton Dyakov's Russian "Boxballet," a terrifically-characterful line animation comedy of unlikely romance between a battered, hulking pugilist and pencil-thin ballerina.
Among the many feature films that jostled for Oscar nominations, one surely disappointed its makers by only scoring a Costume Design nod. Opening this Fri/25, Cyrano is latest from costume-drama specialist Joe Wright (Pride & Prejudice, Atonement). Over time he's turned out to be less the inspired director he initially promised to be than a rather decorative, competent one. Which is just fine for this subject, as Edmond Rostand's 1897 play Cyrano de Bergerac has never been claimed as anything more than a linguistically-rich star vehicle that provides also provides good transport for romantic sentiments and settings. (It was inspired by a real, short-lived literary figure of the same name, though the dramatic fiction does not bear close relation to known biographical facts.)
The play has given great opportunities to numerous actors in various incarnations, both onstage (SF had its own famous Cyrano in Peter Donat's recurrent turn at ACT) and onscreen, the latter including Jose Ferrer's Oscar-winning 1950 version. Plus, later ones for everyone from Toshiro Mifune and Gerard Depardieu to Steve Martin. Compared to some of the more liberal adaptations to teen comedy, sci-fi, etc., this new Cyrano is pretty traditional, being lushly mounted in an ornate style with plenty of swashbuckling action of a lighthearted nature—though Cyrano does seem to kill or wound an awful lot of extras over practically nothing. The novelty, and raison d'etre, lies in the casting of Peter Dinklage, and his dwarfism meaning that the brave, bold, articulate-but-romantically-unrequited hero's Achilles heel must be his diminutive stature rather than the length of his nose.
Because such physical difference is not something audiences can ignore yet—if they ever will—Dinklage has often had to play roles that in one way or another revolve around his height. But he's such a terrific actor that we almost inevitably do kinda forget after a while, and the flamboyant, generous, demanding, big-hearted role of Cyrano—arguably the first time he's really fully carried a film—is a challenge he rises to with such seemingly easy grace that justifies the whole project. It doesn't matter that this Cyrano's love object Roxanne (Haley Bennett) or rival-protege (Kelvin Harrison Jr.) are attractively bland, as they usually are anyway, or that his villainous nemeses are unmemorable.
What matters is that Dinklage gets to luxuriate in this expansive part; we never doubt for a second that this particular French Army cadet might also be a poet, a wit, loyal but also quick to pick a fight, or even that he might fend off a dozen or more much larger men with his rapier. This actor has that rare quality of dash, as well as keen intelligence (not exactly Errol Flynn's strong point) and melancholy depths. He comes very close to making Cyrano work, all on his own.
Otherwise it's a very prettily-dressed-and-shot version of a familiar story that isn't great, but would be quite good enough to frame a great performance … if not for one thing. It is an adaptation (admittedly a very cinematic one) of an off-Broadway musical Dinklage also starred in. While you can hardly fault his wanting to bring a favored role to a larger audience, this Cyrano remains a musical whose songs seem entirely superfluous. Most of the actors can't sing particularly well, but even if they did, these songs (by Aaron and Bryce Dessner) would be instantly forgettable. Wright stages the few scenes you could call "production numbers" busily enough, but despite his confectionary visual style, doesn't have much feel for dance, or the awareness that the choreography here is mediocre. Worse, the musical scenes for the most part simply stop the narrative to less elegantly re-state sentiments already made amply clear in Rostand's surviving language.
It is worth noting that almost 50 years ago another Cyrano premiered on Broadway, getting raves for star Christopher Plummer (who won the Tony) but little enthusiasm for anything else. In the invaluable book Not Since Carrie: 40 Years of Broadway Musical Flops, its section is given the cautionary headline "Don't musicalize works that don't need music," with the further insight that "Rostand's play did not really need songs, and the score would have had to have been far better to equal the musicality of the play's dialogue … even when the songs were good, they brought the evening to a halt." The same words could be applied verbatim to the current edition, which is worth seeing for Peter Dinklage. He deserved the Oscar nom he didn't get, but the movie's overlong, dully song-padded progress is ultimately less ideal a showcase than that world-class Cyrano deserves.