Under the Stars is a quasi-weekly column that presents new music releases, upcoming shows, and a number of other adjacent items. We keep moving with the changes, thinking outside the margins, stoked to hear Open Mike Eagle's dope podcast on classic hip-hop "What Had Happened Was" return, focusing on Dante Ross, "the ODB motivator" (if you don't know, Google him!) and even more chuffed to see baseball return to SF and Oakland this year. Tap the cold beer, fire up the popcorn, and hotdogs. Let's get it! But first….
XYLA, "ON & ON" (LEAVING RECORDS)
New single from the San Francisco-based electronic music artist Xyla gets as direct as anything we've heard from them so far. "On & On," full of strawberry sunsets, wavey washes, and dare I say Detroit electro influence, sees this San Francisco Conservatory of Music former student move a bit away from their usual blurring lines, chopping house and breakbeat with jazz and R&B accents–into something minimal and plush.
In the typical Xyla style, they leave the music to do the talking. We have no idea when a full album release is coming. So we must snack on this mix from almost a year ago. All in good time people, all in good time. Buy the single here.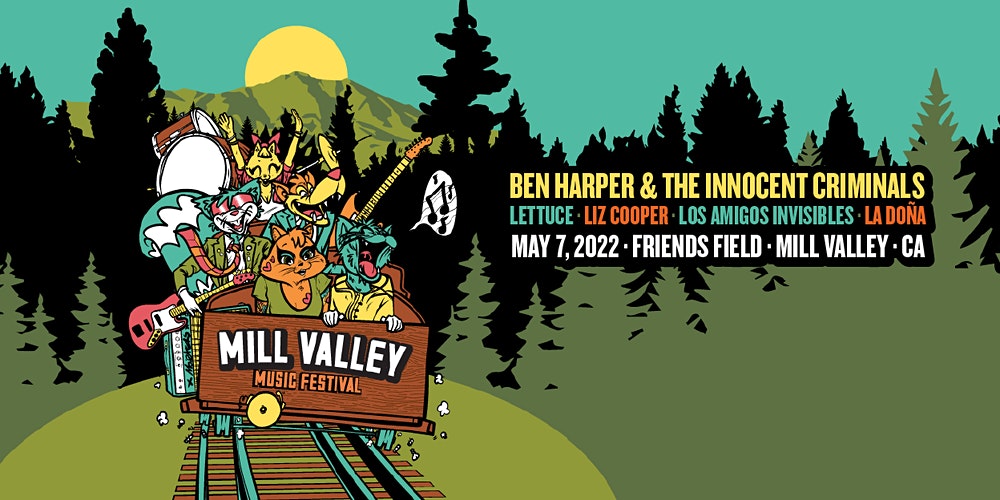 MILL VALLEY MUSIC FEST, MAY 7
Rinse the cooler, vacuum up the dog hair from under the backseat of the car, and pack some warm blankets. I told you last week, it's music festival time!
The Mill Valley Music Festival, a brand new multi-genre, all-ages one-day event, will transform Friends Field, located adjacent to the Mill Valley Community Center, into a sprawling festival grove. Featuring international and local acts such as Grammy Award-nominated singer-songwriter Ben Harper with his longtime band The Innocent Criminals and La Doña, the musician from the Mission who blends Caribbean beats, reggaeton, and hip-hop styles into radical boss narratives. Other artists on the bill include "Lettuce, one of the great funk-jam bands of the modern age, Nashville's very own psychedelic-folk rockstar Liz Cooper, and Latin Grammy Award-winning Venezuelan disco-funk trio Los Amigos Invisibles."
"There's no doubt that these past few years have been incredibly rough for all of us," Jim Welte, director of the Mill Valley Chamber of Commerce on the festival website. "We can't wait to celebrate the resilience of Mill Valley, Marin County, and the entire Bay Area, and the vital role the Bay plays in the vibrancy of the Golden State—all set to an amazing, day-long soundtrack of fantastic music and an abundance of incredible food, drink, and art while spending an afternoon with your best friends and ones you've yet to meet."
For more information go here.
CURTIS HARDING GREAT AMERICAN MUSIC HALL, MAY 12
Anytime somebody asks me where do I see Soul going, I try to redirect folks in the direction of Curtis Harding. I have yet to see the brother live, but over the past decade, he's been steadfast in continually making slight adjustments to the grittier side of soul. Not neo-soul mind you, which I do love too, but we are talking about the root, right here. My father, who's been gone for about 10 years now, who I miss every day, gave me Bobby Womack. That was his dude. Curtis Harding can wade in those waters, quite well, but is always looking for a different audio angle to showcase that voice. Those talents.
The Atlanta-based Harding blew my friggin socks off with his 2017 project Face Your Fear. Harding's' lady killer falsetto is always worth the price of admission. But when a melody is stretched beyond shimmery '60s soul and begins to move into Norman Whitfield type psychedelia. Or manifest darker tones through a moody Portishead-type filter, an earthier style of vulnerability comes into focus. One that resides above and below Harding's falsetto. All those years of paying dues by singing backing up for Cee-Lo Green on tour, coupled with playing lead singer and drummer in a garage band with The Black Lips' Cole Alexander, foreshadowed a nuanced moment in Harding's career. But make no mistake, his rave-up "grit and shine" soul numbers never disappoint.
His current album If Words Were Flowers remains just a bit quieter. Packing that much more of a wallop. So many times when a vocalist has a great talent they make the misstep of going non-stop. Harding, who's also an exquisite musician, gets the idea of negative space. He just shines in these compositions, picking his spots to project and then fade away. He's one to watch and has all the tools to be one of the greats.
Catch him at GAMH. Buy tickets here.
AMBER LEWIS, LIPS & TEETH (DAY OFF RECORDINGS)
Brooklyn folk-singer, songwriter, and painter Amber Lewis's Lips & Teeth feels very handwoven, personal. Almost as if a gift from a stranger, by name. But you would recognize this person if they lived in your neighborhood. I don't know if that exactly makes any sense at first, but then you listen to her record and hear the Joni Mitchell references, you see her video for "Honey Days," featuring Amber's lush, watercolor paintings, and you realize, "Oh she's that sister, yeah I know her."
A poet, weaver of observations into songs, and fan of Nina Simone and Mitski, Lewis has crafted something so particular yet relatable, it's a great surprise, a haven from a loud confusing world.
Purchase the new album here.
HORSEGIRL, "ANTI-GLORY" FROM VERSIONS OF MODERN PERFORMANCE (MATADOR)
While we are a hop, skip, and jump away from THIS Chicago trio, Horsegirl, performing at Rickshaw Stop here in SF on July 19. It is of note to mark your assorted alerts. Their debut record, Versions of Modern Performance, out June 3 on Matador already sounds major.
Know about em? Let's catch you up.
Penelope Lowenstein (guitar, vocals), Nora Cheng (guitar, vocals), and Gigi Reece (drums)—the best friends comprising Horsegirl—do everything collectively, from songwriting to trading vocal duties and swapping instruments to sound and visual art design.
The friendship of these three goes far beyond the band. Reece and Cheng, college freshmen, and Lowenstein, a high school senior, learned to play—and met—through the significant network of Chicago youth arts programs, and they have their own mini-rock underground, complete with zine distros, that they describe as somewhat separate from the "adult shows" that take place at bars and DIY spaces they don't have access to.
This is the next wave talking to you. Betta listen. Pre-order here.