In Kate Folk's new short story collection Out There: Stories (Random House), a woman goes to Ocean Beach to flee from an encroaching void. Disaffected singles meet up with handsome robots at the Bitter End on Clement Street. A sleepwalker steals a famous urn from the Asian Art Museum. Zany, funny, and eminently quotable, Kate Folk's stories have wide appeal, but San Franciscans will especially enjoy their local flavor.
Certainly Folk, who has lived in the city since 2008, enjoys a fair number of local credentials. She was recently a Wallace Stegner Fellow in creative writing at Stanford, and she holds an MFA in fiction writing from the University of San Francisco.
Out There is bookended by its title story, which was published in the New Yorker, and "Big Sur," both of which are set in a universe where 50 percent of men on dating apps are actually blots—Westworld-like androids designed to seduce women and steal their data. Both tales are being adapted into a TV series co-written and co-executive produced by Folk and London-based actor and writer Sharon Horgan.
I met with Folk at a cafe in the Inner Richmond, where we discussed the San Francisco literary scene, her blot stories, the screen trade, and more. This interview has been edited and condensed.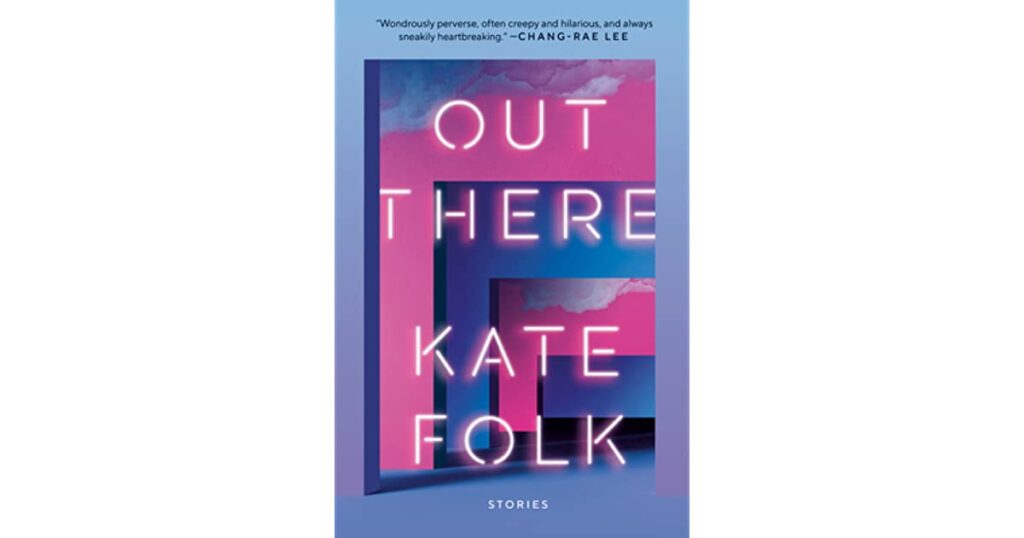 48HILLS Many of the stories in Out There are set in San Francisco, and you've had stories published in San Francisco-based literary magazines like McSweeney's and Zyzzyva. How has living in San Francisco influenced you as a writer?
KATE FOLK Living here has felt very nourishing as a writer, in a lot of ways. Obviously it's really expensive here, which is not so nourishing, but there's still a lot of writers here, and there's so many reading series. I've done two reading series in San Francisco just in the last week. For a while, I was involved with the Quiet Lightning reading series: I curated shows a couple times, I read a bunch of times, and I met a lot of people and found out about other series through that. A really meaningful part of being a writer is having a community and actually seeing people face-to-face who enjoy my writing, and whose writing I like too.
I also had a studio at the Headlands Center for the Arts for three years through their affiliate program for Bay Area writers and artists, which they've since phased out and replaced with something else. That was really formative for me—just having that space to write and get out of my apartment, especially in such a beautiful landscape. San Francisco is such a historically literary city. It feels like there's a lot of parts of the literary scene here that I don't even know about.
48 HILLS You've said in other interviews that part of the inspiration for your blot stories was going on dating apps and feeling like the people you were talking to were almost interchangeable and not quite real. Since your story "Big Sur" is focalized in part from a blot's point of view, I'm wondering if you also found the inverse to be true—that being on a dating app almost turns you into a blot because you're essentially obeying an algorithm.
KATE FOLK Using dating apps does feel very mediated, and I just have this suspicion that these apps know more about me than I know about myself, because they've been collecting data on me, all the sites I visit and all my habits. There's this weird, almost-religious idea about the algorithm being all-knowing. How is it choosing the people to show me on a dating app and quantifying our compatibility? I haven't used these apps in a long time, but it's scary to think that the app might change our preferences in some way.
48 HILLS What was it like to write from the perspective of a blot?
KATE FOLK It was really fun to write "Big Sur." I wrote "Out There" first, and when I workshopped it at the Stegner program, my professor suggested that I show more of the blots on their own terms. I wanted to leave "Out There" the way it was, so I wrote a second story, which became "Big Sur."
I downloaded some AI chatbot apps out of curiosity, and I always felt so uncomfortable talking to them, because they would respond immediately and be so earnest and eager to please in a way that made me want to not talk to them or even be mean to them, which is kind of messed up. I was thinking about what it would be like to have a chatbot in a physical form—a very handsome man who is really cheerful in an uncanny, hollow way.
It was fun to imagine how Roger the blot would think and how he would interact with another blot. Roger is an earlier model blot that isn't as refined. His blot roommates are better at finding a woman and taking her to Big Sur, and Roger is just stuck in this limbo, trying to find someone. I wanted "Big Sur" to work as a doomed love story, so I didn't want Roger to be too weird or too alien. I wanted him to be human enough that we would root for his relationship and wish that it could work out and not be doomed to fail.
48 HILLS And Roger's also very innocent, because he doesn't even know that he's designed to steal women's data and ruin their lives.
KATE FOLK Yeah, he's just doing what he's programmed to do. I think it calls back to some ideas in "Out There," because that narrator is programmed too, even though she's a human. She's shaped by everything that's happened to her before, the way all people are, and it's like she's become powerless to make any other choices. So this question of programming, both for the blots and for people, is something I was interested in.
48 HILLS What was it like to have the story "Out There" published in the New Yorker and then to find out about your book deal and TV adaptation pretty soon afterwards?
KATE FOLK It was really bizarre, because it coincided with the world shutting down because of COVID. It all happened in one day [March 16, 2020]: the auction for my book deal happened, and the story came out in the New Yorker, and London Breed announced that San Francisco would be going into shelter in place. Then the TV stuff came later, but I can't say too much about it yet.
It felt confusing, because my dreams were coming true, but then so much was happening to other people and just in the world generally. I was afraid and felt very heavy, so I don't think I really did much that day to celebrate; I was just in my studio apartment alone. It was hard to know how to feel about it, also, because it was all happening on the computer, as everything does these days. If I just closed my laptop and walked away, it was like nothing had changed, and yet everything had changed.
48 HILLS What have you been up to in the two years since then?
KATE FOLK I've been working on developing the show based on "Out There" and "Big Sur." That's been really fun because I've been working with Sharon Horgan, who is a great London-based creator, writer, and actor. We've been working on writing a pilot, and I'm now writing some other stuff for the show and trying to develop a few other projects, like feature films based on some other stories in the book. I've also been writing a novel. I was doing the Stegner fellowship, which finished last year, and I've been doing some teaching at USF's MFA program.
I feel like my life hasn't changed that much. I'm just getting to do what I want to do, which is to write full-time. So that's been a dream.
48 HILLS I don't know how much you're allowed to say about the TV show, but what has it been like to work on that?
KATE FOLK It's been really fun! It's a totally different form of writing, and I still feel like I'm learning how to do screenwriting and how to keep those two modes of writing from infecting each other. I'm still writing prose, obviously, and I feel like that's still my main thing and what I've really trained to do. But TV is fun in particular because it's so collaborative, which has been a relief after writing so long by myself. It's similar to teaching—it's nice to have a complement that's a bit more collaborative and outwardly-focused, because the writing itself can be so solitary.
48 HILLS A lot of your stories are what TV people would call "high concept." But at the same time, the narrative voice you have in many of them is so integral—all those unspoken observations and thoughts. Was it difficult to transition to a medium where it can be harder to have that kind of inner monologue?
KATE FOLK Yeah, I really have to strip everything down. My tendency is still to put in too much description, and I've been told a lot of times by people in the industry that when they're reading scripts, they just read the dialogue and skip over the scene description. So I take out as much as I can, which has been hard. I feel like in screenwriting you have to be a bit more obvious. Everything has to be so external and expressed through dialogue or maybe action. It's tricky to pull that off without the dialogue seeming really clichéd and obvious. Also, a script is just a technical document, not the final product. That's very different from something like a short story, which is complete on its own.
48 HILLS You mentioned wanting to keep screenwriting and prose fiction writing separate. Why is that?
KATE FOLK I think it's probably inevitable that they'll seep into each other, but ideally, I feel like they should be two separate ways of thinking about writing. I guess I worry that TV writing or film writing would make me feel like I had to write a novel the same way, in terms of having things happen very quickly. But I think that's happening industry-wide; it seems like there's a lot of pressure on fiction writers to employ some of those screen conventions of grabbing the reader and pushing the action along in a propulsive way. I want to resist that, because I feel like there's so many deeper pleasures to be found in prose that aren't necessarily the way you would write a TV show.
48 HILLS Have you seen those Amoeba "What's In My Bag" videos where musicians talk about their favorite albums? What's in your "bag" of all forms of media?
KATE FOLK David Lynch and David Cronenberg movies have been inspirations. As for music, I used to listen to a lot of post-punk, goth music and hip hop. I'm always listening to news and politics podcasts, and media criticism too. Don DeLillo books were always influential for me. White Noise was the book I read in high school that really showed me what fiction could do. I just read the novel Vladimir by Julia May Jonas, which came out this year. I really liked that. I read it in two days.
48 HILLS You've mentioned in other interviews that you were influenced early on by the children's horror writer R.L. Stine. What other books from your childhood have been important to you?
KATE FOLK My original literary love—even though it's not literary—was the Baby-Sitters Club series. Those were the first books I read when I learned how to read. My teacher said I needed to read "real books," and I was so offended. I'm sure that The Baby-Sitters Club has imprinted itself on my brain somehow. I really loved R. L. Stine's Fear Street series. I never got into the Goosebumps series, but I liked Fear Street books because they were longer and felt more sophisticated.
48 HILLS Is there any book that you wish you'd written?
KATE FOLK I don't know, I remember when I read Alexandra Kleeman's first novel, You Too Can Have a Body Like Mine, it wasn't that I wished I'd written it, but I was struck by the originality and humor of the whole voice and aesthetic. Jillian by Halle Butler is a great book that I reread recently. Halle Butler is so funny. I like books that are very dark and funny and kind of absurd, that feel very real in a really uncomfortable way.
Out There by Kate Folk is out there and available for purchase.