UPDATED: Steamworks General Manager Zose Newell talked to me this morning. His comments are below.
What if we had a monkeypox outbreak and no vaccines came?
That's the crisis San Francisco is facing as, according to an informative online town hall hosted Tuesday by the San Francisco AIDS Foundation, the city has received less than 3000 vaccine doses since early June while demand has skyrocketed ahead of the summer festival season. And we've already run out of those.
The Foundation is fielding an average of two calls a minute from people concerned about catching the virus, which is primarily passed through skin-to-skin contact, and is currently mostly affecting men who have sex with men. More on monkeypox from the CDC here. (68 of the 866 US cases are in San Francisco as of earlier this week, tests from the past two weeks have not been processed here yet.)
The tone of the town hall and of officials like Scott Wiener, Matt Haney, and Rafael Mandelman (who introduced a city resolution on Tuesday to speed up response) has been frustration and anger that the state and federal government was not better prepared to handle the demand for vaccines and treatment. SF Department of Public Health Director Grant Colfax said, "We are literally begging our federal partners to provide more vaccine," and SF General, which saw very long lines for vaccine shots this past week, announced Wednesday it had run out of doses and would close its vaccine clinic until more came.
"This is AIDS all over again, gay people are left in the dust," one friend said.
News of where and when to get the vaccine has been mainly passed through word-of-mouth from those willing to wait for hours in hopes of getting a shot. So when we heard that the Steamworks Berkeley bathhouse would be distributing the vaccine every Wednesday, some friends and I who had been potentially exposed over Pride jumped on it.
The skies were gray but the mood was bright outside Steamworks as hundreds of men got in line two hours before the doors opened. A representative of the club distributed free tickets to redeem for the shot, friends called out to arriving friends, people pulled up with sun hats and lawn chairs, the mood was festive. A sigh of relief went up when it was announced that instead of the expected 300 shots, there were 500 shots—a miracle. We would all get the jab.
But what started as a gay Stern Grove later devolved into a homosexual Mad Max as the wait stretched hours into the evening, with no updates from the club and barely any movement. Water and snacks dwindled. People ran cars to charge phones and scoured the industrial neighborhood for bathrooms. Heavy sighs punctuated the air as the sun beat down on the uneven concrete. (At least we located some iced lattes finally, we're gay after all.)
Well, there was one update. A Steamworks employee went down the line saying that anyone who paid to use the club's amenities for the day—$24 to $35—would get access to an inside line that was probably going to move quicker.
Soon two lines formed, one on the other side of the club for paying customers, which definitely appeared to move faster once shots started being administered after a 90-minute technical delay. Many of us chose not to increase our chances of exposure to COVID and monkeypox by entering an enclosed sex club for a long period, and ended up standing outside for up to six more hours. A friend who paid the fee reported that "it was so worth it," coming out after waiting significantly less time.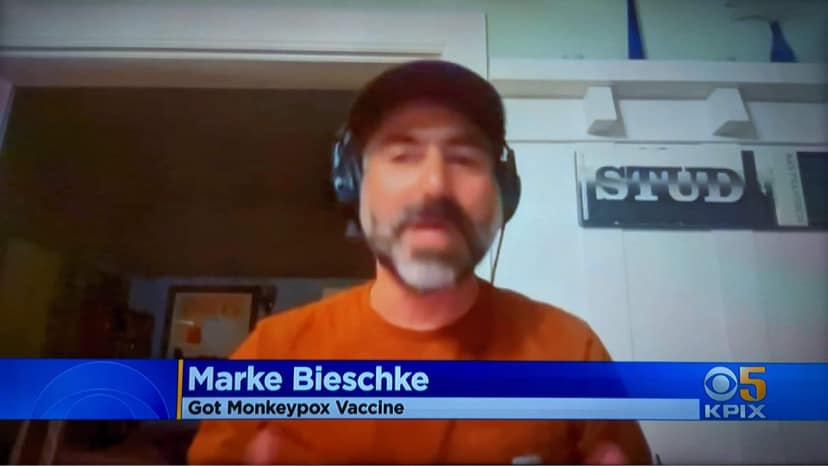 As number 116 and with two nurses on-hand for a two-minute procedure, I felt like this all should have only taken two or three hours at the most. There were still about 100 frustrated and desperate people behind me when I was finally called with a small group to the back patio for the shot. The anger was palpable and soon found expression on Twitter and other social media. I know I was pissed, but ultimately relieved I got the shot. You bet I got a cocktail at the White Horse when I finally left.
Steamworks was provided the shots by the Berkeley Department of Health, which claims the bathhouse was only acting as a neutral space for the distribution of the shots—nurses and MAs were on hand to administer the actual shots. Steamworks manager Zose Newell and CEO Larry Hickey denied that the club privileged those who paid to get inside, but as media coverage snowballed, Newell clarified to NBC Bay Area that the people who paid to get inside did get vaccinated, although he says they were not prioritized. (An earlier tweet from sister club Steamworks Chicago suggests that while the vaccine is first-come, first-served "people inside the club would be asked first.")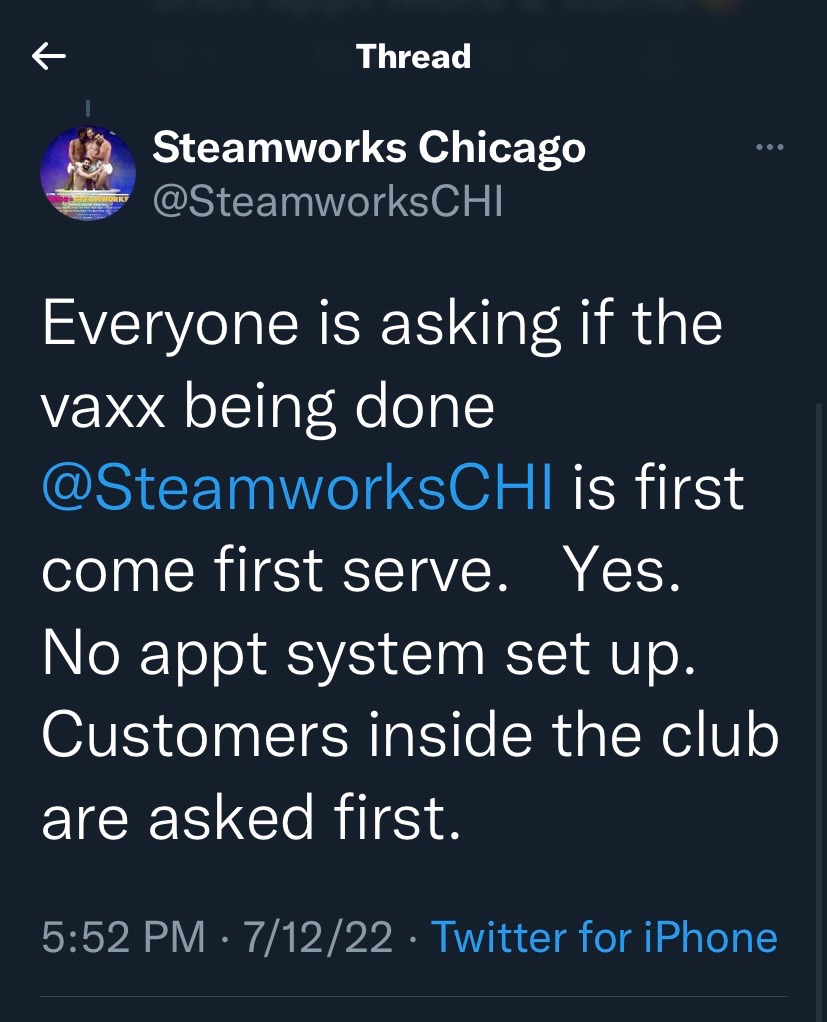 Was Steamworks profiteering off an essential medicine during a supply crisis? Many of the people who were in line still think so.
UPDATE: Steamworks General Manager Zose Newell called me to deny reports that Steamworks had monetized the line. "Definitely not. We are already busy on a Wednesday, and had no need to make a few bucks off of this health crisis. There may have been some incorrect things said by a new employee. We should have communicated more with the people who were waiting. We were not prioritizing people who paid, there were simply two lines in order to let people come in to use the club. If I knew that we were going to have 200 more shots to give, I would have had five more staff people come in. It was overwhelming with that many people. But we were proud to be one of the locations to help give out this vaccine. Only about 150 people were turned away. We've been emphasizing gay men's health since we opened in 1977. It's frustrating that this negative press narrative has taken hold. Next week, we are going ahead depending on the amount of vaccines we receive, and there will be only one line: All shots will be given outside on the patio.
I'm glad Steamworks exists in this increasingly prudish area, and 500 vaccines is a lot to handle, but the confusion was not a good look. Steamworks says next time there will be just one line to get shots, and the Berkeley Department of Health, which initially brushed off our frustration in the press, is now "concerned" and working with the club to insure equitable distribution.
In any case, I do thank the stars that my privileged ass could work from my phone for a whole day while standing in line. I'm angry that others who needed this medicine couldn't, and can't. We need a plan for that. The fun part will be trying to do this all again in four weeks to complete the vaccination series. Will there be more vaccine on the way soon? The Washington Post says there may be 800,000 doses of the Danish-made Jynneos vaccine in the US by the end of July. In the meantime, organizations are asking the community to put pressure on elected officials to recognize the urgency. (Nancy Pelosi better know about this already. Her whole staff is gays!)
The SF AIDS Foundation is asking people to text PREVENT MONKEYPOX to the number 52886 for info on how to become involved and influence officials to act: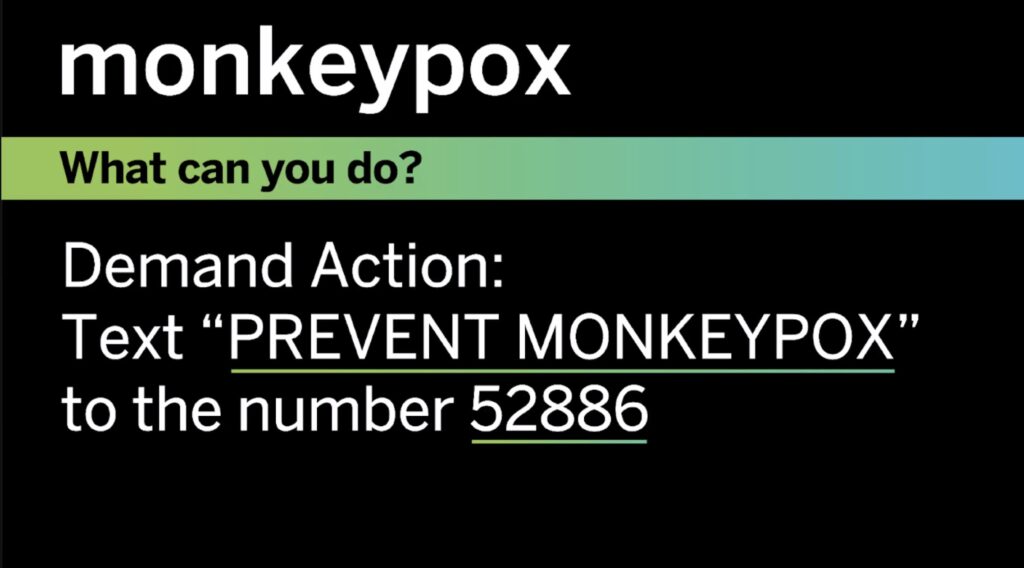 The Alice B. Toklas Democratic Club is calling for an action on Mon/18 at noon outside the US Health and Human Services Department office at the Federal Building (90 7th Street, SF.) to demand it quickly increase the supply and distribution of the vaccine.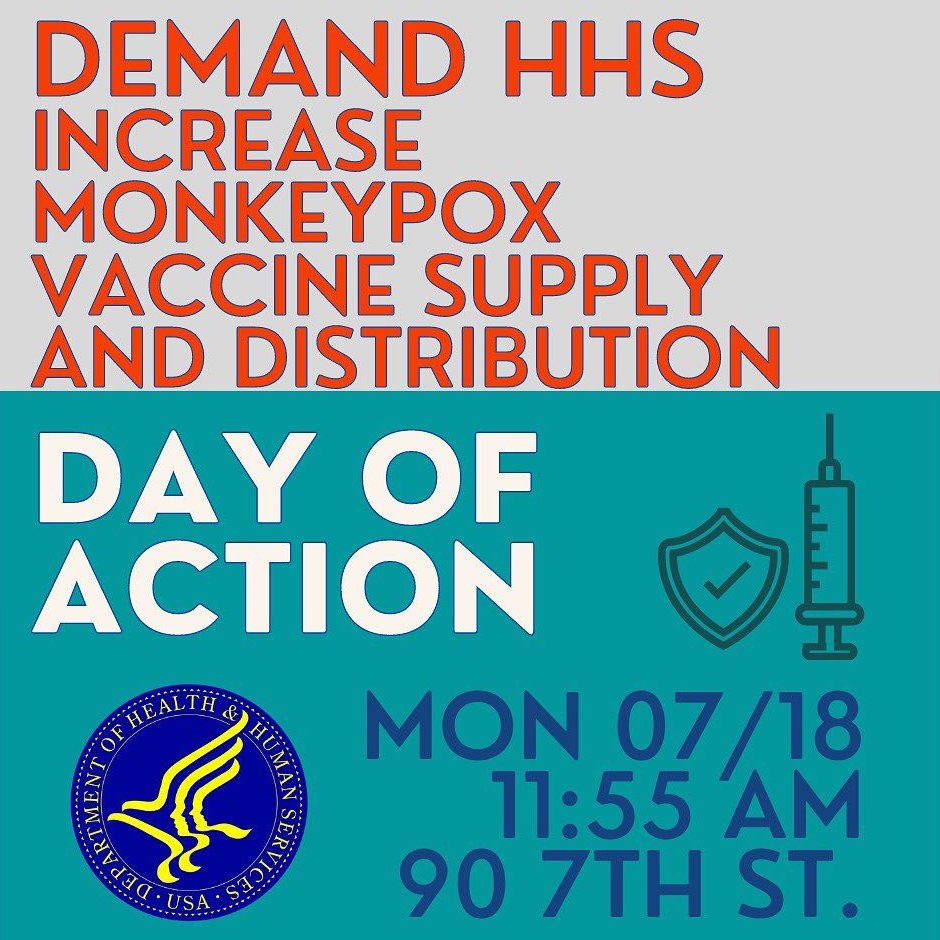 But the question remains of how we got here in the first place, and why no one was prepared after months of warnings? I'm so grateful we have a community that is open to talking about this, calling out bad practices, and protecting its sexual health. But the sinking feeling remains that the government learned nothing from the COVID epidemic we're still going through.