The immense potential to build millions of new California housing units on the many thousands of square miles of land throughout the state that are now zoned exclusively for commercial use is obvious. Obsolete shopping malls and office parks in the state's metro areas, with their huge parking lots, are a prime opportunity for environmentally responsible and socially/economically successful large-scale residential development.
Recognizing this, four years ago the TODCO Group, Build Affordable Faster California's parent organization, made a preliminary assessment of this potential for the nine counties of the San Francisco Bay Area. Its seminal report showed that the zoning for 75 percent of these prime locations does not allow housing development. That year, TODCO presented this report to regional planning agencies, housing advocacy organizations, and members of the state Legislature.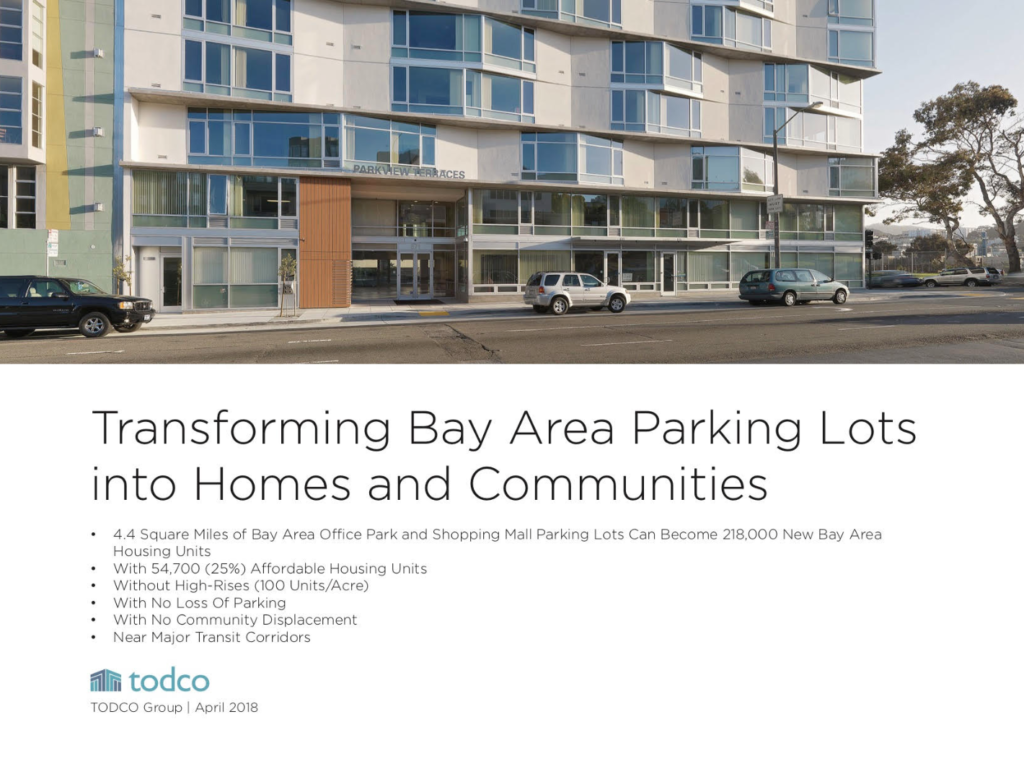 At the beginning of the 2021-2022 legislative session, several legislators introduced proposed measures incorporating this general concept in different ways. Now, as that session drew to a close this week, leaders of both the Assembly and the Senate made an agreement to pass two different bills that will permit housing development to be approved on commercially-zoned properties statewide without the need for lengthy and complex site-by-site re-zoning processes: AB2011 (Wicks, Bloom, et al.) and SB6 (Caballero).
AB2011—the grand compromise
The provisions of AB2011 combine the market-housing goals of the state's development industry and its Yimby advocates with the affordable housing goals of nonprofit developers and their allies. Its key provisions are:
All new housing development that meets specified requirements becomes an "as of right" streamlined use along all the commercial corridors (streets more than 70 feet wide) of the state, except industrial-use lands and protected areas.
Very significantly, this includes exemption from local review under the California Environmental Quality Act, which has often been used by Nimbys and low-income housing opponents to stop projects in many locations over the years, but was also utilized by community advocates to secure community benefits from developers.
Those requirements include 15 percent affordable inclusionary housing, a prime goal of affordable housing advocates, but one often opposed by Yimbys.
The bill mandates "prevailing wage" labor standards commonly used by major developers in most cities now, further strengthened with provisions proposed by the state Carpenters Union.
SB6—labor's stand
The provisions of SB6 are less complex. Its key provisions are:
All new housing development becomes a permitted "streamlined" use on all properties where office, retail, and parking are principal allowed uses now, except industrial-use lands and protected areas.
There is no CEQA exemption.
There is no affordable housing requirement.
"Skilled and Trained" labor standards, rarely used by developers now, that practically require 100 percent union labor plus additional job training programs are mandated, as proposed by the State's Building Trades Council.
The two bills share important technical provisions:
The "streamlining" elimination of re-zoning procedures and most local residential project approval processes for qualifying developments is nearly identical in both bills, except for CEQA review.
Both bills allow current local inclusionary affordable housing requirements to remain in effect at higher levels, such as San Francisco's 20 percent requirement.
Both require modest but first-ever relocation payments for commercial tenants displaced by the new development.
We supported both SB6 and AB2011 because:
Both bills will realize the Malls/Office Parks/Parking-to-Housing vision TODCO first articulated four years ago.
Both bills reflect inevitable political compromises with powerful statewide constituencies.
AB2011's provision to require 15 percent inclusionary affordable housing has been a key BAFCA goal.
AB2011's provision to exempt 100 percent affordable nonprofit housing development from bad-faith Nimby and racist CEQA roadblocks has been needed for years and is critically important.
SB6's best-practices labor standards are a valuable goal when possible.
What's missing—next year
While the impact of both measures will be generally positive—even transformative—throughout hundreds of suburban cities, their spillover displacement effects on lower-income neighborhoods in central cities could be problematic in specific cases. Pushing up land values significantly in such communities inevitably is a factor in accelerating their gentrification.
BAFCA and affordable housing advocates have consistently sought identification of "Communities of Concern" by regional and state agencies to address such vulnerable neighborhoods with pro-active measures to counter these threatening market forces generated as a side-effect of new development. This effort has been unsuccessful to date.
Now that the state Legislature has responded to the goals of the housing development industry at very large scale, next year's session is the time to also respond with legislation that finally achieves recognition of the Communities of Concern and their largely lower-income, working class, and minority residents, and require they receive the protection and assistance they need to survive the urban transformations envisioned by SB6 and AB2011 without displacement.
A silver lining of the current slowdown in market housing development statewide is that will allow a few precious years to put new safeguards in place to do that … If we start now.
John Elberling is executive director of TODCO.