Eviction Moratorium for Mama Earth—
To truly liberate her from her paper dollar worth
Eviction Moratoriums = Forever Houzin can weave a different story
For the mom and pop landlord class who have been told and sold the lie of buying mama earth with cash
support then with resources so they can pay their occupied land taxes
How bout a moratorium on Mama Earth
The end of seeing her for how many paper dollars she is worth
No some of us can't function in the increasingly unjust Hamster wheel
Forcing us to steal
Looking for the WalMart deal
Closing brick and mortar jobs every second of every day-
Roboting and AI'ing our paychecks away
So how bout the trillionaire class who makes cash on our broken backs
Support permanent safe housing that forever lasts
How bout all the Nextdoor haters who don't want to see our homelessness
Support us to live without the lie of rent ?
You say you want to end the "homeless problem politrickster?—then don't end the Eviction Moratorium, securing safe housing for ever for us with no end…
"Mama what is rent? My five-year-old son came home from school one day and saw the notice first. A $700 rent increase effective July 1. It was a pink sheet of paper with black lettering taped to the front door of our rented house we called MamaHouse in the Mission district of San Francisco.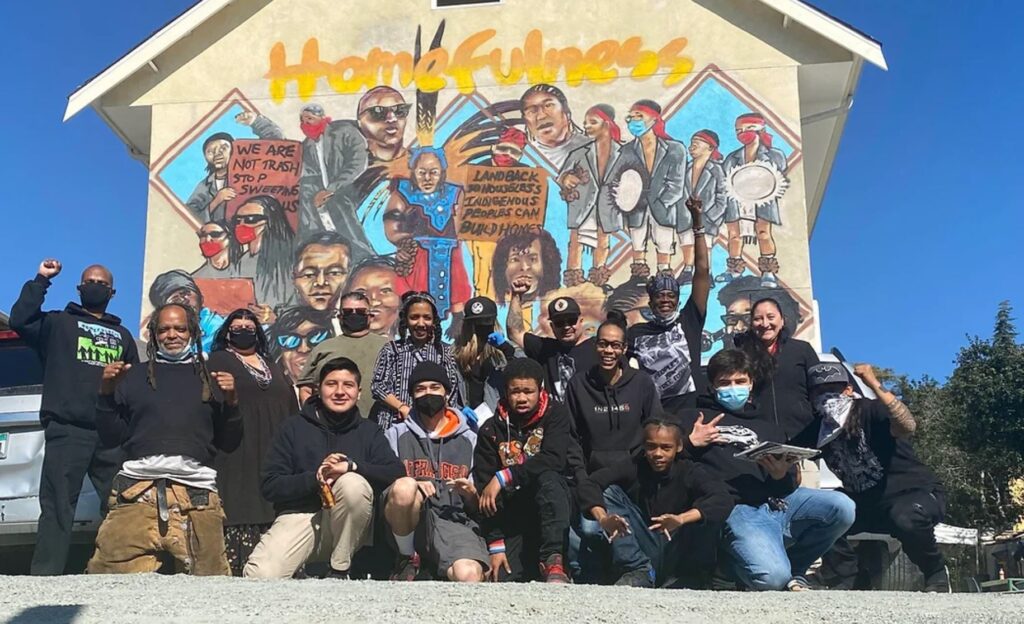 I had launched MamaHouse, as a safe home for me and other houseless, no-income single mamas and children, where we would support each other with child care, resources and love. My son was too young to understand what that notice meant, but knew that something was wrong. I sat down and cried. It was already too much.
My loca vida with eviction came back to me as I tracked the impending end of the eviction moratoriums in all the cities that still had post-pandemic moratoriums in place. Cities like Oakland and San Francisco, which are expecting literally thousands of people to be added to the already thousands of houseless people in these cities.
"I am houseless now, after they ended the eviction moratorium in Alameda," said Carol D, who wanted to remain anonymous because she hopes to get into an apartment somewhere after the eviction moratorium. "I tried to make payments, I applied for all the federal aid, but I got long Covid and I can't work, I'm probably living in this trailer for the rest of my life, if they don't arrest me, that is."
Evictions stay on our records as tenants, making it even harder to get inside when you're outside. Carol is one of more than 243 new evictees who just became officially houseless after the eviction moratorium in Alameda county expired on April 29.
To lift up this terrifying situation, POOR Magazine's Youth Leaders in our Summer program at Deecolonize Academy, who have all struggled with housing insecurity or homelessness, decided to launch one of our WeSearch Projects about how many more people will become houseless when the moratorium ends this month and demand these settler colonial towns never end the eviction moratorium. In fact, as one of our youth put it, "make all the housing rent-free" like we do at Homefulness—a homeless peoples' solution to homelessness that never charges rent because we know that's what makes us poor folks houseless.
Evictions in Alameda county shot up the day after the moratorium was lifted. More than 240 cases were filed, and we know there are more to come.
"As someone who has experienced being houseless, I side with continuing with the eviction moratorium meaning putting a freeze on all evictions. So it can allow people to stay in their homes, and at least help not escalate the numbers of people houseless in the streets. 

Zion Angeles, Youth Poverty Skola Reporter with POOR Magazine 
Cities across the United States can't file those papers fast enough. Eviction filings are more than 50 percent higher than the pre-pandemic average in some cities.
The cities struggling the worst with post -moratorium evictions are Houston, Minneapolis/St. Paul, Nashville, Phoenix and Rhode Island. To prove the buying and selling of mama earth greed has no limit, rent prices nationwide are up about 5 percent from a year ago and 30.5 percent above 2019.
"I am on the street now because the eviction moratorium was lifted in Alameda County," John Bowell reported to POOR Magazine. "The store I was working at closed. I'm 67 and disabled, who is going to hire me and no, my SSI doesn't cover rent. I have been on BACS wait list for a year and I'm tired." He concluded by shaking his head.
Carroll Fife, Oakland District 3 Supervisor who has worked tirelessly to support houseless communities and helped us at Homefulness, is implementing a rent registry in Oakland to help tenants get support and clarity from the lies and loopholes of the so-called "rental market"
The mission of the Rent Adjustment Program is to promote community stability, healthy housing, and diversity for Oakland residents, while preventing illegal rent increases and evictions, and ensuring a fair return for property owners.
 I believe that the Eviction Moratorium should continue, and that when it eventually ends there needs to be a solid plan of action to make sure the rent buildup doesn't immediately evict everyone who couldn't pay during the Pandemic. 

Tiburcio Garcia, formerly houseless youth Povertyskola reporter with POOR Magazine 
My name is Gerry. I am a youth student at POOR Magazine researching how you become homeless in your own hood. In my opinion lots of people become homeless in their own hoods because of eviction or increase in rent prices. Lots of landlords sell their property to bigger companies to make more profit in their hands. Lots of families that rent the property aren't notified that their landlords have just sold the property till the last minute and the last minute becomes very stressful to families because they have nowhere to sleep and their house isn't theirs anymore and are eventually kicked out of their homes having nowhere to go but live on the streets. Evictions are very common and are one of the main causes towards homelessness around the world.

Gerry Matias, Youth PovertySkola reporter POOR Magazine
As the child of a disabled mama, I had already struggled with paying rent and staying housed for so much of my life, living homeless, sleeping in doorways and shelters for more than ten years of my childhood and young adulthood, and then years later when my mama was sick and I had my infant son. My connection to safety always came down to resources. If I didn't have a job, I had to choose between food and rent.
MamaHouse was eventually destroyed by an eviction, causing all of us poor mamaz and children to be houseless again. We didn't recover, and we lost sister Laure McElroy in the process, because poverty and homelessness kills. After many more years we launched Homefulness and are working right now with Sustainable Economies Law Center and Sogorea Te Land Trust to implement the Land Liberation Legislation, a dream I dedicate to all the poor mamaz and elders who have died trying to stay safe on these occupied streets.
Land liberators, conscious just transitionists, and legislators, how about we consider keeping these moratoriums on indefinitely? This capitalist system encourages the lie of rent, buying and selling of colonized mama earth, and keeps us engaged with it by forcing us to do the same. We need to break from this violent cycle, and remove ourselves from the idea of Stolen Land as a commodity.
Youth PovertySkola reporters Zion, Tiburcio, Gerry, King, Ziair, Ru, Akil, Amir and Gabino contributed to this story.
Join houseless /formerly houseless Youth and Family poverty skolaz from POOR Magazine/Homefulness, Wood Street Commons and more as they release their WeSearch findings at Oakland City Hall on Thursday, July 13th at 2pm in the Oscar Grant Plaza 14th & Broadway in Oakland