If JM Balbuena thought her educational mission for entrepreneurs of color had been served by the 2020 publication of her book Canna-Preneur: The Practical Guide to Thrive in the Legal Cannabis Space, her grandmother quickly set her straight.
"¿Qué quieres que hago con esto? ¡No hablo ingles! [What do you want me to do with this? I don't speak English!]" said the matriarch upon the book's 2020 publication.
Luckily, the San Diego-based, Afro-Latina serial cannabis entrepreneur and former US Navy aviation electronics tech thrives on problem solving. She comes from a lineage of Dominican self-starters, and as a little kid she and her dad came up with business solutions for struggling brands they saw in the news, for fun. Balbuena and her family eventually founded a New Jersey-based food manufacturing company, and the experience left her primed for the next challenge she'd take on: the cannabis industry.
Learning the ins and outs of business planning and ownership early on paid off. Working with cannabis professional Duane Alexander, Balbuena became the chief marketing officer for a widely diversified California cannabis corporation, and also founded her own cannabis media and event production project Synergy Studios.
She realized that it was time to share the acumen her family had taught her with other up-and-comers. So was born the original self-published, English language version of Canna-Preneur.
The book combines a detailed rundown of state-to-state licensing requirements for cannabis businesses with free write prompts and self-help advice (augmented with the best practices of Thomas Edison and Da Vinci) towards finding one's canna-preneur destiny. Its exhortations to entrepreneurs to dive deep into the history and culture of cannabis consumption alternate with information on the various sources of funds for entrepreneurs, the enduring impacts of cannabis prohibition's racist legacy, and other nuts-and-bolts details.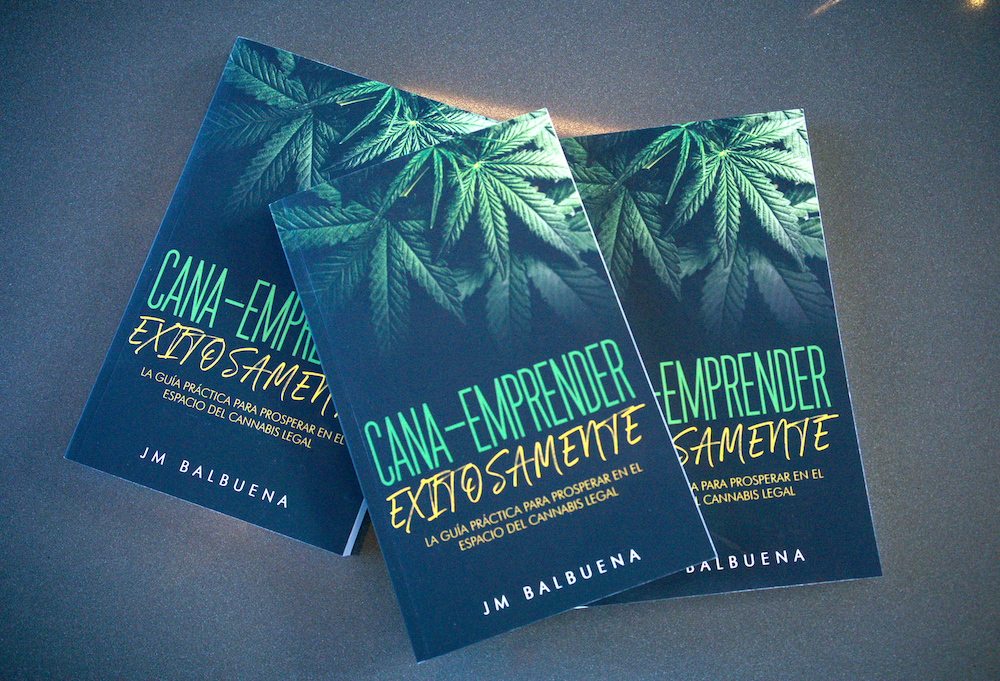 But her abuela was right—many people close to Balbuena weren't being best served by a monolingual Canna-Preneur. She set to work getting it translated, and this year released Cana-Emprender Exitosamente: La guía práctica para prosperar en el espacio del cannabis legal—which even includes important updates to the original regarding the United States' expanding regulatory landscape.
"I told her, 'No, that's coming. I've got to make that happen,'" Balbuena remembers of that fateful talk with her grandmother in a bilingual Zoom interview with 48hills. "In that moment, I realized I was limiting this information."
You can listen to the Spanish parts of our talk via my Mexico City radio show Crónica. The author was fresh off of attending Cancun's CannabiSalud conference, where she was heartened by the Latina cannabis entrepreneurs who are making big moves despite a federal regulatory stand-still that rivals the United States' for frustration among weed workers.
"Obviously, this is my first language," she continues. "I am Dominican, and I was born in a country where people also need this."
Cannabis is still a delicate subject in Balbuena's home country, where the plant remains illegal in all forms and the minimum sentence for individuals caught with 20 grams of weed or less stands at six months in prison. Though Dominican groups that advocate for legalization are appearing, anti-weed stigma in the island nation remains fierce, and straightforward sources that teach about the cannabis industry are few and far between.
Not that the United States is exactly flush with Spanish language information on how to kill it in the weed biz—though important resources have been published, like Bay Area Latino Cannabis Alliance founder Javier Armas' 2020 Budtender Educacion.
"Many Hispanics face challenges in navigating the complex processes of applying for [US cannabis] licenses and complying with regulations, and may lack experience in developing business plans or industry-specific knowledge," says Balbuena in a press statement announcing her book's Spanish translation. "Furthermore, systemic racial disparities in the enforcement of drug laws make it more difficult for people of color to access opportunities within the regulated cannabis industry in the US."
Challenges to independent entrepreneurs are rife in 2023 legal weed landscape. In California alone, small-time players must reckon with mountainous licensing and application fees, tax rates, and even a lack of federal relief when natural disasters strike production and retail facilities. (If you're in the industry yourself, check out UCLA Labor Center's California Cannabis Workers survey, which seeks to track such issues to impact public policy.)
But Balbuena is confident that cannabis is still fertile ground for entrepreneurs of color.
"Not everything in this industry has to be plant-touching," she says, recalling a recurring point made in her book: that you can cash in on cannabis by starting a project that is adjacent to nug-handling brands, such as accounting, communications, or legal services. The tactic reduces the risk of working with a drug that is still illegal on a national level, and governed by an often difficult-to-navigate state-specific patchwork of regulations.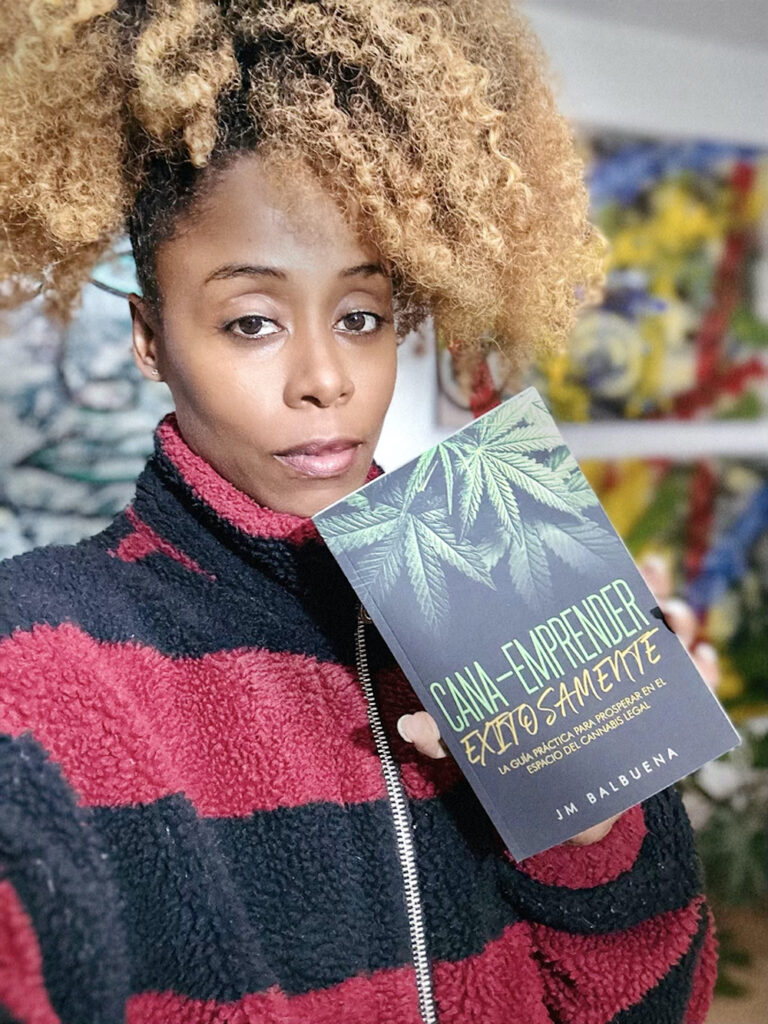 Balbuena thinks that it's important that businesspeople of color get into the industry now, precisely because the big opportunities are yet to come. (Her company Prime Harvest Inc. even has an investment program for small-time backers, she says, for just this reason.)
"There's no denying it, once federal legalization manifests, there's going to be a boom in the space," she says. "You want to make sure that you have a stake in that. Right now, it's not many of us, as far as people of color go, that have an ownership stake for when that happens."
You ready? When asked what kind of homework she'd give to a budding weed mogul, Balbuena doesn't have to think twice—such is her confidence in the building blocks laid out in Canna-Preneur/Canna-Emprende.
"The first thing is look within. What value do you bring? What part of you can you bring to the table, and how is that part of you going to bring value to the industry or bring value to another business? That's how you will determine what you can offer.
"At the same time, you have to be studying the industry in which you're going to participate. What is viable, with respect to businesses, transactions that you can offer, specific products? Those are the parts of the puzzle you're looking for, and there's your model. Then you need partners, money. Look for people who can be your mentors, who have done what you want to do, or something similar to it.
"Start building your community. From there, no one can stop you."
Buy your Spanish language copy of JM Balbuena's Cana-Emprender Exitosamente here or the English language Canna-Preneur here.