With heat waves enveloping the country—and even San Francisco predicted to craw up to 78 degrees this week—there is a need for cooling relief. Alcoholic beverages do offer some comfort, but they come with the possibility of a hangover and alcohol is not always great to consume when you are overheated. Not so with cannabis beverages!
Cannabis mocktails can save the overheated day! These aren't beverages that you shoot or chug to get high, but rather something you can sip on and enjoy while grilling out, or watching Hulu and smoking a joint. Here's some sipping suggestions: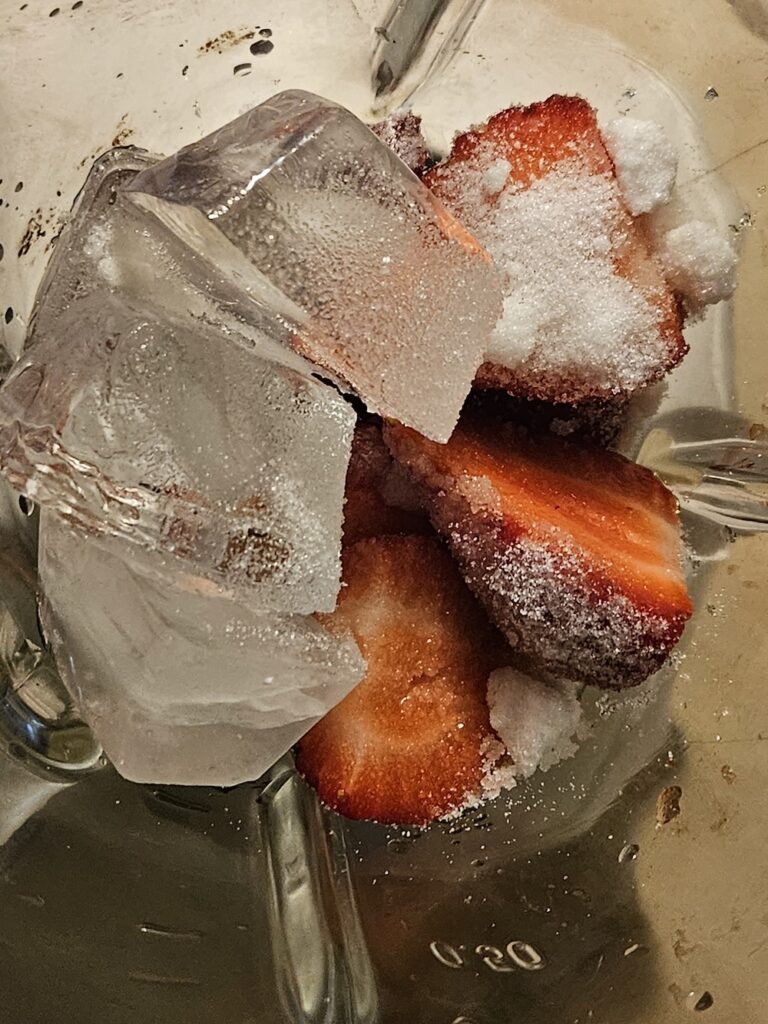 Strawberry Pineapple Punch
Chill the day away by putting four to five fresh strawberries, a nice squeeze of fresh lime juice, a teaspoon of sugar and a bit of water into your blender. Add a cannabis beverage to your preferred dosage. I measured two capfuls of Kwik Ease's Strawberry Haze sativa, which is about 10mg THC, into the bowl. Blend. In your glass, add some ice and pineapple juice or Golden Pineapple kombucha. Pour the chilly strawberry mix on top, and garnish with a sliced strawberry and lime wedge. It is delicious!
Canna Rob Roy
Pour yourself a cola, add a dash of grenadine, maraschino cherries and a few capfuls of your favorite cannabis beverage.
Stoner Arnold Palmer
Mix iced tea and lemonade with a cannabis beverage—maybe Uncle Arnie's Magic Mango? Voilà, you have Stoner Arnold Palmers to enjoy!
Watermelon Mint Zingers
Delicious and spicy refreshments for a party or BBQ. Puree two cups of seeded watermelon with no rind, two cups water, two tablespoons of sugar, one tablespoon fresh lime juice, mint leaves, ice cubes, and half a seeded jalapeno, in a blender. Strain the mixture, pushing through the pulp, and chill. Pour into glasses and add your favorite cannabis beverage to each drink. Stir and serve on ice, garnished with chunks of watermelon.
Gettin' High with Shirley
A twist on the Shirley Temple. Mix Cann's Lemon Lavender Hi Boy Tonic (5mg THC), which tastes like ginger ale, with lime juice and grenadine. Add some extra cannabis beverage if you want a stronger hit. Garnish with lime wedges and maraschino cherries.
Rosemary Blueberry Cooler
Perfect for hot weather as well. Muddle (meaning smoosh and grind) seven to eight blueberries, a sprig of rosemary, and an ounce of honey at the bottom of a cocktail shaker. Add an ounce of fresh lemon juice and shake. Strain into glasses over ice and add your favorite bubbly cannabis beverage. Dash it off with a capful of a THC shot like Drink Loud's Maui Blast for an added zinger of THC.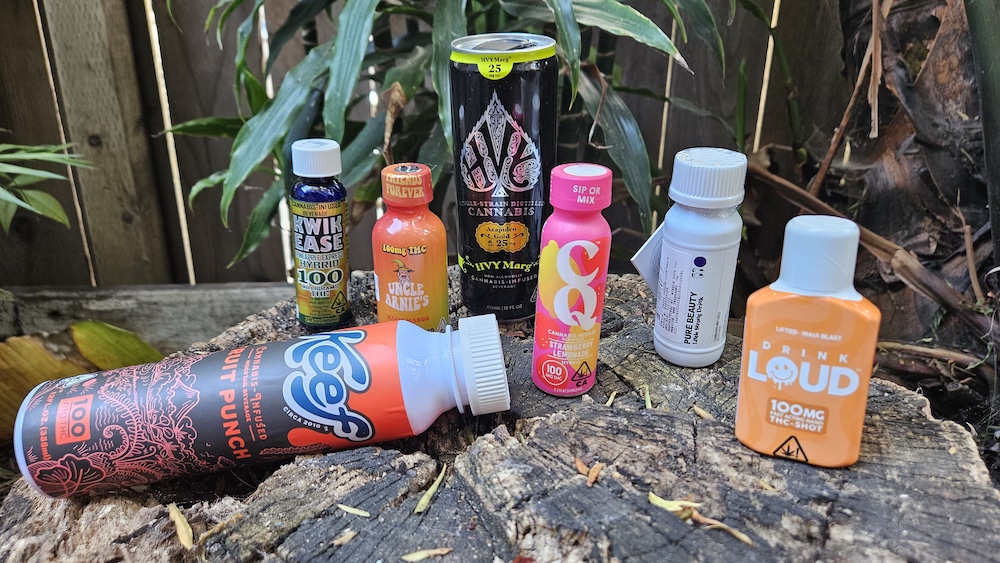 Don't have time to make mocktails at home? You'll find that every dispensary in the area is stocked up with tasty sodas. The brand Cann has several nice flavors, including Blood Orange Cardamom, Grapefruit Rosemary, and Lemon Lavender, which all clock in at 2-5mg of THC. They are refreshing flavors that don't make you too high.
Keef has amazing sodas, including Root Beer, which makes a super tasty float with some ice cream! Mary Jones has some amazing flavors as well. I am partial to the brand's Orange Cream and the Blueberry Lemonade. These all clock in at about 10mg THC.
Heavy Hitters just launched a new drink in three flavors that taste like popular alcoholic beverages: HVY Marg, HVY Mule, and HVY Tonic. Each has 25mg THC per can.
Then you jump up to the 100mg THC drinks. The first on the market were Manzanita Naturals with their Kwik Ease shots. Those exploded on the market and almost every major cannabis company has launched their own version like Pure Beauty's Little Strong Drink, Rove's Drink Loud, Cannabis Quencher, St. Ides from Pabst Labs, Keef's mocktails, and so many more.
A lot of the sodas I mentioned above like Mary Jones are now releasing their 100mg sodas!
So, there are lots of choices out there for all levels of cannabis drinkers, though some have more flavor than others. I always say start low and add more as you go. I know that 20mg of THC will have me feeling pretty good, but I like to build up with 5mg increments. The bubbles in the sodas really help to give me a high similar to that of drinking alcohol. You can do mini shots of these stronger drinks to get your desired effect, or you can dose your drink. I am currently drinking iced tea,  and I added three caps full of Keef's Fruit Punch equalling 10mg THC.
As always, keep hydrated when you are out in hot weather. Nothing beats a nice cool glass of water to revive your body. Stay in the shade whenever possible—I recommend hiding in a nice, cold movie theater! Enjoy the summer and stay cool, fresh and stoned with your cannabis mocktails.
If you want to find out more about mocktails and like winning cannabis prizes, stop by BONG-O BINGO every 2nd and 4th Saturdays of the month at Mission Cannabis Club at 2441 Mission Street from 6-9pm. Join me, Thee Pristine Condition, Brandelicious, and Pup Pickles to play bingo, see a drag show, win cannabis prizes, and enjoy mocktails provided by various cannabis companies in the area. Tickets are $15 at the door (cash or Venmo) after a $10 purchase at the dispensary. It is always a blast!
Now it is time to light up!