Is artist Dana DeKalb telling us new, fantastical stories—or reflecting our own back to us? Contemplative imagination, miracles afoot, or cautionary tale? All these notions may be true. In paintings that are mostly small in size, her attentive illustrative technique draws us in, where an unfolding intimate fable keeps us there.
DeKalb was born in Sumatra, Indonesia and grew up in New York, Karachi, Pakistan, and Australia. Her father was a petroleum engineer for Standard Oil, Esso, and Exxon and was posted to mostly developing countries. DeKalb says this constant movement left her with an appreciation for other cultures and different ways of looking at the world. After many years living in San Francisco, DeKalb has been happily ensconced in the East Bay for the past decade, with a home in North Berkeley and a studio in West Berkeley's Sawtooth Building. She's been drawing and painting ever since she could hold a crayon, though it's hard for her to pin down precisely when she knew she would become a full-fledged artist.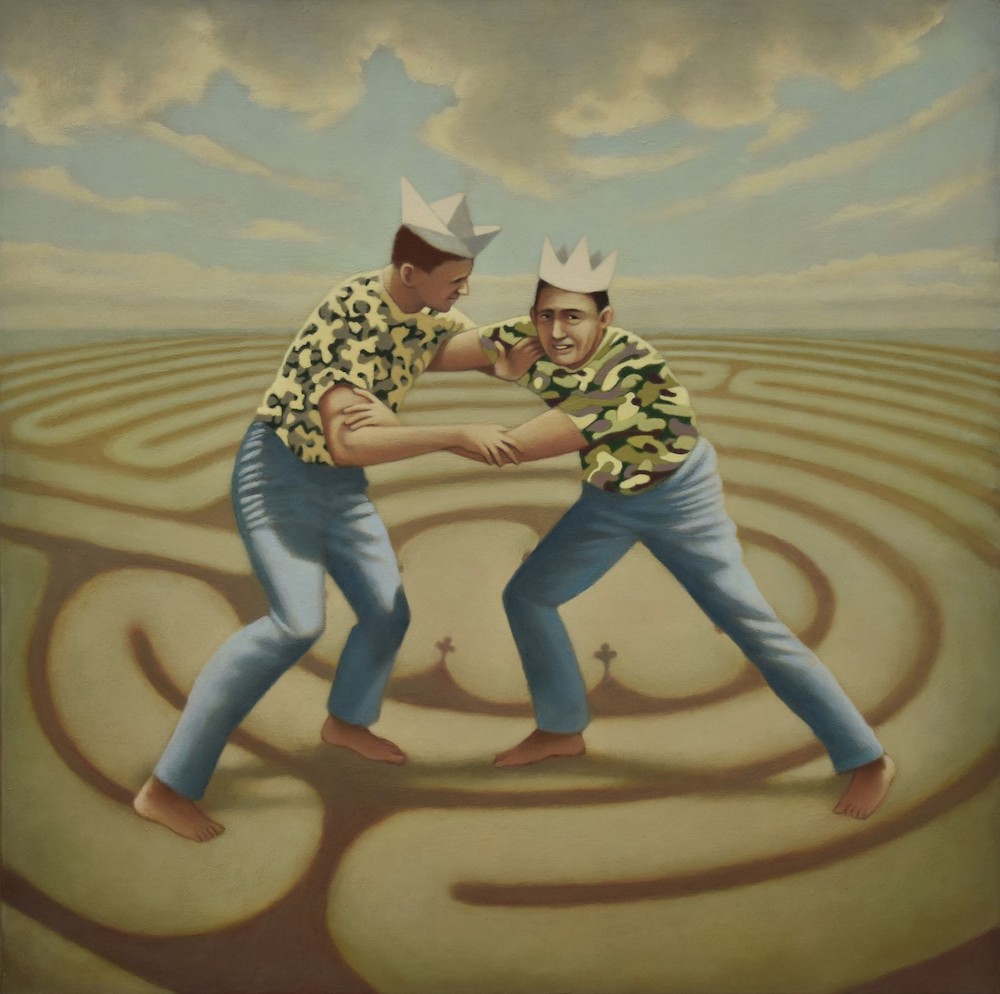 "I have always loved stories and the way they rescue us from the mundane. When I was young, I would invent my own comic book characters and have them participate in various adventures," DeKalb told 48hills.
Completing a degree in studio art from Pomona College (BA, 1979), DeKalb is devoted to narrative art, in one form or another. Some of her inspiration comes from miniatures, mythological painting, American folk art, comic books, travel guides, and other artists she discovers when visiting galleries and museums. DeKalb describes her artwork as guided by magical realism, and cites William Kentridge and Joseph Cornell as two artists with whom she would have enjoyed spending a day in the studio.
DeKalb works almost exclusively in acrylic on canvas or panel, generally hammering out basic compositions in advance before she begins on the final piece. She prefers to work on two or more paintings at a time, to allow ideas to settle in and paint to dry.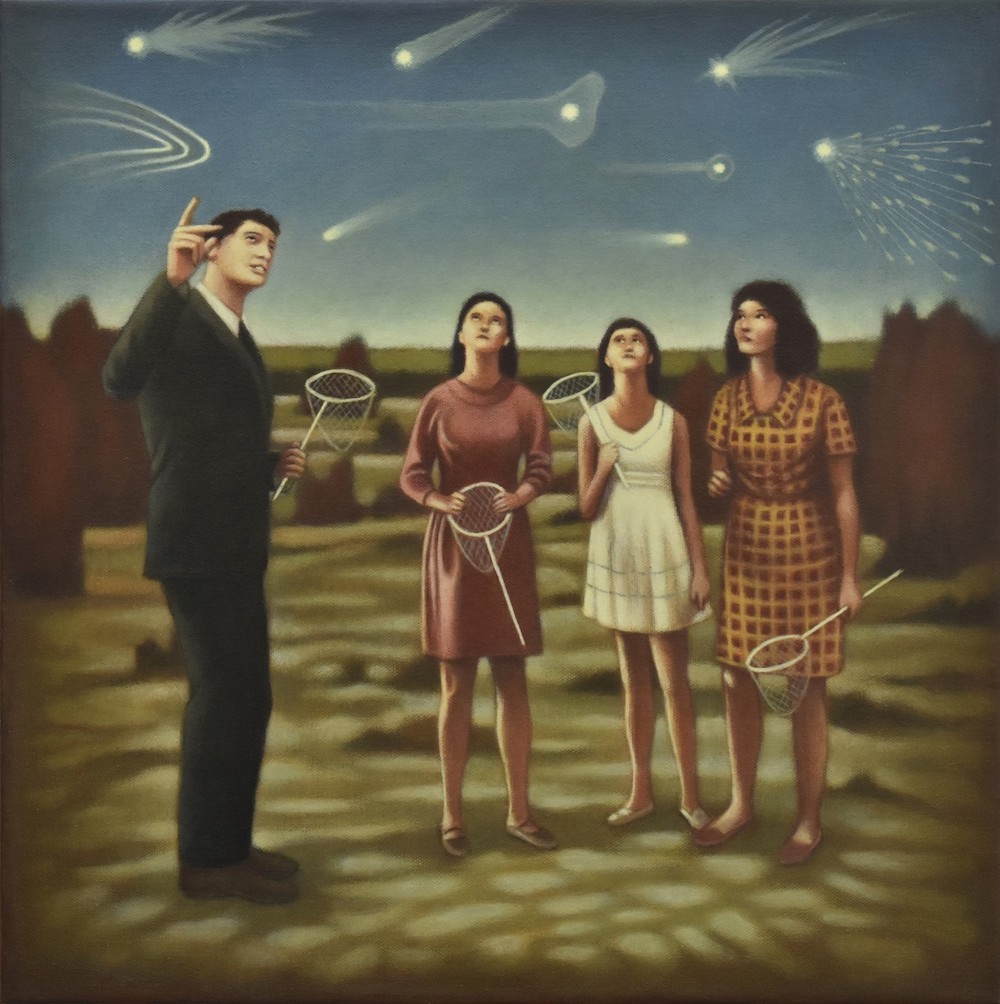 "Once I have begun painting, the composition is completed fairly quickly, but more of my time is spent incorporating multiple layers of translucent glazes, which give the paintings their depth and mystery," she said.
Her studio, perched on the mezzanine level of a much larger space, gives her a feeling of "floating in the air." It's where DeKalb spends many hours, though it feels to her that time is flying by, taking only a short break in her day to eat a quick bite.
"As I'm sure any artist would agree, my studio is where I feel the most myself," DeKalb said.
About 20 years ago, her work turned a definitive corner. After painting more abstract works for many years, DeKalb realized that she wanted to get back to the more personal subjects that she focused on when she was younger; figurative compositions that tell their own odd stories. She has been working in this genre ever since, and feels very much at home there.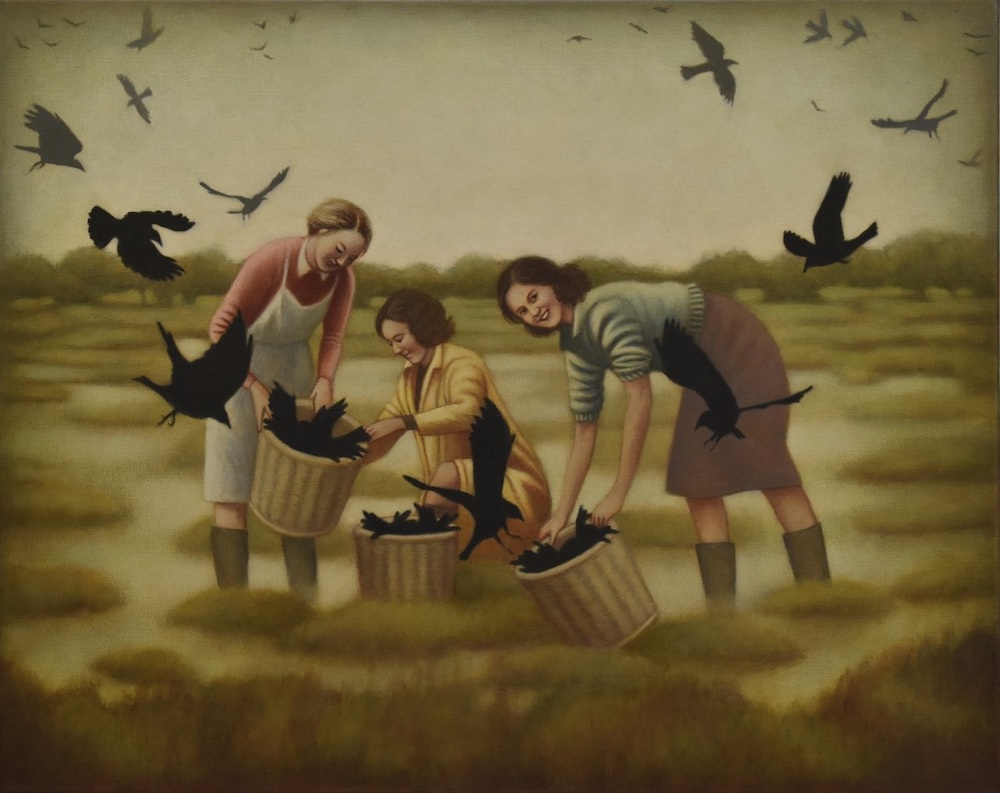 Posed as if in a museum diorama, her subjects busy themselves with hunting and gathering forays, or take on peculiar tasks while encountering unforeseen events.
"Although they are challenged and awed, the subjects seem not to have let it dim their enthusiasm for the job at hand. Each scene captures a moment's pause in the action: for respite, assessment of the path forward, or perhaps second thoughts about the enterprise itself," DeKalb said.
Her characters are sourced from magazine clippings, social studies textbooks, antique travel guides, and high school yearbooks. Placed in improbable settings that are simultaneously nostalgic and disorienting, she captures an expression of being caught in a moment of decision.
"The open-ended fables explore the unexpected, humorous, and exotic in seemingly familiar situations, suggesting a morality play in progress but with the lesson left unstated," she explained.
Her paintings act as metaphor for the ways in which we manage the uncertainty and constant change in our own lives, something that held her particular interest during the pandemic. Many of her narratives created over the last few years reflect on this recent history as a time of peril, insecurity, and upheaval. But they also touch on our personal engagement with unpredictable and unsettling world events, both individually and collectively. DeKalb tells her tales within a visual juxtaposition of old-world realism and futuristic anecdote, adding compelling mystery to each story.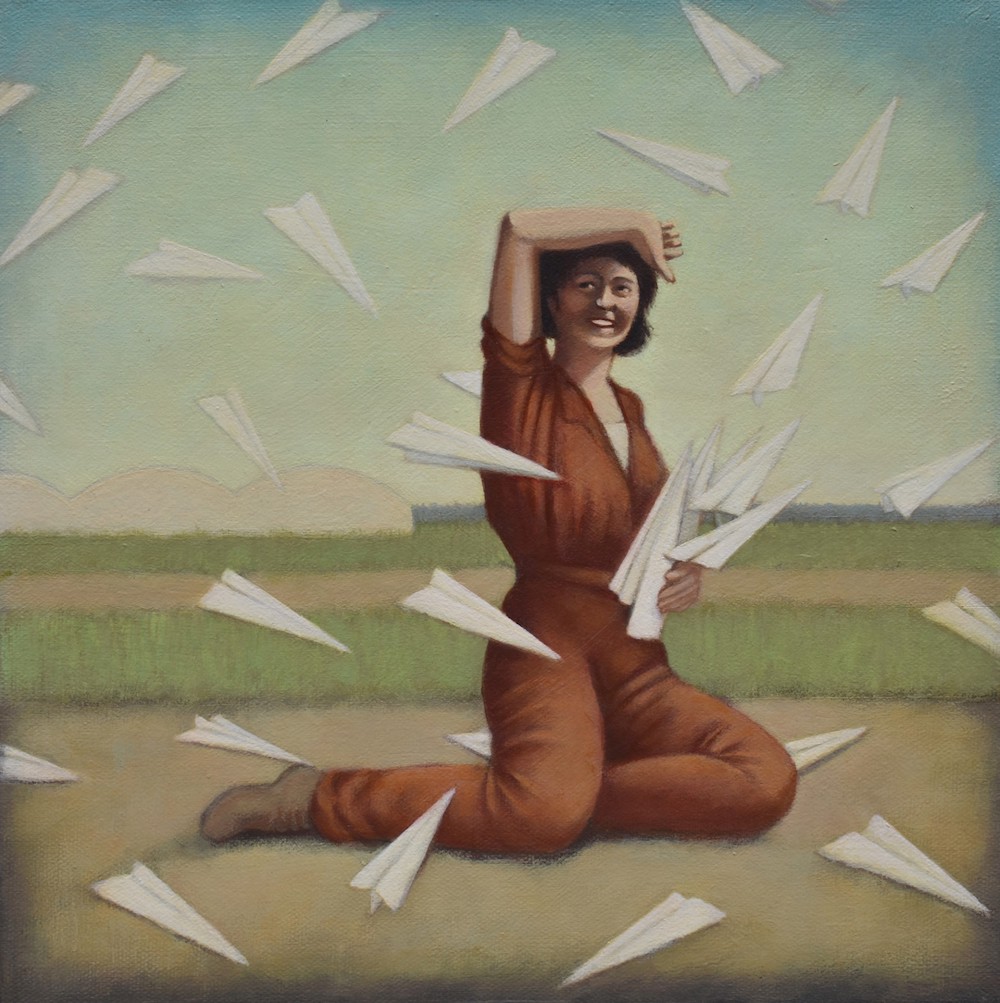 DeKalb has been busy preparing for on an upcoming solo show for Transmission Gallery in Oakland. The exhibition "A Day Like Never" will run from October 26 through December 2 and consist of several larger-scale paintings, along with a group of nine small pieces.
"The theme of the exhibition is primarily about finding and creating structure amid the disorder of nature," DeKalb said.
In her painting "Utopia," for example, two seemingly entranced figures emerge from the forest and reach toward a white picket fence; all that separates them from a manicured lawn before them and the intrusive jungle behind. What they are expressing is up to us to decide: are they reaching for the safety of a tidy suburban landscape or urging us to join them in the wilderness. In all of her latest works, Dana DeKalb encourages us to place our own puzzle piece into the story and complete the narrative with our own interpretation.
"In the same way that a museum diorama draws a viewer into another world, my intention is that the viewer will become as absorbed in my characters as they are in their mysterious activities," DeKalb said. "And perhaps some preconceptions will be gently teased along the way."
For more information, visit her website at danadekalb.com and on Instagram.