For decades, plant expert Pam Peirce has successfully grown her own produce in the Bay Area. More importantly, she's planted the seed that others—even those losing their gourds in the weeds of vegetation frustration—can do it, too.
Peirce penned her seminal 1993 Golden Gate Gardening book, now in its fourth edition, to show budding growers—late bloomers included—in the San Francisco Bay Area that with the right guidance, gardening can be a bed of roses.
Even in formidable Fog City, with its overcast skies, tepid climate, and limited space, people can rake in a surprisingly large variety of vegetables, fruits, herbs, and edible flowers.
Better yet, she demonstrates how the area's unique climate, soil, and rainfall conditions don't have to be a thorn in one's side; they can actually be advantageous to growing a prize-winning garden.
The book's 400-page 30th Anniversary Edition, its first update in 10 years, takes into account the climate-crisis-causing changes in atmospheric conditions, crop availability, and pest management over the last decade.
Easy-to-follow charts, sidebars, illustrations, maps, and resource lists make the information-packed food-gardening bible an essential tool for growers with—or without—green thumbs.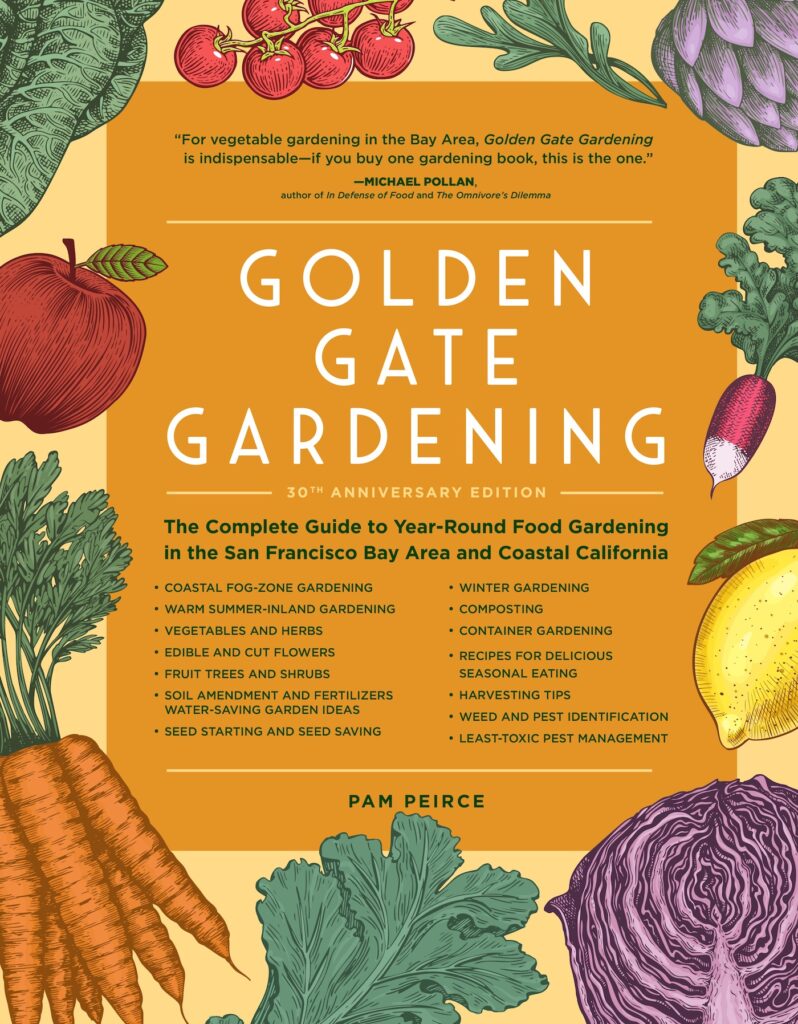 In our recent interview, Peirce—soon to appear at two local events to promote her updated book and offer food-gardening tips, see the end of this article—pruned away the common obstacles that area gardeners face and dug up the dirt on easy workarounds.
48 HILLS What are Golden Gate Gardening's top five takeaways?
PAM PEIRCE 1. You can garden year-round in the region. 2. A "green thumb" is nothing more than caring about plants, so you pay attention to them and take time to learn to grow them. 3. You can reduce snail damage dramatically by a few night hunts a year, which will be easier if you wear a headlamp. 4. If your microclimate is too cold for tomatoes or melons or if inland summers are too hot for some crops, there are plenty of others you can grow. 5. Growing a particular variety can make all the difference, and finding one that resists a pest can make growing a crop possible.
48 HILLS Could you explain key climate factors that make San Francisco distinct and how they affect gardening practices?
PAM PEIRCE We have dry summers and mild, rainy winters—a typical Mediterranean pattern. We also have long, cool springs—not the jump from cold to hot of much of the nation. There is often less difference in temperatures 200 miles north and south than 10 miles inland.
To learn about your microclimate, make a guess using descriptions in the book, and then use one of the four planting calendars provided. Observe the results and then calibrate your choices of crops and planting times based on how things went in the first year.
48 HILLS What are your favorite low-maintenance plants for Bay Area gardens? And what are the trickiest?
PAM PEIRCE Food gardening is generally not "low maintenance." Probably two-thirds of the work involved in food gardening is time spent harvesting. That said, among the easiest crops to grow are perennial herbs, parsley, arugula, lettuce, runner beans, and lemons (fertilize and water citrus regularly; prune inside a lemon plant to let light in; other citrus doesn't need pruning).
What are the trickiest? Timing onions properly can be tricky, but you can learn to do it. People plant Brussels sprouts in the spring, but they don't do well then. Plant them only after the longest day of the year—June 21. Cole crops, in general, can be tricky due to pests, but once one learns to outsmart them, they are easy. In general, timing and pests make a crop tricky. Timing you can learn. Having a particular pest can make certain crops impossible in a particular location, or you may learn a trick to avoid the pest or find a variety that doesn't get it.
The barrier to growing warm-season crops is mainly low temperatures. Near the coast, the spring and summer days are cooler, meaning the soil is cooler. In SF, the first few inches of soil might be 60 by May, which is still a little cool for some of these crops. Then, the nights near the coast are often too cool to permit fertilization of the flowers so that no fruit can form.
To increase your chances with these crops:
Choose early varieties and ones that are said to produce many small fruits rather than fewer large ones.
Give the plants your sunniest location—and a place best protected from wind.
Start plants in the garden under "bubbles" of row cover (unwoven polyester covers).
Try crops better adapted to our climate. In cool summer areas, we can grow the common cool-season crops all summer—broccoli, kale, carrots, lettuce, etc. I have also included many crops in GGG that are "less commonly grown" mainly because they don't mind the cool weather that some crops hate—plants like ground cherry, celeriac, Florence fennel, and leek. Inland gardeners can also explore less-grown crops for hot summers included in GGG, such as Malabar spinach, sweet potatoes, and prickly pear cactus.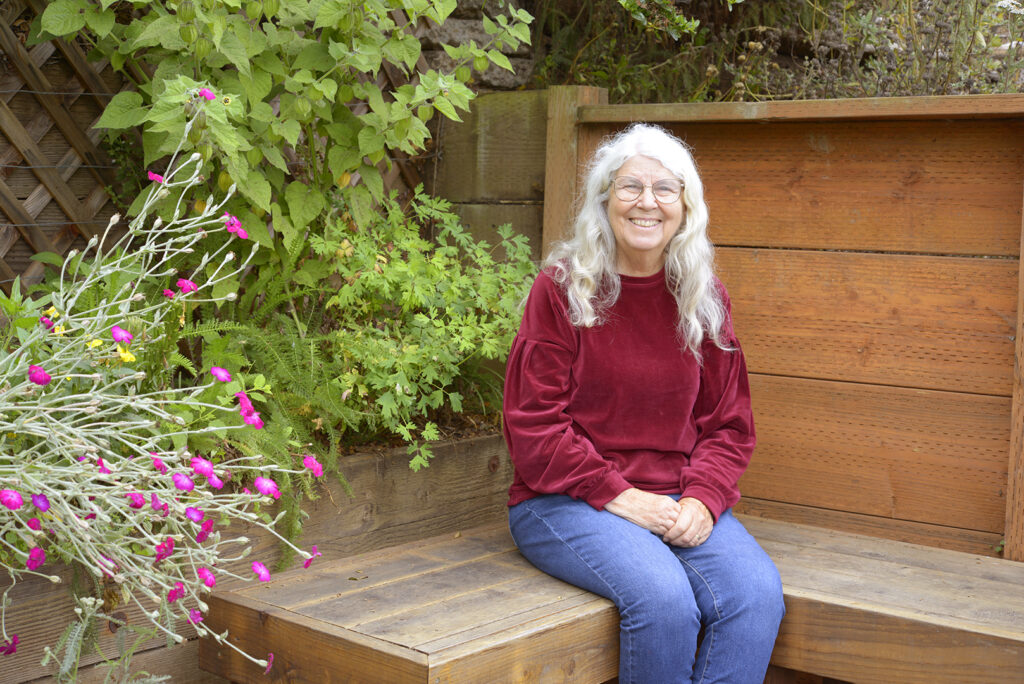 48 HILLS What are some of the most common mistakes you've seen gardeners make, and how can they be avoided?
PAM PEIRCE Planting too late in fall so biennials bloom before they have had a chance to grow big. Solution: Read planting instructions in GGG and plant earlier. Not harvesting crops—wasting all that time, energy, and water, and then not eating the food. Solution: Grow what you will eat. Learn recipes for using what you grow in ways you will enjoy eating. Use recipes in GGG or on my blog, or look for recipes in cookbooks—see Suggested Reading at the end of GGG. If you produce too much food, give it away! Prune fruit trees to be small or find gleaners to harvest your fruit trees. (Gleaners will share the fruit with you and give away the excess.)
48 HILLS How do you see the climate crisis affecting gardening in the San Francisco Bay Area, and what adjustments are necessary?
PAM PEIRCE Inland summer heat waves will simply kill plants in gardens. Wildfires will, too, of course, as will floods that put them underwater for too long. Multi-year droughts are already a problem. When winters are milder, fruit trees, roses, and other plants that need some winter chill may become so confused that they fail to make crops. Near-coastal areas could become foggier and cooler instead of warmer, but if they do become warmer in summer, it could bring insects nearer to the coast that are now found only inland, such as tomato hornworms and squash bugs. Because cold nights are happening later in the fall, some insects, like chard leafminer and cabbageworm, stay active later into fall near the coast.
48 HILLS Any tips or techniques for gardening in small spaces, such as balconies or urban yards?
PAM PEIRCE Balconies require attention to wind and sun. North balconies get no sun most of the year, so they are not suitable for growing food crops; east or west balconies get half-day sun, which is suitable for leafy crops, maybe root crops, and not fruiting crops; south-facing balconies get most-day sun. However, all balconies and roof gardens are challenged in our region by strong winds, most often from the north/northwest. An uncolored shade cloth covering on fences on those sides of a roof garden may help reduce windiness.
Follow instructions for container planting—use container mix—not soil—and don't plant in tiny pots or overcrowd plants so they will have what they need to grow large. Plants growing in containers are more vulnerable to heat, cold, drying out, and overwatering, so you must pay attention to them. They can also use up the fertility in fresh potting mix, so you may need to add liquid organic fertilizer as they grow; the most common clue is yellowing lower leaves. If you have room, plant a raised bed. Read GGG on soils before you fill a tall, raised bed.
48 HILLS Gardening can be therapeutic and fulfilling. Can you share a personal story or experience that highlights the joys of gardening in the Golden Gate region?
PAM PEIRCE I grew nine beautiful heads of Florence fennel last fall/winter. I used it in a Sicilian bean and vegetable soup I made with dried white runner beans, and made lemon-braised fennel. Fennel loses its anisy flavor when cooked but has a unique, sweet flavor. I have also marinated the white runner beans to make a delicious cold snack or appetizer.
During the pandemic lockdown, I enjoyed having a source of fresh salad greens at hand all the time. They just kept growing through the lockdown, and I was able to share them with friends and neighbors who couldn't shop often enough to keep supplied.
Additionally, I am delighted to learn that families have enjoyed eating from our region's gardens year-round because of Golden Gate Gardening, and young people whose parents used the book are now teaching their children how to garden here. That is a third generation of gardening success!
Book Release Party for 30th Anniversary Edition (4th Edition) of Golden Gate Gardening Sat/23, 2pm-4pm, Garden for the Environment, SF. More info here.
Author: Pam Peirce, Golden Gate Gardening October 15, 2pm-3:30pm, Bernal Heights Branch Library, SF. More info here.