San Francisco-based interdisciplinary artist Anne McGuire has an expansive range of practices which includes experimental cinema that reverses films frame-by-frame, such as "Strain Andromeda The" (1992), and cabaret-style performances, like "Music Again" (1997 and 2012). In addition, McGuire makes obsessively detailed, colorful drawings that play with optical illusion and geometry.
In Symbolically Depicted at Pastine Projects (through October 28), McGuire focuses her attention on a series of 16 ink drawings composed of exactly parallel lines accented with vibrant teals, yellows, and pinks. In many of these works, a surreal bird-like creature with curvilinear feathers and googly eyes emerges within her mesmerizing lines and colors. As the drawings explore the psychedelic, they also operate as portraits of friends, which by extension pays tribute to figures in the eclectic San Francisco art world.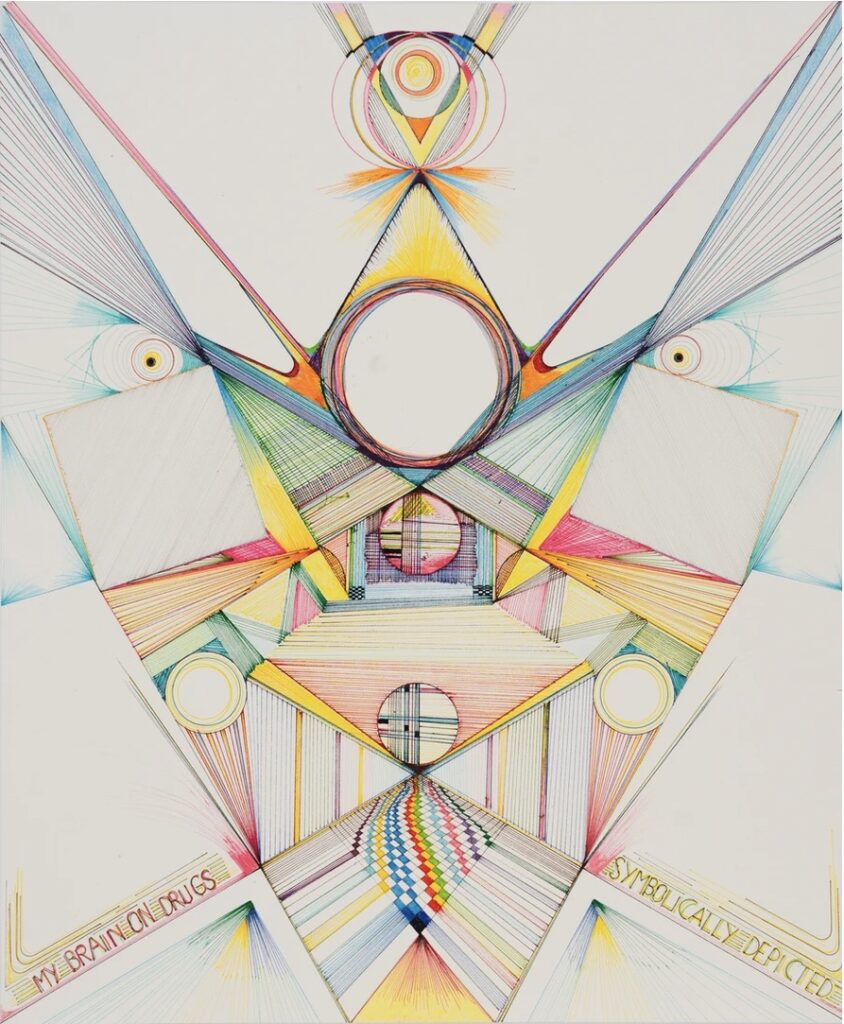 "Untitled No. 1" (2023) most directly forefronts this bird-like creature; with its arms extended and patterned robe-like body, the figure suggests a shamanistic spirit. While there is artistic precedence for converging mysticism, surrealism, and Indigenous vocabularies, particularly in the 1970s, today this makes me slightly uncomfortable as I'm not entirely sure the artist intended this, nor that she can earnestly activate these references. 
However, in works like "Untitled No. 3" (2023), McGuire moves away from vertical compositions, and its anthropomorphic suggestions, into a rich terrain where abstraction and surrealism expand the associative possibilities of her work. In "Untitled No. 3" small eyes and craggy yellow and teal teeth emerge from and dissolve into a jumbled background of linear pattern. As this work moves further away from a figure-ground relationship it enters the ominous and psychedelic, which is further explored with text in "My Brain on Drugs" (2021), "Help" (2022), and "SOS" (2022).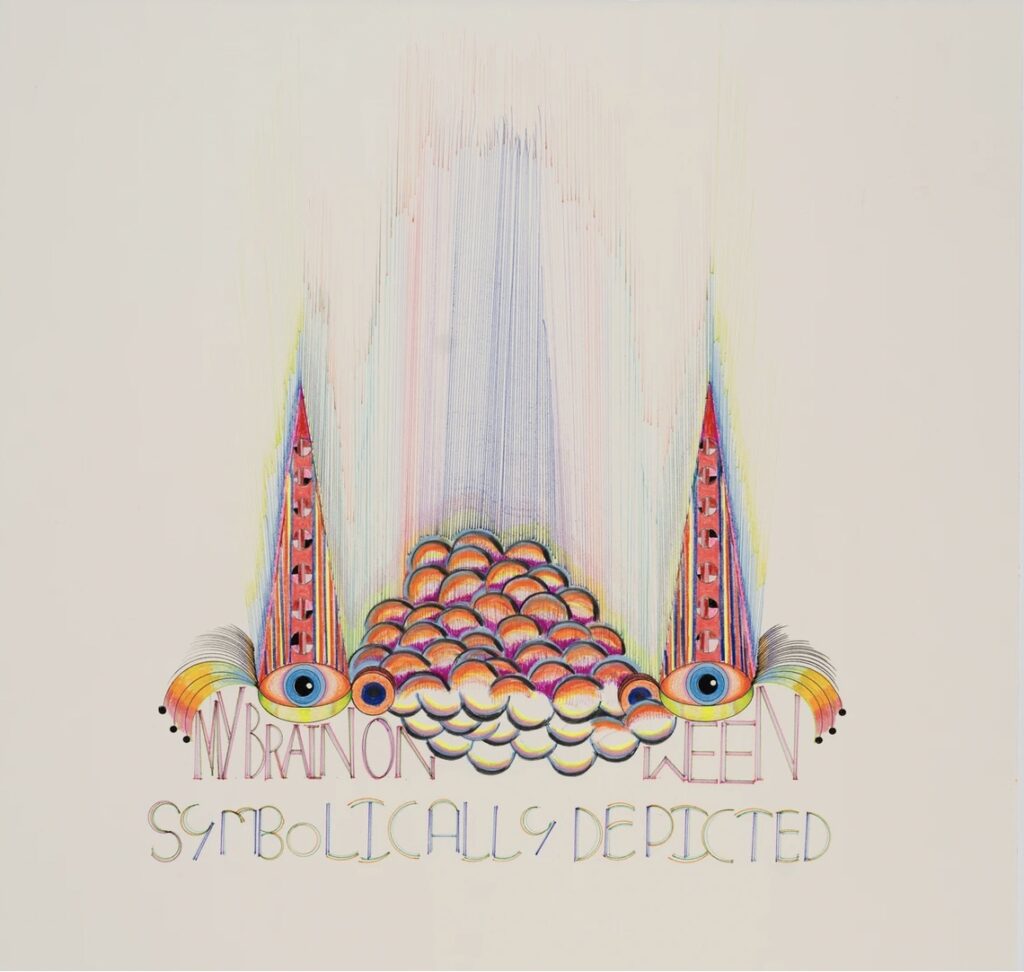 Four of McGuire's works specifically pay homage to Achilles G. Rizzoli (1896-1981), a self-taught San Francisco artist who created detailed "portraits" of friends and family represented as detailed architectural drawings. Conjuring Rizzoli's spirit and format, McGuire created "portraits" of artist, poet, musician, and filmmaker friends Rod Roland, Tomo Yasuda, Mike Kuchar, and Craig Baldwin. Like Rizzoli, McGuire includes text that indicates the friend's name and "symbolically depicted." 
Of these "portraits," McGuire's "Rod" is of the most striking and spacious. In "Rod," eye-like shapes sit within a broken frame. Letters filled with parallel lines transform the language into shape and suggest the poet's form. Radiating lines in teal and yellow extend to the upper left corner and rupture the confines of a frame. Moreover, in this piece, the phrase "symbolically depicted" subtly follows the curvilinear shapes in the lower right corner, making it barely visible and a playful discovery within the swirling lines.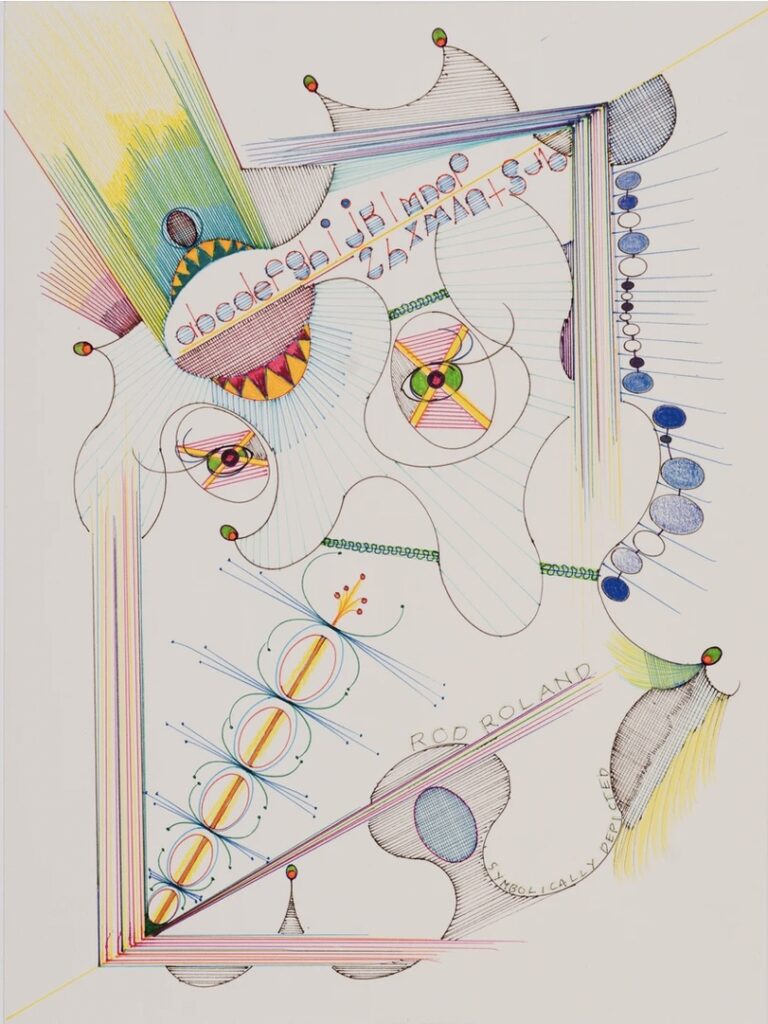 While McGuire's portraits represent friends, they are also a portrait of San Francisco's poets, musicians, filmmakers, and visual artists. As Rizzoli worked in obscurity for his life and posthumously became a cult figure, there's a hyperlocal and underground spirit to his work that McGuire also celebrates. 
ANNE MCGUIRE: SYMBOLICALLY DEPICTED through October 28 at Pastine Projects, SF. More info here.