Before painting their portraits, Jiab Prachakul asks her subjects the same questions she asks herself. Hearing their answers helps her reflect. This explains why at her show at Micki Meng, "Simplicity/Complexity"—which is on view through November 22—she's included audio excerpts from their conversations, to which visitors can listen.
Having just arrived at the gallery fresh from a meeting at the De Young Museum, the artist spoke of the clips, telling 48hills, "Each one is a topic that touches my heart and touched them. It also talks of something universal, of human experience."
Critics have often noted how empathetic her portraits seem, maybe because of this way of deeply listening to her sitters. For her part, she says she's interested in getting at the identity of the person.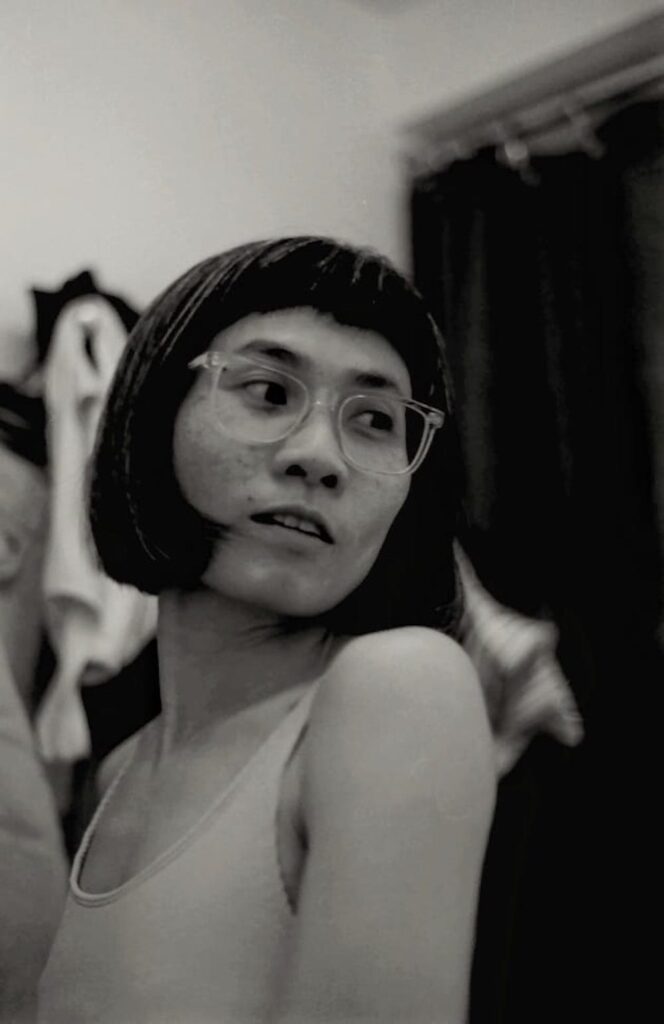 Prachakul's background is unlike those of some other painters. She is from a small town in Thailand, near Laos. After studying film in Bangkok, she became a casting director. She says that the job helps her immensely in her artistic career, particularly when it comes to finding portrait subjects.
"You have to feel comfortable with the person to paint them," she says. "Otherwise, you feel like, 'Why do this at all?'"
In 2007, Prachakul moved to London, intending to become a film editor. But then she went to a retrospective of David Hockney portraits at the National Gallery. The British painter's work, particularly his 1971 painting Mr and Mrs Clark and Percy which, depicts Hockney's friends Ossie Clark and Celia Birtwell at home with one of the cats in Clark's lap, made such a deep impression on Prachakul that she decided she wanted to paint portraits.
"I just got an instant revelation that everyone has talent in art, but we all never develop it to arrive to Mr And Mrs Clark," she said. "I mean David Hockney, he is David Hockney because he worked his way up. It's not magic—he worked a lot until he got that masterpiece. If you want to do something on your own, you're going to have to start working. And that's when I started to paint."
Prachakul says schools didn't want to take her on as a student because she was 28 with no art background. So, she learned on her own.
She moved to Berlin in 2009 and started her own brand named JIAB, for which she designed products, like bags and shirts, imprinted with her artwork.
One of the portraits in her current Micki Meng show, Berliners, is of two sisters who Prachakul met in Berlin when they were just 15, and worked at a ramen shop she ate at every Sunday. In the painting, one sits on the arm of a couch, her arm around her sister beside her.
"What caught my attention about them is they were so confident. That is so rare because Asians who have come to Europe, we tend to think of ourselves as second to others and not so confident, especially working in jobs like waitressing, but they're nothing like that," Prachakul said. "When I look at them, I feel that they empower me because I look like them and they look like me. It gives me the choice— you can either be the sad one and a bit stigmatized, or you can choose to be full of life, and that's why I like to depict them."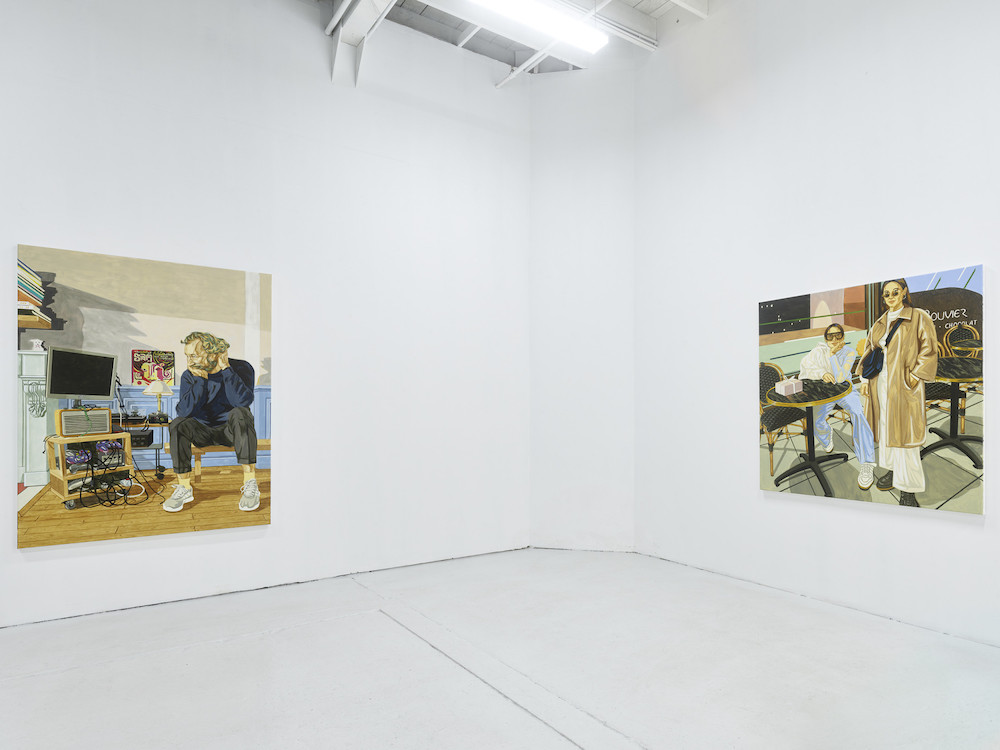 Many of Prachakul's portraits feature individuals from the Asian diaspora, and she says it helps her think about her identity as an Asian artist living outside her country—now in Vannes, France, with her French husband Guillaume Bouzige. Prachakul often paints friends and family members. A portrait of her husband is in the show, along with one of her stepsisters.
She painted the latter, Half Sisters, when the two women came to visit her in France. They are portrayed outside of a café, one sitting at a table and the other standing. Prachakul says they look both foreign and at home—glad to be visiting their sister, but obviously outside their comfort zone.
"I think that was kind of interesting, to depict the double portrayal in comparison with the twin sisters [from Berliners] who are Europeans. You can see in their posture they are more stiff and more posed," she said. "It's also obvious that they are tourists, because no local is going to go pose like that in front of a café."
In 2020, Prachakul won the BP Portrait Award at London's National Portrait Gallery, beating out nearly 2,000 other applicants with her painting Night Talk, a representation of friends at a bar in Berlin.
"It feels encouraging and rewarding, but it always feels like a dream," Prachakul said about her success. "I still can't grasp it. Like we came here to San Francisco, and we've been meeting all the curators, and just like four years ago, I still didn't know that I was going to arrive here."
Prachakul is also delighted that viewers seem to feel the empathy in her portraits.
"When I came to the opening, there were all kinds of people that get it directly. And a lot of artists as well, and when artists appreciate your work, it's like another kind of achievement," she said. "I feel very lucky that people understand my work and understand that there is a layer behind that representation that tells something a little more than what we look at on the surface of people."
JIAB PRACHAKUL: SIMPLICITY/COMPLEXITY runs through November 22. Micki Meng, SF. More information here.