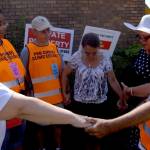 Documentary exposes insidious new legislative attacks on abortion clinics
The Dyke march takes the streets. Protesters take the flag. And everywhere, the talk was "on to ENDA" ... and housing, and economic justice,...
Spirited feminist history doc screens with live talks and QAs with important activists, now through Feb. 12. By Marke B.  FEBRUARY  6, 2015 -- Two years ago, filmmakers Mary...