Juan Pablo Espinosa can't help but chuckle when remembering the time that he was voted least likely to play a credible gay man.
"I have a funny story," he tells 48 Hills over the phone.
It starts in 2010 with his guest role on Secretos de Familia—or Family Secrets—a Colombian telenovela, on which he played his first gay role.  
The out Colombian actor was thrilled to portray such a well-written character, who wasn't entirely defined by his sexuality. He dove into it and was, in fact, so comfortable on set that he found himself schooling the director and his fellow castmates on how a gay couple would act in certain scenerios—a rare feat for a gay Latin-American actor at the time. 
So he was surprised when a major gossip magazine released a reader's poll, in which Espinosa and three of his fellow actors were graded on how well they played gay—and he came in last.
"I guess I was not gay enough," Espinosa says. "But what does it mean to be gay? How do you want me to portray it for you to go, 'Oh, I get it. He's gay.'"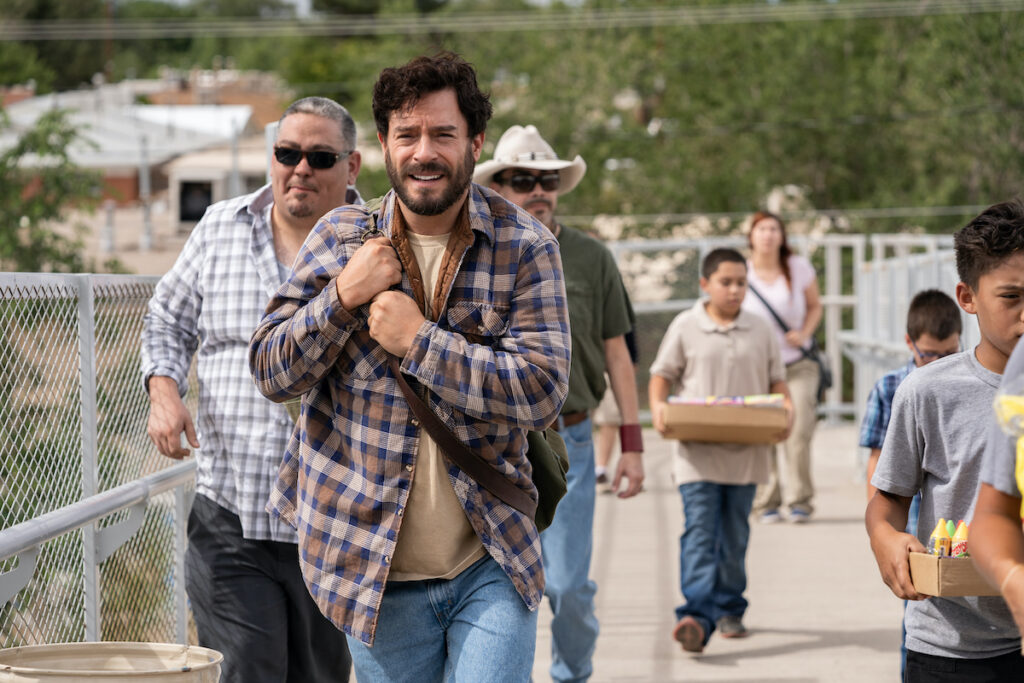 Espinosa hopes to see more gay roles that don't play to stereotypes.
The actor, who's mostly known in the US for his roles in 2015's Netflix series Narcos (about notorious drug kingpins in Colombia) and the 2017 film Cocaine Godmother (the biopic of murderous Colombian drug lord Griselda Blanco), is also eager for Hollywood to develop more three-dimensional Latinx characters. 
Luke Greenfield's Half Brothers (out Fri/4 at Bay Area drive-ins) offered Espinosa such a role. In the 96-minute dramedy, he plays Flavio, a father who's forced to leave his family in Mexico temporarily to try to improve their lives, but ends up, because of a series of unfortunate events, staying in the US and starting a new one.
On his deathbed, he asks his two children, half brothers Renato (Luis Gerardo Méndez) and Asher Murguía (Connor Del Rio) to undertake a road trip, delineating the route he took from Mexico to the US, in order to forge a fraternal bond and better understand their father's life choices.
"What resonated was the story of a Latino character that wasn't associated with crime and conflict," Espinosa says. "Being an actor from Colombia, I've experienced those negative stereotypes, so it was thrilling to be part of a story where you are seeing the everyday stories of a part of the Latino community being represented in a loving, heartfelt way." 
I spoke to Juan Pablo Espinosa about not playing to clichés, living his best Latin-American life in the Trump era, and what he hopes audiences take away from Half Brothers.
48 HILLS You emigrated from Bogota to the US five years ago. I have to ask what it's been like for you, as a Latin American, to live through the current resurgence of racism and xenophobia?
JUAN PABLO ESPINOSA I feel hopeful, to be honest. I feel this is one of the moments that it's most important to be proud of who we are, to be authentic to who we are. I think also for every person who's not American and is an immigrant, it's my responsibility to give the best of my abilities.
For example, I'm an actor, so what can I do to contribute to this? Having a film like Half Brothers, stepping up to the plate, and giving my perspective. I think a lot of the negative stuff we feel as immigrants is based on lies and stereotypes, so I come to it like a human being and as an actor, and I'm very proud of being associated with work that highlights the positive.
48 HILLS Coming out could have created yet another obstacle for you just a decade ago. Yet it seems like announcing that you're gay on social media last year hasn't hurt your career at all.
JUAN PABLO ESPINOSA I think it's been a very empowering moment in my life. I already felt like I was out, ever since I was 18 and told my loved ones. I lived a perfectly out life in Bogota, going to every gay bar and club.
But once I moved to the US, my following got bigger and there were a lot of people who didn't know because I wasn't talking about it on social media. I thought that if by being more open I could impact particularly my younger fans who were sending me DMs in a positive way, then I should do it. I know that as a child, I could have really used a reference to someone, like 'He's gay, happy, and doing what he loves in life and his family.'
It was probably the most life-changing thing I could have done, and it has affected my work in the sense that I come into every situation with everybody knowing exactly who I am. I think when you become the best version of who you can be, there's no wrong you can do. There's no betraying anybody but yourself if you don't do what's best for yourself.
48 HILLS What can you tell us about your boyfriend?
JUAN PABLO ESPINOSA I'm very happy. We just celebrated our third anniversary on November 11. It's been so grounding in so many beautiful ways. I remember being 13 and wanting an acting career—and realizing I'm gay and thinking I want a boyfriend that loves the same things I do.
I'm a huge Mariah Carey fan, so I feel like blasting all her songs and think the ideal boyfriend would love her, too, and we'd go to her concerts and sing her songs. Then flash-forward to the life I'm living right now and it's like, 'Holy shit, I'm having all these things, living as an actor and having a boyfriend who loves Mariah Carey. What else could I ask for?'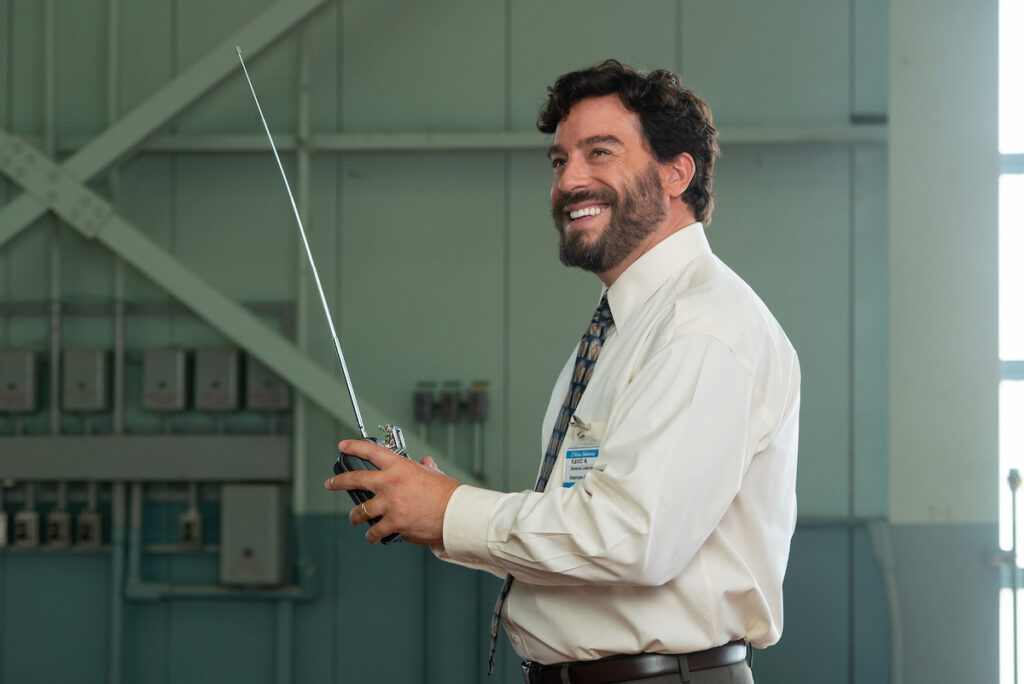 48 HILLS Playing gay used to spell career suicide—even for straight actors. It's interesting how we live in a time when an out gay actor can play straight and gay roles. Would you play gay again?
JUAN PABLO ESPINOSA Oh, yes, I'm just thrilled to get the roles that I'm the best fit for. I feel like it's very important for visibility and our community that we keep pushing for more realistic and dignified portrayals. So if the right opportunity comes my way, I'll be the first to jump at it.
48 HILLS And, of course, Half Brothers offers, among the comedy, pathos, and politics, a more equitable portrayal of the Latinx community. What do you hope audiences take away from the movie?
JUAN PABLO ESPINOSA Personally, I would love for them to fall in love with the family aspect of it. I think that, in the end, it's about human beings, about stories that I'm sure that anyone who's faced with the same position as Flavio, regardless of their race, is going to do the best for their families. I hope that the audiences are left with that feeling of identifying themselves with Flavio's unconditional love.
Half Brothers opens on December 4 at the following Bay Area outdoor cinemas: Capitol Drive-in, San Jose; Solano Drive-in, Concord; Cinemark Northgate, San Rafael