As the court date approaches for five protesters who tore down a statue of Junipero Serra in Marin County on Indigenous People's Day, activists and religious leaders said during a Dec. 3 press conference that the statue's removal was long overdue.
They also took issue with the role the Catholic Archdiocese of San Francisco has played in pressing for their prosecution.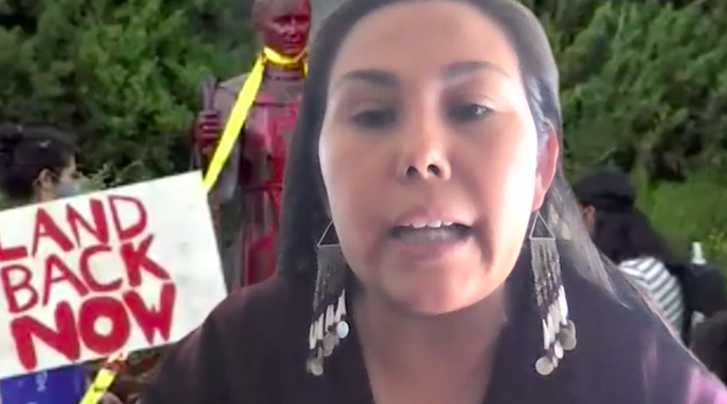 On Oct. 12, also known as Columbus Day, a group of five women — four of whom identify as Indigenous and two of whom were baptized in the Catholic church — spray painted the Serra statue red before toppling it during a protest in front of St. Raphael Church in San Rafael. Serra was a priest notorious for brutally abusing Indigenous peoples in the name of missionary work across California.
Speakers at the virtual press conference, hosted by Communities United for Restorative Youth Justice, called out the hypocrisy of the Catholic church in receiving grant money for restorative justice programs, but still supporting Serra and his actions – and seeking harsh penalties for the protesters.
Other speakers accused Marin County of selective progressivity, since the statue of slave trader and explorer Sir Francis Drake was taken down from the Larkspur Ferry Terminal and his name was removed from what was previously known as Sir Francis Drake High School this summer.
"As much as they profess in Marin County to have progressive values, it could really be nothing further from the truth," said Executive Director of CURYJ George Galvis.
A recent study by University of California Berkeley's Othering and Belonging Institute found that Marin County is home to six of the 10 most segregated cities in the Bay Area. Last year, the Sausalito Marin City School District received the state's first desegregation order in 50 years.
At their first arraignment hearing on Dec. 8, Ines Shiam Gardilcic, 40, Victoria Eva Montanopena, 29, Melissa Aguilar, 36, Marjorie Delgadillo, 36, and Moira Cribben Van de Walker, 25, (also known as the #IndigenousPeoples5) face felony vandalism charges for damaging property worth over $400, said their lawyer Hasmik Geghamyan. As the incident took place on church grounds, members of the community including the Archdiocese of San Francisco had originally pushed for hate crime charges, but those charges have since been dropped.
This summer, protesters took down statues of Serra in Golden Gate Park, Sacramento, and downtown Los Angeles, but Marin County's District Attorney's office is the first to pursue criminal charges. Geghamyan called the charges "politically motivated," saying the wealthy Marin County should instead address the underlying grievances with Serra.
As for why San Rafael's religious leaders are pushing for such harsh charges, "it's a lack of theological precision, a lack of moral formation, and a lack of courage to be able to not just misremember history but to correct history," said Pastor Michael McBride of Berkeley's The Way Christian Center. "Unfortunately, too much of mainstream institutional religion in this country has a blind spot to the historical, and dare I say contemporary, realities of human suffering caused by white supremacy, and all of its many, many, many impacts."
In response to the incident, San Francisco's Archbishop Salvatore Cordileone has been holding public exorcisms at Bay Area sites where Serra statues were toppled. "Fr. Serra and his fellow Franciscans renounced all worldly pursuits to give their lives to serving the native peoples and so protected them from the abuses of their fellow Spaniards," Cordileone said according to KPIX.
The speakers at the press conference were adamant that they have nothing against the Catholic religion, but simply want Serra's statue, which represents a traumatic history of genocide against Indigenous people, to be removed as other controversial icons are being removed around the country.
"The widespread public support for the removal of Confederate statues, as an assertion of racial justice and respect for our Black and Indigenous relatives who endured slavery in this country, needs to also be extended to Indigenous peoples," said Morning Star Gali, a member of Northern California's Pit River Nation and executive director of Restoring Justice for Indigenous Peoples.
"While monuments to racism and violence are being removed by city and state officials, schools, parks, and activists across the state, the city of San Rafael is refusing to recognize the harms perpetrated against Indigenous people," said Delgadillo, one of the five accused. She urged attendees to spread the word and call on District Attorney Lori E. Frugoli to drop the charges.
Spokesperson for the Archdiocese of San Francisco Mike Brown didn't agree that Serra had an evident history of abuse toward Indigenous people, but said he's open to discussion about removing controversial icons. "The church is always open to that kind of dialogue, certainly, with oppressed people, with minorities, and with those who have real grievances," Brown said.
Pope Francis, though he lauded Serra's efforts as a missionary and even canonized the friar to sainthood in 2015, has also more recently called for ending injustices toward Indigenous people and taking coherent action to right past wrongs.
Sister Alison McCrary, a nun, activist, and citizen of the Ani-Yun-Wiya Nation asked that the Archdiocese consider the pope's words and reconsider his stance. "These monuments are contrary to the teachings of the gospels and contrary to fundamental human values. These are monuments of hate, pure and simple," McCrary said.