Normally I wouldn't bother explaining why a certain movie is not being covered in this column, but this weekend there's a particular glut of 'em, all of whose absence from greater scrutiny can be encapsulated by the words; "this sounds maudlin": The Cuban, with Louis Gossett Jr. as a dementia-impaired jazz musician who inspires a young nursing home worker, and Summerland, a WW2 drama about a reclusive writer (Gemma Arterton) forced to open her heart when a Blitz-evacuated child is deposited into her reluctant care.
Then there's The Secret: Dare to Dream, a Harlequin-type romance starring Katie Holmes "inspired by" a popular if also widely scoffed-at "power of positive thinking" self-help book—a combination of factors fit to make me break out in hives. These movies will all definitely have their audience (and The Cuban has a major attraction in music by Afro-Cuban jazz great Hilario Duran), but their approach sets my sentimentality smoke alarm off at its shrillest pitch.
If your appetite for shorts was whetted by the just-finished Roxie Mixtape-In-Place, another local showcase for short-form creativity is Berkeley Community Media's 10th annual 48 Hour Summer Shorts Movie Jam, which tasks filmmakers with completing a five-to-10 minute work incorporating three randomly-assigned "secret ingredients" in just two days' time. This year's quarantine edition came with its own additional, unplanned COVID-related restrictions. It's a virtual event that takes place Fri/31-Sun/2 on www.bcmtv.org and their YouTube channel.
In quality and relevance if not necessarily commercial prominence, probably the most important new releases this Friday are three documentaries that all premiered at the Sundance Festival last January. Of greatest local interest is Ron Howard's Rebuilding Paradise, a straightforward account of the catastrophic "Camp Fire"  in the Sierra Nevada foothills two summers ago—but mostly focusing on the local community's attempts to heal and reconstruct, which were often frustrated by slow-moving government bureaucracy and other hurdles.
Like Howard's Hollywood dramas, this is earnest, competent rather than particularly inspired filmmaking. But it does powerfully convey the extent of the devastation (in loss of human life, property, public institutions, and more), as well as the resiliency of many residents under the worst possible circumstances. It is being offered through CinemaSF and the Rafael Film Center's virtual cinema programs, in addition to other platforms.
Spanning the nation in sampling the ACLU's many battlefronts against the Trump-era government overstepping its bounds in the is Eli B. Despres, Josh Kriegman, and Elyse Steinberg's excellent The Fight (which is available through the Roxie and Rafael Film Center.) It focuses on four among what's nearing 200 lawsuits the organization has brought against the administration, these cases involving the White House's determined onslaught against voting, LBGT, immigrant, and reproductive rights.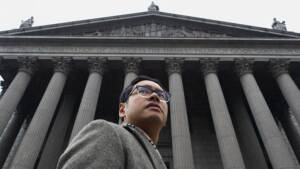 One involves a raped 17-year-old Jane Doe at a refugee resettlement facility who was denied abortion access despite that being against our own national laws; another argues for an asylum-seeking woman who fled death threats in her nation, only to have her seven-year-old child taken away by U.S. authorities. Then there's Trump's transgender military-service ban, and the attempt to require census respondents to state their citizenship status—a politicized, unnecessary grab for info already available to the government (via Social Security), patently aimed at reducing census response and thus certain areas' Congressional representation.
The Fight has a remarkable sweep to it, with room for plenty of humor and human interest. (The ACLU lawyers who are our "stars" are particularly engaging personalities.) It encompasses numerous larger topics, including the precariousness of many longstanding Supreme Court decisions when someone as baldly partisan as Brett Kavanaugh is now tipping the scales, and does not whitewash some of the organization's more controversial, even distressing stances. (Some blame their defense of even neo-Nazis' free speech rights for recent extremist violence, which is a pretty big leap.) It's a thoroughly engrossing movie whose only downside is that there is considerable footage of Twitler speechifying. It's necessary for the storytelling here, but: blecch.
Finally there's Boys State, which was the runaway hit of the documentary categories at Sundance, deservedly. In case you're unfamiliar, the titular institution is an annual week of mock government exercises that's been enacted by high school students in nearly every state for decades. (There are also Girls States.) I attended one myself in the Mid-West a long time ago. Jesse Moss and Amanda McBaine's film chronicles the Texas event in 2018, as hundreds of Lone Star State boys converged to campaign in elections for fictitious parties.
This may not be the political "real world," yet many participants take it quite seriously—and it is pretty alarming to see that the "sociopathic libertarian climber who'll say anything to get elected" is a type already in evidence amongst 17-year-olds. So are earnest idealists and some remarkably mature intellects. But it's the already-fully-formed personalities of chilling amorality and opportunism that make the most striking impression here. They are our future; god help us. Of course, as Texans themselves have been known to say, there is often nothing dumber than a Texas politician. And we inhale plenty of yee-haw flavor here from general attendees here, as opposed to the more complex, driven personalities that rise to the convention's fore.
Though it does have its frightening and plaintive aspects, Boys' State also manages to be hopeful about American democracy in general—something we needed when it premiered in January, but which we really, really need now. A "crowdpleaser" that can appeal to viewers of all idealogical stripes while pandering to none, it's a great documentary. You'll laugh, you'll cry, you'll wish even harder that November were tomorrow. It's premiering today in some virtual cinemas, then launches as of Aug. 14 on Apple TV+.
Other new films available for streaming as of Fri/31: 
Around the Sun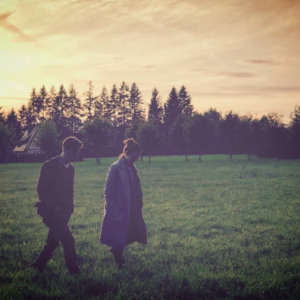 Shot in France with English actors, Oliver Krimpas' UK drama nonetheless has a local connection, in that it's also the first feature for scenarist Jonathan Kiefer, who lives in the Bay Area. (Full disclosure: He was my editor for a while when I wrote for the now-defunct, SF-based streaming service Fandor.) It is always nice when people you know make good art, and terribly awkward when they don't. Fortunately, in this case there was no arm-twisting involved, nor cause for being polite while inwardly squirming. This adventurous seriocomedy would be impressively ambitious coming from any quarters, though it's simultaneously a chamber piece in a single setting (albeit a spectacular one) with just two characters (though they are hardly uncomplicated ones).
Bernard (Gethin Anthony) is a film location scout being shown around an impressive country chateau in Normandy by its representative Maggie (Cara Thebold), who's also a Brit. The site was once home to an early adopter of the notion that the Earth revolves around the sun, rather than vice versa. Thus the two apparent strangers' meandering conversation encompasses astronomy, philosophy, history, and occasional revelations of a more strictly personal nature. But is their relation to one another  what we initially assume? Scenes get replayed, roles and lines changing, as if offering this reality some alternative pathways—or are the characters themselves playing a game?
Both playful and cipherous, Around the Sun is a handsome puzzle box of a narrative, combining elements that may remind you of Before Sunrise, Certified Copy, and other auteurist experiments to its own distinctive ends. Some may find it a tad too dryly intellectual for their taste, but when was the last time you saw a movie by new talents that reminded you of the tricksiest frolics by Resnais, Rivette, Manoel de Oliveira or Raul Ruiz? I'll take that over yet another imitation Tarantino or Kevin Smith any day, thanks. It's available through the Roxie and San Rafael virtual film programs as of today, then goes to Apple TV and other general digital platforms August 4.
Read 48 Hills' interview with Jonathan Kiefer here.
She Dies Tomorrow
Many films have accidentally wound up seeing highly relevant to our bizarre political and epidemiological moment, not least this independent feature from actress Amy Seimetz, which was due to premiere at the SXSW festival—one of COVID's very first cultural cancellation-casualties. Its characters are plagued by a sense of doom they cannot explain, or get rid of. Worse, they seem to pass it among themselves, exactly like a viral contagion.
The first such figure we meet is Amy (Kate Lyn Sheil), who's just bought a house yet is paralyzed by the feeling—she's somehow absolutely certain of it—that she'll die tomorrow. She calls friend Jane (Jane Adams), who notes Amy is having an alcoholic relapse. Which she admits to, while still insisting that's incidental to the morbidity that's overwhelmed her. Then suddenly it's also overwhelming Jane, who carries that fear to a birthday party at her brother's house, where she's scoffed at … until other attendees begin feeling the same thing.
Among those eventually caught up in this chain of possibly delusional death obsessing are characters played by Chris Messina, Katie Aselton, Tunde Adebimpe, Jennifer Kim, Kentucker Audley, Josh Lucas, and Michelle Rodriguez. It's a sort of existential spin on La Ronde, apocalyptic yet cryptic, sometimes approaching black comedy. If you connect with its unsettled mood (which does seem pretty apt for right now), She Dies may seem indelible. But I found its idiosyncrasies mannered and pointless; whatever Seimetz was going for evaded me, and the atmospheric spell she casts wasn't enough to compensate for that frustration. Like her prior feature as writer-director, 2012's Sun Don't Shine (which also starred Sheil and Audley), this is an intriguing film that strikes as more an interesting premise than a fully developed work. But that movie had its fervent admirers, and so will this.