Protest points to the continued failure of the "authentic names" policy
By Khaled Sayed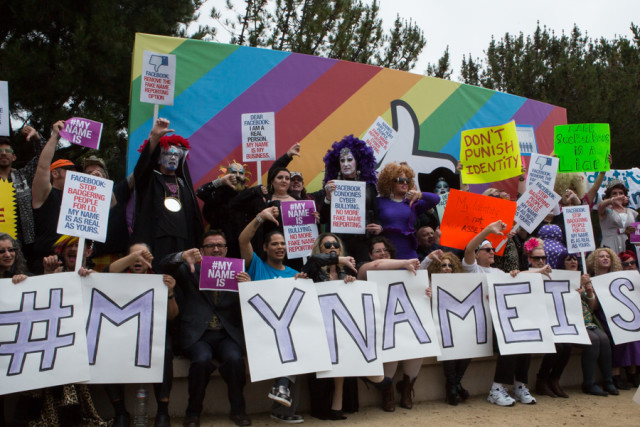 JUNE 2, 2015 — Facebook hasn't stopped discriminating against people who use their drag names or other forms of legitimate aliases – and the coalition that demanded change was back Monday to protest at the company's Menlo Park headquarters.
A crowd of a 100 people met at the Safeway parking lot at Church and Market, where two buses were waiting with a banner that said, "No real name required." Despite the early gathering time, people were in great spirits and were ready to be part of the #MyNameIs Coalition protest.
Under Facebook's "authentic names" process, reporting users who post under something other than their legal names can be used as a tool of bullying and harassment, protesters say. Facebook has a history of deleting any account that was reported as fake.
Drag queen and protest organizer Sister Roma argued that fake-name reporting punishes identity and not behavior:  "Facebook is allowing thousands, if not millions, of users to be maliciously targeted and reported simply for exercising their right to self-identify."
While Facebook says its policy exists in part to prevent cyberbullying by anonymous posters, the protesters say they have received thousands of reports from blocked users, including many who believe that their accounts were reported by people with homophobic or misogynist intent. "These users have done nothing wrong," Sister Roma said. "Facebook continues to condone the actions of bigots and bullies who continue to target other users simply because they don't like who they are, the way they look, or what they stand for."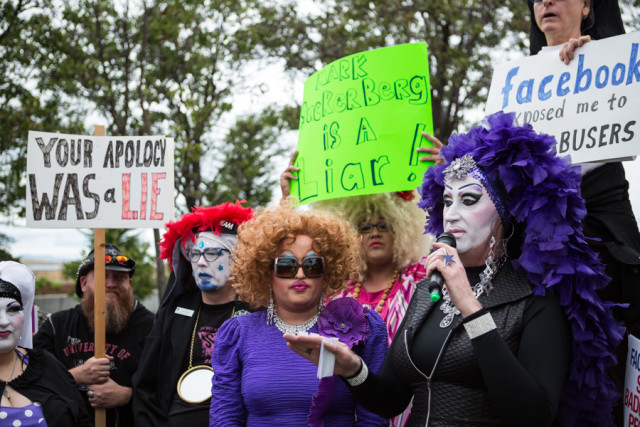 The issue surfaced in the fall of 2014, and made headlines. Shortly thereafter, Facebook's Chief Product Officer, Chris Cox, issued an apology and promised to make significant changes to the authentic name policy and its enforcement.
But it hasn't happened.
Senator Mark Leno sent a letter to Mark Zuckerberg, founder and CEO of Facebook, and the letter was read out loud before the crowd by Sister Roma. In the letter Senator Leno expressed his disappointment over Facebook's policy enforcement.
San Francisco Supervisor David Campos also spoke to the crowd. He stressed that the core of this campaign is respecting and protecting the identity that people choose for themselves, regardless to what is shown in a legal document. "A few months ago Facebook and this community met, and we thought we had an understanding. We thought we had a commitment from Facebook to change this policy. But we haven't seen the changes that they promised us," Campos said. "Now we want action, not words. We are tired of hearing the right thing from Facebook and yet nothing has happened."
Dottie Lux, a burlesque performer and protest organizer, said Facebook's apology was empty and insincere. "It's clear that they wanted to brush this under the rug by restoring a few accounts and making a few minor tweaks," according to Lux. "But since October, our group has heard from thousands of people around the world whose accounts have been reported and blocked."
Drag queen and organizer Lil Miss Hot Mess believes the fake name reporting is dangerous and discriminatory policy. "It is yet another indication that Facebook is out of touch with the majority of its users," Mess said. "Especially those who fall outside of the company's employee demographics that are predominantly straight, white, and male. Whether you use Facebook or not, this fight is about the future of digital culture, including everyone's right to maintain privacy and express their truest selves."
The group argues that many users do not have government issued identification, credit cards, or a piece of paper that reflects their true authentic identity. They are calling on Facebook to find a better way to authenticate users. One option is that Facebook authenticate users based on their trusted contacts system, which already allows users to access accounts if they forget their passwords.
Not only LGBT people were at the protest, but Native Americans, survivors of domestic violence and other individuals said they had their accounts blocked or reported for using names other than their legal names.
The group's website is here.