The Alex Nieto case opened today, with the two sides presenting profoundly different versions of what happened that March evening in 2014 – and leaving some serious questions for a jury that includes no Latinos or African Americans.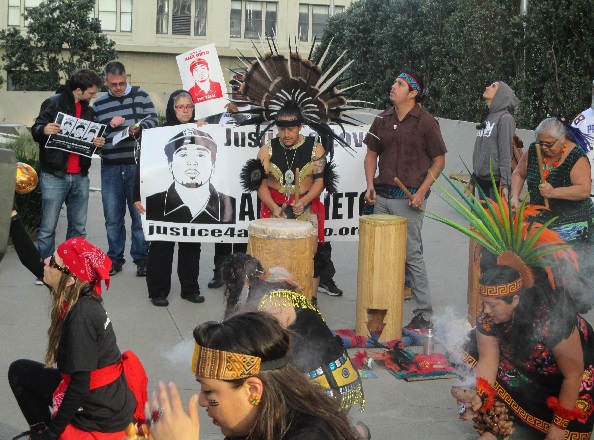 The plaza in front of the Federal Building was packed with demonstrators early in the morning, with hundreds gathering to watch Aztec dancers and hear speeches calling for justice for the young man who was shot to death by San Francisco police.
Upstairs, federal Magistrate Judge Nathanial Cousins was all about moving things along: He allowed the attorneys only 25 minutes each to question potential jurors, and chose the eight people who will decide the case within a couple of hours – the shortest jury-selection process I've ever seen.
Since it's a federal case, the jury pool was chosen from all over the Bay Area, and there were no African Americans among the 30 potential jurors. Only two were Latino, and neither was chosen for the panel.
The final jury has five Caucasian women, all from the suburbs, two men of color, one Asian and one Indian, and one woman of color.
None of them are from San Francisco.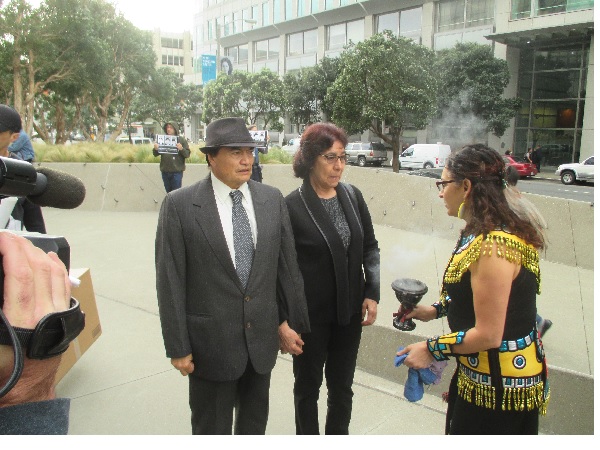 After jury selection closed, Adante Pointer, representing the Nieto family, and Margaret Baumgartner, representing the city, sparred for a few moments over what sorts of pictures could be introduced during opening statements, but Cousins didn't want to waste time: He ruled summarily, told both parties the jury was waiting, and demonstrated a desire for the case not to bog down in details.
So Pointer got right to the point. "We are here today because of 59 gunshots," he said, while the words "59 shots" displayed on a screen. "Those 59 shots were fired at [Alex Nieto], killing him, and those 59 shots were fired by these defendants. They took Alex away from his parents."
The four officers involved – Nathan Chew, Jason Sawyer, Richard Schiff, and Roger Morse – were present in court, as were Nieto's parents, Refugio and Elvira.
Pointer took the jury through the scene, a typical San Francisco evening in March, a little after 7pm. It was still light enough to see, although dusk was approaching.
Schiff, a rookie cop just a few months out of the academy and still doing on-the-job training, was driving a squad car with Sawyer, his training sergeant, in the passenger seat, when the call came in that a man with a gun had been reported on Bernal Hill. The dispatcher, quoting the caller, said the suspect was a Latino man wearing a red jacket.
Later, Baumgartner would acknowledge that the officers involved might have thought that Nieto was a gang member because of the red jacket.
Within minutes, the rookie Schiff had emptied his .40-caliber handgun – 12 bullets in the clip and one in the chamber – then reloaded and started firing again, 23 shots at Nieto. Sawyer also emptied his clip and reloaded, firing 20 shots. The other two officers arrive within moments and fired 16 shots.
(That's a lot of lead flying around on Bernal Hill, which is where I live, and most of the shots never hit Nieto; it's a populated area and a popular park, and it's a wonder that nobody who lives near or was walking around on the hill was killed too.)
Nieto was on the hill eating a burrito before heading to his job as a nightclub security guard. He was carrying a Taser in a holster.
Schiff, Pointer noted, had never experienced a situation where he had to respond to a report of a person with a gun. He and Sawyer knew there were other officers on the way. The 911 caller never suggested that Nieto was threatening to shoot anyone or that anyone was in immediate danger.
The city argues that Nieto drew his weapon, which had a laser sight, and aimed it at the officers, who had to fire in self-defense. They are trained, Baumgartner argued, to continue firing until the "threat is eliminated" – and Nieto didn't obey their commands or fall to the ground under the first volleys.
In fact, she said, Nieto kept pointing the Taser, which the cops thought was a gun, at the officers while they were repeatedly shooting him, and when he fell to the ground, he took a prone position, raised his head, and kept the laser sight on them.
She said the crime scene investigation and the forensic evidence will that that he had his arms out all the time.
The cops say they stopped firing only when Nieto's arm had dropped to his side, and when they got to the body, he was still clutching the Taser. That, the city says, is the first time the cops knew his weapon wasn't a firearm.
But Pointer said he will be introducing a witness who will testify that Nieto had his hands in his pockets, and never brandished the Taser. That witness, Pointer said, is the only person outside of the officers involved who saw what happened that night.
He also cast doubt on the police version of events: How, he asked, did Nieto possibly maintain a position of aiming a Taser at the officers while taking 14 shots to his body? How did he manage to land on the ground in a position where he could still be a threat?
"There is nobody other than the officers" who can testify to that, he said. "There is no compelling physical evidence that he maintained a position of pointing something [at the officers] while receiving gunshots from the temple to the leg."
The photos that Poiter presented showed Nieto on his back, with the Taser at least six feet from his body. The officers say they kicked it out of his hand – "as if this dead man was clutching it," Pointer noted.
There was, and there will be, lots of dispute over whether the Taser was on, or fired; the cops say that Nieto pulled the trigger three times during the incident, which they say created an electrical jolt that looked from a distance like a muzzle flash. Channel 7 News suggests that the evidence the Taser was fired during the confrontation with the cops is dubious.
But the civilian Taser he was carrying was only effective at very short range, so there was no sign that the cops were hit with anything – not bullets, of course, but not even the Taser darts.
"They fired 59 bullets at a man who never fired a shot," Pointer said.
Baumgartner argued that the officers had responded the way they were trained to do; they had no idea, she said, who Nieto was, or what kind of gun he had. When they saw the laser sight from his Taser, they had to fire to protect their own lives.
But "for some inexplicable reason, he didn't seem to be affected by the bullets," so the kept on shooting.
I think "inexplicable" is a good term. These are not popguns the cops were using; a .40-caliber slug is a large bullet, and most people don't wave any kind of weapon around after taking a few of those shots.
The harsh reality is that nobody saw what happened except four officers – who did the shooting – and one other witness, who the city will try to discredit. There is zero chance that the cops will say they screwed up in open court. So beyond all the forensic evidence and Taser-clock arguments, the jury will ultimately have to decide whether to trust the word of the officers, at a time when police shootings of young men of color are a huge national issue and crisis. In this case, unfortunately, there is no video to rely on.
But the question that hangs over this whole case is: Why?
Why would Alex Nieto, who was a security guard and a man who had plenty of experience with police in San Francisco, who had studied criminology at City College, and who clearly knew that officers would open fire if he brandished a Taser at them, have acted this way?
Why would he have kept the weapon aimed at the cops after being shot repeatedly? Was that even possible?
Or did a rookie cop and his supervisor overreact, ending a young man's life in a barrage of gunfire?
The cops will be on the stand tomorrow.