ONSTAGE From beloved annual Halloween tradition "Shocktoberfest" to hugely successful revivals of early Cockettes musicals like "Pearls Over Shanghai" (with stops in saucy Paris and a devilish Club Inferno on the way), the Thrillpeddlers stage troupe has been thrillingly hanging on as one of our last, lovely purveyors of the Grand Guignol theatrical legacy, albeit in a decidedly DIY way.
Now, the company has learned it must vacate its 13-year home in SoMa, the cavernous  Hypnodrome, at the end of February.
The Hypnodrome building has been sold to new owners: No word yet on what they intend to do with it, but scrappy underground theater that references old-school tropes in a campy, teasing style is apparently not part of the plan.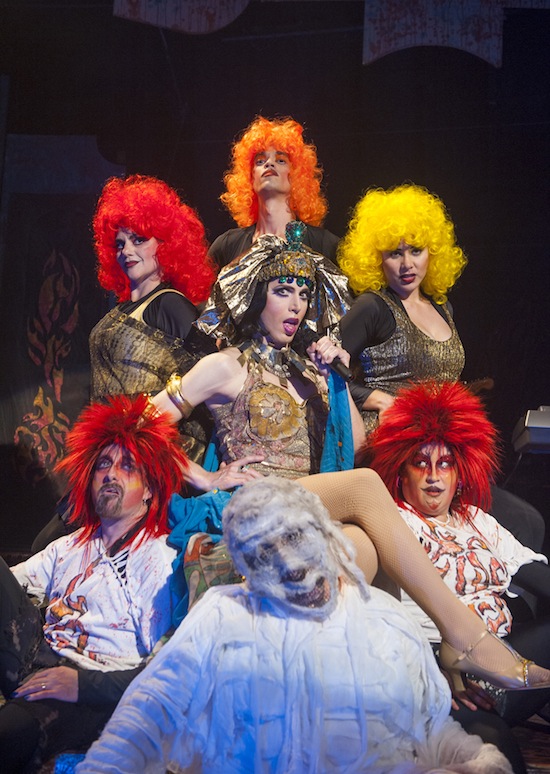 In a post on the Hypnodrome website date January 5, company director Russell Blackwood wrote:
I have some sad news for you today. After 13 wonderful years producing show after show, celebrating weddings, birthdays and memorials, and building a rich and loving artistic community, our benefactors Larry and David have found a buyer for 575 10th Street. They offered us this magnificent hideaway in 2004 for just two years, so I consider that a damned good run! Everyone who has ever walked through our back alley door has become a part of its notorious legacy! 
We'll need to have everything packed up by the end of February. That said, we'll still have plenty of opportunities for Thrillpeddlers and audiences to say goodbye to The Hypnodrome.
"It's a miracle we've been here so long," ever-affable Blackwood, who runs the company with his husband James Toczyl, told me over the phone. "That's the only way I can describe the fantastic opportunity we've had to do so much for so long and still survive here. This location was so perfect for our needs — we're not a black box theater company, we're more a warehouse company, and here our productions had the freedom to really soar.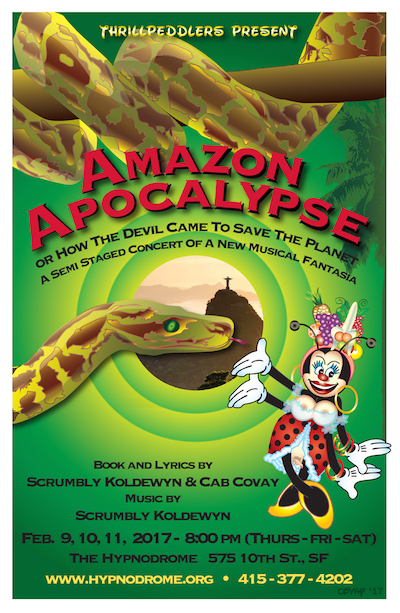 "We are celebrating with a number of shows before we go, including 'Amazon Apocalypse,' composer Scrumbly Koldewyn's new musical tour of Brazil and all things Samba" — which of course features singing insects, a malicious eco-devil, and a chanteuse named Carmen Piranha.
"Because we've worked so hard on the show, it's been a kind of salve to the wound on hearing the news, that we were engaging so deeply in something we loved, all together," Blackwood told me. " "We're staying committed to our original plan to bring "Amazon Apocalypse" to the stage, albeit as a semi-staged concert for just a single weekend." 
So the Thrillpeddlers are actively seeking a new space to continue their ribald antics? "Who knows what magic we have left in us!" Blackwood teased, slipping into his sly ringmaster stage voice. "For now, please come to our shows to say farewell to our home, and stay tuned to our website and Facebook page to learn more. We're all still just digesting this information and in a bit of a state of shock, but the shows will be better than ever!"
The final shows include 'Amazon Apocalypse' previews, a new installment of the popular "Naked Dudes Reading Lovecraft" series, and a special official farewell evening on Valentine's Day. Take one (hopefully not) last look at a truly San Francisco thing. Learn more at the Hypnodrome website.