People rallied Saturday at the San Francisco General Hospital, to demand that patients' personal information stay private and to protest the newly proposed policies in the federal department of Health and Human Services that critics say discriminate against LGBTQ community members.
The rally happened a month after CNBC exposed Facebook's secret talks with hospitals requesting patients' data and the day after news broke of the breach of personal information from 900 patients at General and Laguna Honda hospitals.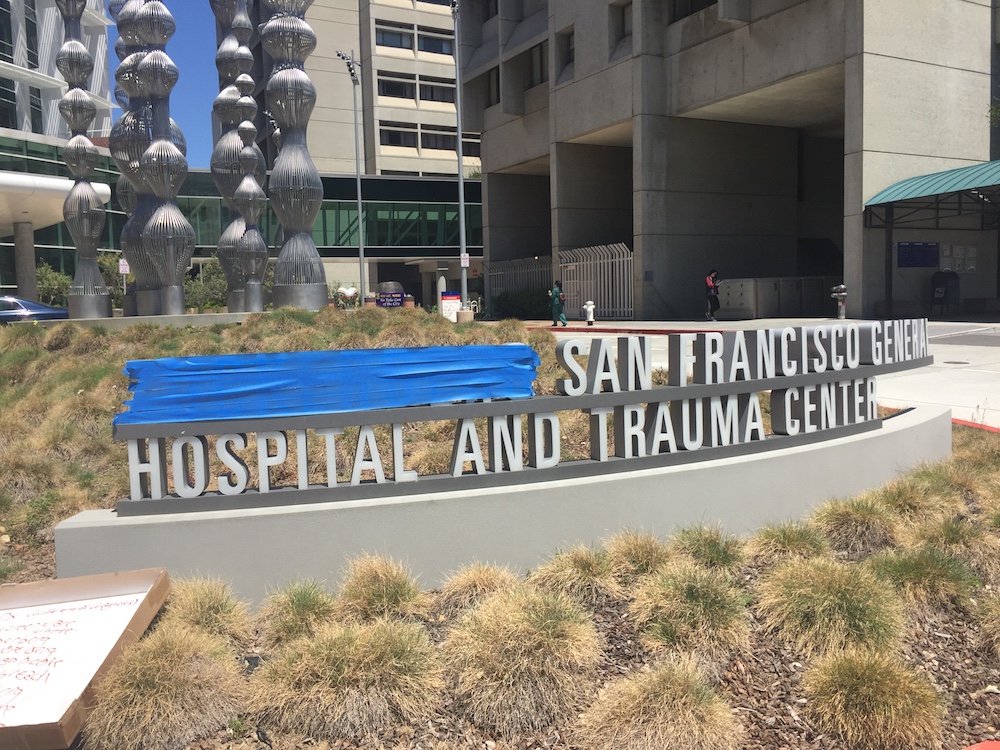 Sasha Cuttler, with the San Francisco General Hospital RN chapter of SEIU Local 1021, spearheaded the rally.
"I'm being visible for the people that can't be. People are afraid," said Cuttler, who self-identifies as gender fluid or "GQ pretty," and was dressed in a 1950's nurse smock and cap.
Taking out a megaphone, Cuttler addressed the 15 to 20 union members and attendees.
"We didn't want this to happen," said Cuttler about Facebook's secret talks with several hospitals asking them to share patients' data. "We all get trained on privacy protections and it's a big deal."
Cuttler, who is a registered nurse and has a doctorate in nursing, has used patients' data for research and is passionate about the ethical standards that health care professionals follow to safeguard this data.
"People need to know that before Cambridge Analytica, Facebook did their own unethical research," Cuttler said, referring to Facebook's experiments, manipulating users' experiences via their newsfeeds.
Cuttler also expressed anger about Facebook's real-name policy requiring users to use their legal name on their accounts instead of their chosen names. Cuttler said this policy could endanger transgender people, victims of domestic violence, and would make it harder for drag queens and performers under different names to find work.
Rally attendees also protested the newly created Conscious and Religious Freedom division at HHS that would allow health care workers to deny care to patients if the care or procedure is against their religious convictions.
"For example, a nurse might cite a religious objection for caring for a transgender person or refuse to include the spouse of a gay or lesbian person while planning care," Cuttler said. 
"We call on the U.S. Congress to pass legislation to prevent the Health and Human Services Department from implementing policies designed to give health workers the unprofessional right to discriminate," Cuttler added.
Another health care worker, Guy Vandenberg, expressed his love for San Francisco General Hospital and his dislike of including Zuckerberg in hospital's new name.
"I came up with the differential diagnosis for this problem," he said. Then he rattled off names of fake diseases that could be the culprit to the problem: Zuckerware, Cyberberg, Face Slap Book and Zuckerbreach, among others.
He then proceeded to list cures for these fake diseases such as uninstalling Facebook, "there might be withdrawal symptoms," and "restarting previous regimen of names that could include The General or just San Francisco General Hospital," and lastly, "(reevaluating) in six months, like November-ish."
Others also voiced their anger about the naming of the city's public hospital.
One such speaker was Mary Magee, who was named woman of the year by former State Assemblymember Tom Ammiano in 2013.
"I appreciate that Zuckerberg put finishing touches on this building, but it is absolutely an affront to our community that the whole hospital was named for him," Magee said. "I just think that it should be San Francisco General Hospital or San Francisco General People's hospital."
She also denounced Facebook's effort to access hospitals' patient data.
"There is absolutely no need for that kind of risking people's most private information. I am appalled that the Stanford and the American College of Cardiology even agreed to meet about this issue.
After the speeches concluded, the small crowd walked peacefully through the parking stopping in front of the placard with the hospital's name. Cuttler and others took blue painter's tape and covered the Zuckerberg part of the placard in tape so that the only name showing was San Francisco General Hospital and Trauma Center.
"Nobody asked us if we wanted his name. We are grateful for the money but it should be unconditional," RN Meg Brizzolara said.