Lauren Yee's play, King of the Yees, has been produced all over – Baltimore, Toronto, Seattle, and Chicago. But she's particularly excited for it to come to the San Francisco Playhouse. King of the Yees, in which Yee and her father Larry are both characters, is set in San Francisco's Chinatown, about a 15-minute walk from the Playhouse.
Yee, whose plays include Cambodian Rock Band, and The Great Leap (which comes to American Conservatory Theater in March, starring another San Francisco local B.D. Wong), says she always knew she would write this play.
"I was waiting for the right circumstances," she said. "If you met my dad you'd be like, 'This is a person who belongs in his own story.'"
In 2014, people at Chicago's Goodman Theater asked Yee to write a play. She gave them a few ideas, and they asked which one excited and scared her the most. She decided it was writing about her dad, Larry Yee, who was deeply involved in the Yee Family Association, a Chinese American men's club that has been around 150 years.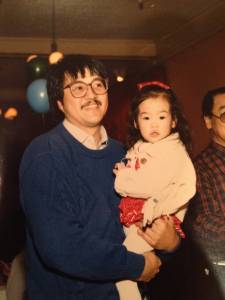 When Yee started working on the play, State Senator Leland Yee, who her father had volunteered for through his various campaigns for school board, city supervisor and state assembly, was indicted for racketeering and money laundering and conspiring to traffic weapons along with Raymond Chow, known as Shrimp Boy.
At first Yee didn't want to include this in the play. Then she decided she had to. She says she wasn't so concerned about dealing with real life characters from one of San Francisco's biggest scandals, but rather with portraying her relationship with her father onstage and accurately showing the nuances and essence of Chinatown.
"How do you tell that story in two acts?" she asked. "In the first act, Larry is learning to live in his daughter's world and in act two, Lauren is trying to navigate her father's world."
Yee is glad that director, Joshua Kahan Brody, and the actor playing her father, Francis Jue, another San Francisco local, have been with the play since the beginning.
"My father is one of those people who creates community wherever he goes," she said. "Each play is own very specific process, and you're trying all the different options and workshopping. These two people totally got what I was going for — something warm and funny and joyful and a little bit goofy."
Yee says her father helped her with research. Whenever she was traveling to another city, he would call the Yee Family Association there and let them know she'd be in town and would want to talk.
"I'd go, and it was like meeting the Phoenix version of my dad or the Chicago version of my dad," she said. "In researching this play, I was in my father's world and seeing how much those connections are real. It was like I was kind of going undercover – I'm a Yee doing what my father does so much better. It was a great opportunity to get to know my father."
Yee thinks although the story is very specific to Chinatown and her family, it's also something many people can relate to.
"It's about the process of reacquainting yourself with your parents as an adult," she said. "We all go through that."
KING OF YEES
Tue/22-March 2, $25-85
San Francisco Playhouse 
More info here.