The people working at California Shakespeare Theater go all in when it comes to equity and inclusion. That means along with its program to expand the canon by commissioning playwrights from diverse backgrounds — an effort dubbed the New Classics Initiative — the company also works with community organizations to engage audiences.  
Take this season's House of Joy by Madhuri Shekar. According to artistic director Eric Ting, the play's director, Megan Sandberg-Zakian, describes it as having "a cast of brown women kicking ass."
"It's a South Asian action adventure romance set in harem in 17th century India during the decline of Mughal Empire," Ting said, who adds that the production is funny, with great fight scenes. "Looking at season, we were talking a lot about #MeToo and gender bias in our culture, and this play spoke to that."
No men were allowed in harems, and they were self-contained communities with schools and their own economies and women were separate from the male gaze. 
"Harems could seem a kind of paradise on earth," Ting said. "But they were built on patriarchy, and because of that, they could never be a true paradise."
Other plays this season include A Midsummer Night's Dream, The Good Person of Szechwan, and Macbeth. Along with trying to reimagine and expand classics, Cal Shakes also hosts community nights and story circles for which it invites people to talk about the play. Last season, for Quixote Nuevo, Octavio Solis' production, cast members and Solis had discussions with members of the Latinx community. For Marcus Gardley's black odyssey, the company invited members of the Black spiritual community to come have a conversation. For House of Joy, they will have members of the cast and others who worked on the play talking with Middle Eastern, South Asian, and North African people who work in the arts locally.
When Ting came to Cal Shakes four years ago from the Long Wharf Theatre in New Haven, Connecticut, his background was primarily in working with new plays and emerging writers. He thinks that makes him a good person to take on Shakespeare's plays since Shakespeare often adapted popular stories of his time. One thing they're trying to do at Cal Shakes, Ting says, is to celebrate language while creating new classics.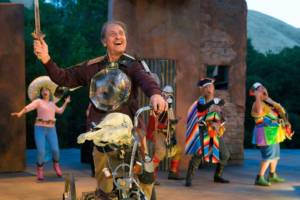 "There are often political references in Shakespeare, and he was often referred to as a chronicler of his time," he said. "Here we're having living writers in constant dialogue with Shakespeare as we endeavor to create something more inclusive onstage." 
Ting, who has never lived west of the Mississippi, says he's glad to be in California and at Cal Shakes.
"I think a lot of artists say they want to live in interesting times, and it's interesting times here in the Bay Area. We're in the midst of wave of change, and we're all trying to figure out what's on the other side of it," he said. "It seems like the best thing is to anchor ourselves in our collective humanity, and that's a perfect stew for making theater." 
Cal Shakes season starts May 22 with Midsummer Night's Dream. Tickets and more info here.