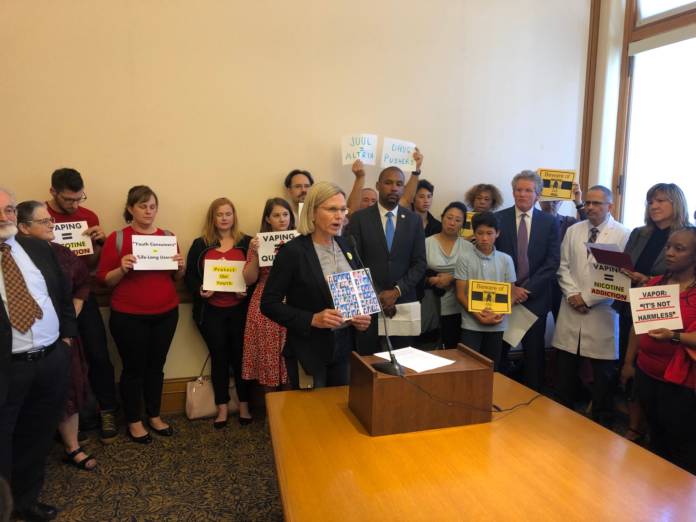 For every adult who uses vaping to quit cigarette smoking, 80 young people will take up the deadly habit after starting with products like JUUL, a 2018 study out of the Dartmouth School of Medicine shows.
That was one of the remarkable pieces of information that came out of a press conference today on Sup. Shamann Walton's legislation to ban vaping products in the city.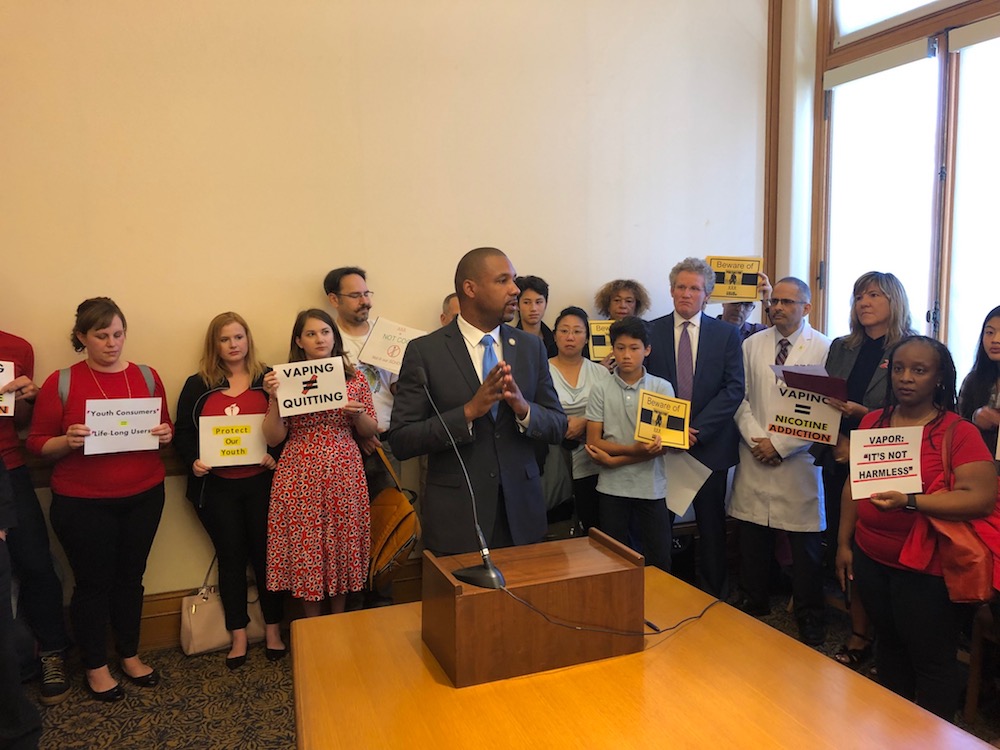 Christine Chessen, who works with Parents Against Vaping, cited the study, noting that "Big Tobacco has just snuck in the side door of tech."
Dr. Tomas Aragon, health officer at the SF Department of Public Health, gave me a copy of the report, which you can find here. And Dr. Stanton Glantz, the famed UCSF tobacco researcher, told me that the data almost certainly underreports the problem.
"They used the most optimistic data on smoking cessation," he said. "Most people who vape don't quit."
And that study also took place before JUUL became a trendy thing in high schools.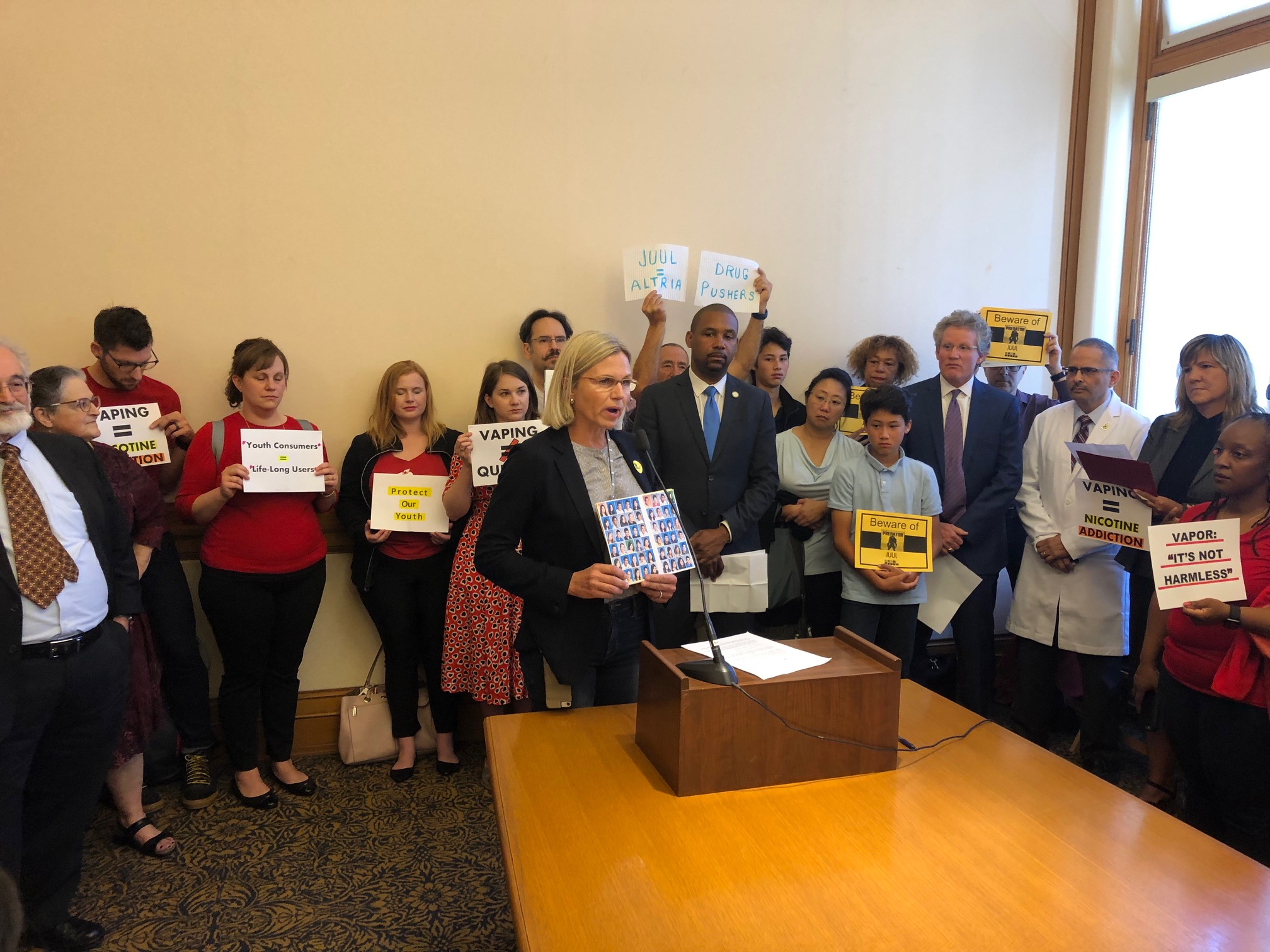 The study challenges the main argument that JUUL has been putting forward in its efforts to avoid a ban in the city: that vaping is a way for adults to wean themselves off combustible cigarettes.
"This is a nicotine addiction industry," Aragon said.
The press conference came before a hearing that lasted almost three hours, with hundreds of speakers promoting and opposing the ban.
Sup. Rafael Mandelman, who chairs the Public Safety and Neighborhood Services Committee, asked UCSF researcher Dr. Jeremiah Mock whether vaping could be a form of harm reduction, since it's not as bad as smoking traditional cigarettes. Mock said the data suggests the opposite – that vaping is just as likely to cause a heart attack and possibly lung cancer, and that the medical evidence doesn't support using e-cigarettes to quit smoking.
One JUUL user named Stephen, who is featured on the cover of a new JUUL mailer, told reporters that vaping had helped him quite smoking. I asked him about the Dartmouth study, and he said "it doesn't make sense."
I asked again about the data; is he saying it's wrong? "It just doesn't make sense," he repeated.
JUUL has, by all evidence, created an epidemic of youth vaping. In Marin County, Mock said, tobacco use went from 5 percent to almost 30 percent in the two years after JUUL began marketing flavored vaping products.
The company is willing to accept tighter regulations, and some critics of the ban, including the Chronicle, argue that the city has gone in the other direction, toward more legalization, with cannabis. Cigarettes are still legal; why go after JUUL?
It's a tough argument. Prohibition never works. I have teenage kids; I know you can't stop them from drinking or smoking weed by making it illegal. I'm not even a fan of the 21 rule; I'm with the more than 100 college presidents who think we should move the drinking age back to 18.
But let me say a word about legal cannabis and kids.
It's actually pretty hard for kids to go into a dispensary and buy buds. The dispensaries are limited in number, and every one I've ever visited has a security guard at the door. They scan your id with the state database. Fakes don't work very well. (If you have an easy-to-get medical card, the delivery services are very different and much less secure.) I don't think legalizing adult recreation use of cannabis has increased use among kids under 18.
JUUL is sold in corner stores, where it's just one of many products. Most of these stores don't have full-time security checking the ID of everyone who enters. That would be silly: They sell all kinds of products that kids can buy.
Cannabis is also a plant, that grows pretty easily in California. So anyone get it on the black market, and many of us did for many years before it became legal.
Alcohol isn't that hard to make, either – during prohibition, bootleggers made it all over the country with little more than some yeast, sugar, a stove, and some copper tubing.
JUUL vapers are pretty complex pieces of technology, which have to be manufactured; you can't just make a vaping kit in your back yard. So it's harder to create a black market. Yeah, if SF bans the sale of JUUL products, people can still go to Daly City (they won't be able to get it in Marin much longer, but San Mateo County hasn't started down this path). And adults can buy the cartridges in bulk and resell them.
So no, a ban won't keep this stuff out of the high schools altogether. But it might slow down the growth of the epidemic, and it would, as several speakers pointed out, send a strong message.
Cigarettes – including, apparently, vaping devices – are also the only legal recreation drug that when used as directed kills you. You don't need to OD on cigarettes; smoking even moderately is deadly. It's pretty hard to OD on cannabis (unless you eat way too many edibles too fast, and even then it's not fatal). There are clearly medical uses for cannabis, and alcohol, in moderation, might even be good for you.
Nicotine, it appears, is different.
So that's what we learned today. It's still a tough question – I know there are people who have switched from smoking to vaping and it's helped them. I know that banning drugs is almost always a failure.
Adults can do what they want, take the risks that they want. If adults want to smoke or vape, having been fully informed of the risks, that's our right.
But if JUUL hadn't (like the cigarette companies) so clearly and obviously marketed to kids (no 50-year-old smoker who is trying to quit wants mango-cream nicotine) this might not even be an issue.
As it is, the committee voted 3-0 to send this forward to the full board with a positive recommendation.