Del Shores might not have cribbed the idea for This Side of Crazy (at New Conservatory Theater through October 20) from Beth Henley's Crimes of the Heart (1981) but he sure does pay a sudsy, sideways tribute to it. Like Henley's script, Shores' Southern soap opera reunites three sisters after an extended separation. Whereas Henley kills off the mother before the play begins, Crazy's Blaylock sisters reunite because their famous mother Ditty (Christine Macomber) wills them all to come home. Shores doesn't reduce each woman to a cliché—not exactly—but their character traits, and predictable fates, are as easily recognizable as the pastel colors he assigns to each one.
First, he introduces Rachel (Cheryl Smith) while she's climaxing in bed on top of her comatose husband. She's the dutiful, resentful daughter who's stayed at home to tend to him and her formidable mother. Ditty's based on the prolific and very expressive gospel songwriter Dottie Rambo (d. 2008). Shores provides a string of barbed one-liners for her that are meant to put her daughters in their place. Ditty is the born-again version of a Golden Girl who could match wits with Dorothy or Blanche. In real life though, Dottie had one daughter not three.
Shores invents a backstory for Rachel, Bethany (Amy Meyers) and Abigail (Alison Whismore). As adorable little girls, they formed a singing group like the Peasall Sisters. But their cutesy presentation belied the tensions that built up between them as they matured. Rachel ended up stealing Abigail's fiancé. To retaliate for this betrayal, Abigail strangled him. For the past twenty-odd years, she's been in a psychiatric hospital and he's been in a coma. Bethany, the best singer in the group, left for a solo career in Nashville. Rachel, possibly out of guilt, never left her mother's house. She absorbs Ditty's putdowns and mourns for the marriage she never had.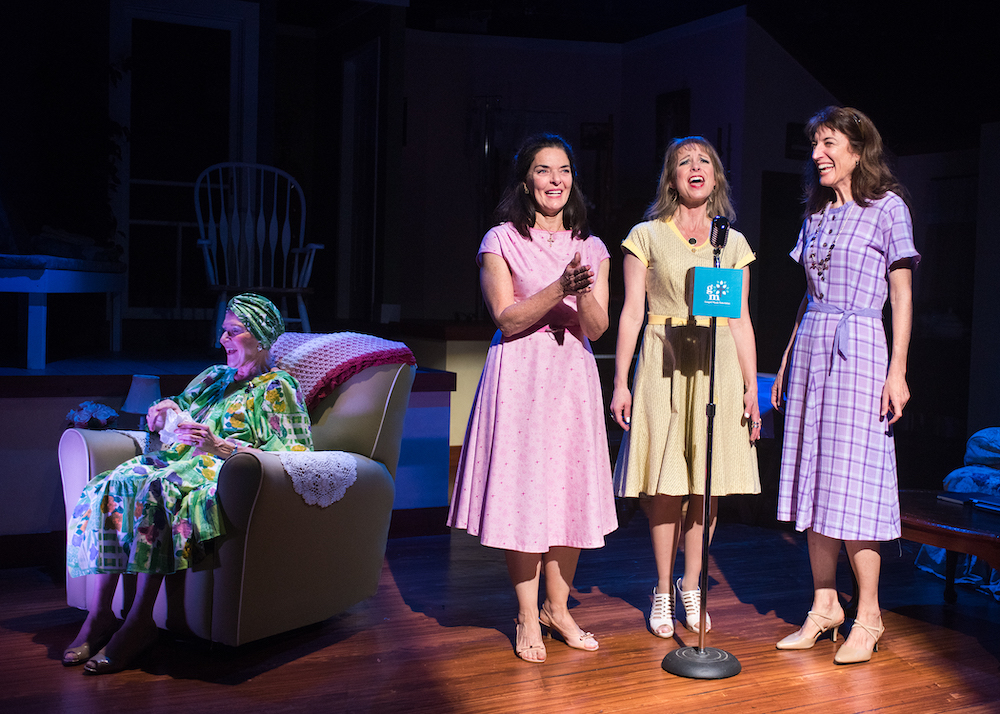 This Side of Crazy also runs parallel to a movie like Beaches (1988). Shores excavates the fantasy of what it's like to live in close proximity to a narcissistic star—even one whose spotlight is already set to fade out. The playwright wants the audience to feel a delicious sense of schadenfreude for this family's fall from grace. He shows us the fragile façade of an entertainer's public face and the private mess of emotions that confront them when they're at home alone in front of a mirror. But by the end, he reverses course and also wants us to envy them. In Act I, stars are like us because they're just as neurotic as we are. And, in Act II, they're nothing like us because their wealth liberates them from worrying about how to survive. This mixed message is bothersome but not worth the effort of overthinking it.
It wasn't just the pressures of show business that provoked Rachel's betrayal, Abigail's breakdown, or Bethany's atheism. Ditty's husband left her when the girls were young. Her determination to succeed stems from that fact and may also explain why, as a single mom, her faith endured. She could continue to depend on God when romantic love failed her. Shores may have borrowed Dottie's grit for Ditty but he only hints at the depths of her religiosity. If you watch an example of Dottie singing "We Shall Behold Him," you can see that her profound sense of joy isn't that far removed from madness. His equivalent is to plant Ditty in front of the TV playing Russian roulette. Whatever joy she might have gotten from praising the Lord is long gone.
Black comedy like that keeps vanishing in the ongoing rush of rapid-fire sitcom quips. Ditty dismisses her responsibility for her daughters' problems by joking about their troubled relationships. But she does want them together again. She's about to receive a lifetime honor for her contributions to gospel music. The producers of the show want the Blaylock Sisters to perform again. Having her daughters sing for her would prove to the world that she's been, to all appearances, a good mother. She makes a calculated effort to win over Rachel, who, understandably, has been unwilling to forgive Abigail's violent overreaction. Ditty may also be motivated by one final, magnanimous impulse. Their reunion might actually prevent her from pulling the trigger of that loaded gun.
THIS SIDE OF CRAZY
Through Oct. 20
New Conservatory Theatre Center, SF.
More info here.