Martin Scorsese loves San Francisco's Castro Theatre. So much so that the legendary Mean Streets, Goodfellas, and Casino director opened his latest gangster epic, The Irishman, there on Nov. 5.
At the sold-out SFFILM premiere, Scorsese traced his love of the historic movie palace back to his first visit in 1971 to see a screening of the latest restoration of Abel Gance's Napoléon. With its sizeable screen (measuring 25 feet tall and 45 feet wide), the theatre was well equipped to show the 1927 silent epic in all its cinematic glory.
So the Oscar-winning auteur is confident that the Castro Theatre is the perfect setting to showcase his latest cinematic jewel.
"This has always been a place that's very special for cinema and it still has great projection and wonderful audience capacity," Scorsese said on the red carpet.
Based on former lawman Charles Brandt's book I Heard You Paint Houses, the mob movie chronicles the many alleged crimes perpetrated by larger-than-life mafia hitman Frank "The Irishman" Sheeran (played by Robert De Niro), including the murder of polarizing labor union leader Jimmy Hoffa (Al Pacino).
The sweeping three-and-a-half-hour film reunites Scorsese with De Niro and Joe Pesci (who came out of retirement to play the role of mob boss Russell Bufalino) for the first time since 1995's Casino. Harvey Keitel, who made his name with Scorsese's 1973 classic Mean Streets and last worked with the director on 1988's The Last Temptation of Christ, returns to the fold to take on the supporting role of mobster Angelo Bruno.
I spoke to Scorsese about his longtime bond with De Niro, why the story of Frank "The Irishman" Sheeran excited him, and whether he ever takes the time to appreciate his immense body of work.
48 HILLS How did it feel to have three of your veteran actors — Robert De Niro, Joe Pesci, and Harvey Keitel — back on a Scorsese production?
MARTIN SCORSESE This is something we've been trying to do for a while. The last time I worked with De Niro and Joe Pesci was Casino, in 1995, so we've been trying to find a project to do together for 22 years. So once we found the time to work together, including Pacino, it was really a dream come true.
48 HILLS How did the experience of making The Irishman differ from your other gangster films?
MARTIN SCORSESE It was in the works for 10 years. For many different reasons, we didn't do it right away, so it afforded us, I think, time to think about ourselves and our own lives.
I think I shot it when I was 75 and I'm 77 and De Niro is a similar age. Pacino and Joe, I don't know what ages they are, but they're in their 70's.
So the thing about it is it found its way into a kind of reflective state and we just felt confident in it and we knew that we could enrich our work. I didn't know if it would be successful or not, but we knew it deserved a try.
48 HILLS You and De Niro have such a special director-actor relationship. How did you first meet and what made you decide to keep working with him for decades?
MARTIN SCORSESE Well, not counting when we knew each other on the Lower East Side when we were 16 years old and he wasn't an actor and I wasn't a filmmaker, I met him again when we were about 27 or 28.
Brian De Palma introduced us because he had worked with him on Hi, Mom! and De Niro actually knew many of the characters that I knew. All the people I grew up with, he knew them and he knew how they were reflected in Mean Streets, for example.
So pretty much he's the only person left around who knows where I come from and who I knew, so that was the beginning of the bond of trust.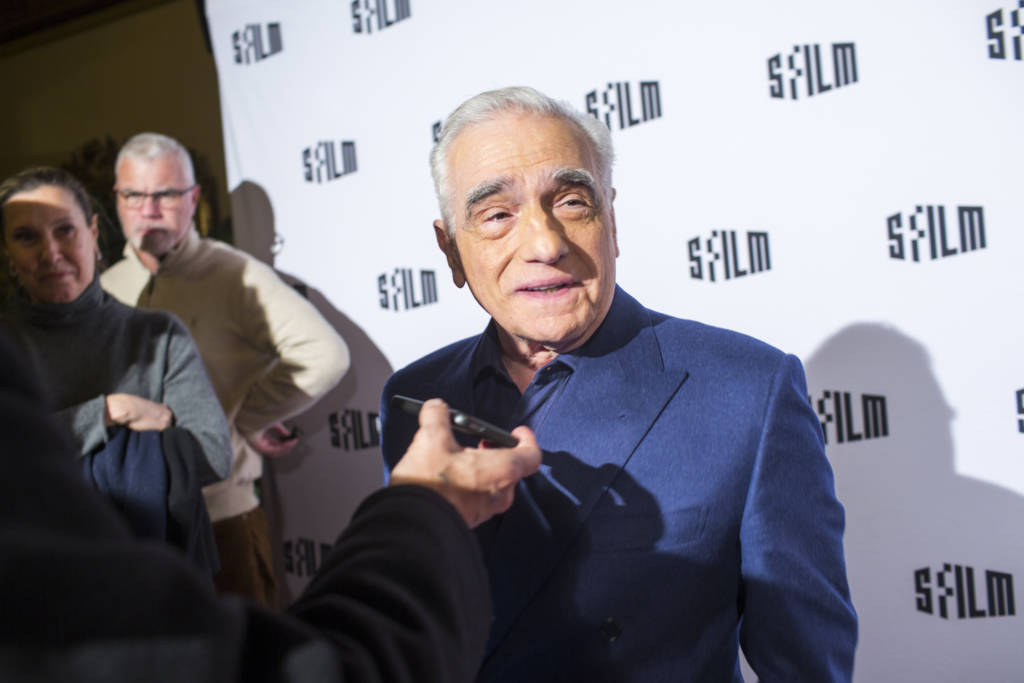 48 HILLS What was it about the book I Heard You Paint Houses that made you want to turn it into a feature film?
MARTIN SCORSESE Well, it was really De Niro reading the book and relating to the character of Frank and the moral conflict of Frank. Whether one believes everything in the book doesn't matter. It's about the human dilemma, the conflict between the good and the bad in everybody. So he had such a strong reaction to that character.
When I read the book, I thought I figured out how to bring that character into the forefront and make everything else the backdrop of the milieu of the underworld. Beyond that, making the backdrop of the history of America at that time a passing parade, and what stays in the front is the human condition.
48 HILLS You've produced such an exceptional body of work over so many decades. Do you ever take the time to appreciate the fruits of your labors?
MARTIN SCORSESE The reflection comes within the work, really and in particular the people you're working with. In a case like this, it's so natural between Bob, Joe, and me, and then you add Al to that, and all the actors in this picture had that sense. They felt it on the set, that sense of reflection — with humor, with action, but still reflective.
THE IRISHMAN
Now playing at Landmark's Embarcadero Center Cinema
Tickets and more info here.
Also premieres Wed/27
Netflix
More info here.