DJ Josey Rebelle, a Black woman born in the North London neighborhood of Tottenham where she still lives today, uses her records to speak to, not at, Black electronic music culture on both sides of the Atlantic. She's from a generation of kids who grew up on estates (the equivalent of the projects in the US) building sound systems, attending raves, and loving the jungle genre, and this era shows through in her selections. Her reputation took off into legend through sets at the legendary Shoreditch basement club Plastic People.
Now Rebelle's one of Britain's most esteemed DJs—her BBC Radio 1 Essential Mix was voted the best of 2019 by listeners—and her style embodies the yin and yang of Afrofuturism. Championing Jamaica-derived soundsystem culture and UK warehouse raves, her connectivity to those roots goes beyond personal. That affection gets conveyed when she's dealing out: broadcasting the nasty sped-up blues of marginalized folks. Between radio and club DJing, she tells a rarely celebrated story.
"It wasn't even about mixing, it was about hearing music. Someone could mix gospel into techno and it would make sense. That's what being a 'selector' is really about" she told DJ Mag in February, about how it felt to embrace music in a space with like-minded folk, coming from all different backgrounds.
"Being around people like that at Plastic People was really important to me because straight away I could see myself in it. I realized I could play it all."
Josey in Space, her 20-song, one-hour compilation—the second installment of the Beats in Space curated mix series—celebrates US house and techno history along with UK soulful bass, breaks, and beyond.
From jump, she establishes that transitions will be what they need to be, in order to serve the moment.
Home cooking. Amplified. She could be putting this together in her living room, or deep in the dark of her residency at the Pickle Factory in Hackney where her marathon kitchen-sink sets, often sell out.
Allowing "Dub" by DJ Marcelle, the first song in, to just disintegrate like ash, casually frittering away into the walking-on-the-moon dub-electronic blues of "What's The Plan" by rRoxymore, is a genius unforced execution. As for the selections? All encoded communication pieces tied together by peaks and valleys in the mix. Not cookie-cutter, publicity pushed, hot joints that fizzle out after a month being released.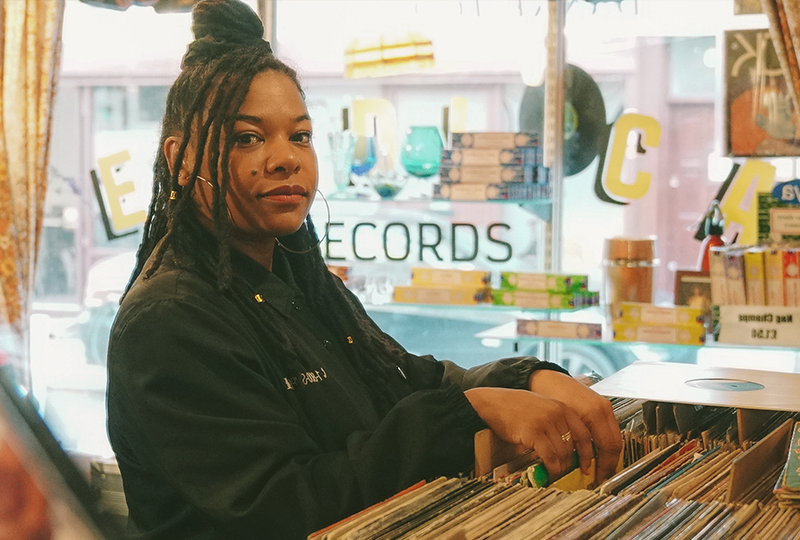 Nope. We get proof of this later on from serious bass-bin drone on the minimal breaks warbler "Sunrise 777" by Nubian Mindz circa 2000, stepped-up bleary-eyed gold in "Glitch Bitch" from Loraine James, which parlays directly into the great hang and balmy gusher, "Route II Romeos" by Shy One. Rebelle is weaving through history and culture by way of those crates.
There's a tricky R&B dripped rework of Uschi Classen and Robert Owens' "Only in Your Eyes" from 2002 by Nwachukwu that just glides like vintage Jordan, never hitting the ground. Owens's voice, forever angelic, with the ultra-fine broken-beat strain gives way to the metropolitan glow of 2001's tech-house classic "Avenues" by Ohio's Titonton Duvante. He puts that thriftstore-bought keyboard and drum machine through their paces, resulting in the 19-year-old track hitting stronger than any whitewashed blog-house rip off ever could.
"Been rinsing Fotomachine's 'BBoy' in my sets for a couple of months now," Rebelle stated in a March 17 social media post, prefacing an emotional center of the mix. The track is an overflowing mood—optimism and elation by way of expansive synths, acid basslines, bubble gum keyboard play, and tripped up breakbeats—that sees Rebelle bubble-wrap The Culture, place it on spaceships and keep it pushing, seeking refuge in the nebula. By letting the entire cut run on the mix, those subtle acknowledgments towards Derrick May, gently asking listeners 'what do you know about Deeeeetroit'—these textures cut through patios and colloquiums. Shooting retro-future hope into the collective psyche.
Unlike top-flight presenters on other DJ series, who dart through 29 tracks in 60 minutes, applying a bullet train mentality to your earbuds, flossing "here are my tricks" aesthetics, Rebelle wants you to absorb it all. Letting the records go a bit longer in the mix-a smattering of house, techno, breaks, jazz, soul, and related electronic music-get to properly enunciate their blues.
"Josey urges you to listen closely to the story, to feel the energetic shifts in style, sound, speed, mix; up, down, rough and smooth," the liner notes correctly outline. By letting those pieces of vinyl speak their talk, this medley of polyrhythms and frequencies, causing sheer rave euphoria in some glorious stretches, forms one global electronic sound, borne out of the African diaspora.